.Mac Relaunched as Mobile Me
Posted June 9, 2008 at 4:45pm by iClarified · 4352 views
Apple has announced Mobile Me, described by Apple Vice President for product marketing Phil Schiller as "Exchange for the rest of us." It is the new enhanced replacement for .Mac.
Mobile Me will be available in early July for $99/year, with a 60 day free trial available.
Read More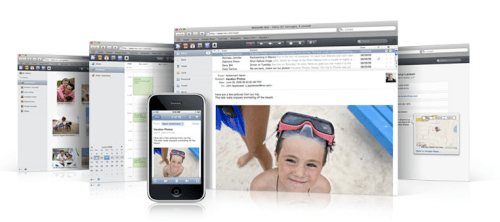 Push email. Push contacts. Push calendar.
MobileMe stores all your email, contacts, and calendars on a secure online server — or "cloud" — and pushes them down to your iPhone, iPod touch, Mac, and PC. When you make a change on one device, the cloud updates the others. Push happens automatically, instantly, and continuously. You don't have to wait for it or remember to do anything — such as docking your iPhone and syncing manually — to stay up to date.
Works with the native applications you know.
Do everything you need to do on every device you own. MobileMe works with Mail, Address Book, and iCal on a Mac; Microsoft Outlook on a PC with Windows XP or Vista; and the built-in applications on your iPhone or iPod touch.
Your web applications at me.com
Check your email, change your calendar, edit your contacts, and more at me.com. Accessible anywhere, me.com is an ad-free suite of web applications — Mail, Contacts, Calendar, Gallery, and iDisk — that are elegant and easy to use. You can drag and drop, click and drag, use keyboard shortcuts, and even switch between applications with a single click. Me.com is such a great web experience, it seems as if you're using desktop software.
Individual Pricing
One-year subscription: $99
An individual membership comes with 20GB of combined email and file storage, 200GB of monthly data transfer, and full access to everything MobileMe has to offer.
Family Pack Pricing
One-year subscription: $149
The Family Pack includes one individual account plus four Family Member accounts, each with its own email address, 5GB of combined email and file storage, and 50GB of monthly data transfer.
Watch the Guided Tour! - Click the Image Below