Google Adds Video Chat to Gmail
Posted November 12, 2008 at 10:17am by iClarified · 8319 views
Google added a voice and video chat feature to its Gmail email service on Tuesday, launching a free Web-based service that competes with the likes of eBay's Skype.
-----
Today we're launching voice and video chat -- right inside Gmail. We've tried to make this an easy-to-use, seamless experience, with high-quality audio and video -- all for free. All you have to do is download and install the voice and video plugin and we take care of the rest. And in the spirit of open communications, we designed this feature using Internet standards such as XMPP, RTP, and H.264, which means that third-party applications and networks can choose to interoperate with Gmail voice and video chat.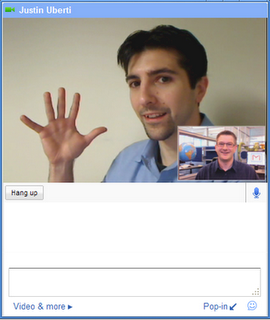 Once you install the plugin, to start a video chat, just click on the "Video & more" menu at the bottom of your Gmail chat window, and choose "Start video chat." You'll have a few seconds to make sure you look presentable while it's ringing, and then you'll see and hear your friend live, right from within Gmail. You can click the "pop-out" icon to make the video larger, or click the fullscreen iconin the upper left-hand corner for a fully immersive experience. See this all in action in the video below:
We've just started to roll out Gmail voice and video chat for both PCs and Macs, so if you don't see it right away, don't worry -- it could take a day or so for this feature to be available in all Gmail and Google Apps accounts. If you want to download the plugin right away, visit http://gmail.com/videochat. And if you need a webcam, there are a few models with special discounts through November 30th (I use the QuickCam Pro 9000 myself).
-----
Read More