AMBER Alert Developer Calls Out Steve Jobs
Posted March 9, 2009 at 5:59pm by iClarified · 5673 views
After one month waiting for App Store approval, AMBER Alert Developer Jonathan Zdziarski has written an open letter to Steve Jobs and Apple to voice his concerns.
AMBER Alert is the official iPhone AMBER Alert and Missing Child Alert tool for the National Center of Missing and Exploited Children. AMBER Alerts are issued whenever a missing child case is granted the high-risk AMBER status and has been used to aide in the recovery of missing children. The iPhone application provides a real-time feed of active AMBER alerts including victim and suspect photos and information, direct phone numbers to police precincts, and a reporting mechanism allowing you to report a sighting.
The application has been submitted to Apple for approval for almost one month and still currently sits at "In Review" status.
You can read Zdziarski's letter below...
Read More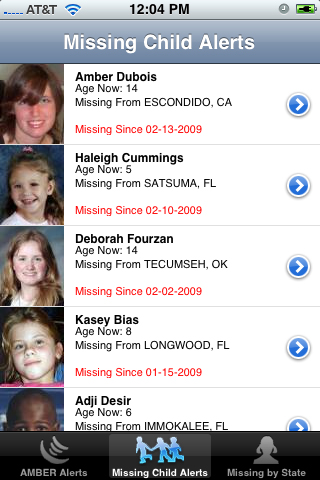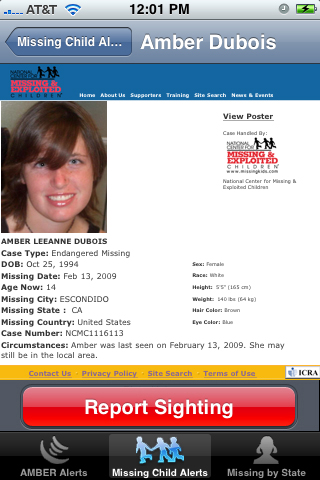 -------------------------
Open Letter to Apple, Inc., and Steve Jobs
To the Executive Team at Apple, and Steve Jobs,
The need to send an email such as this represents the magnitude of the problems the App Store faces, and everything that is wrong with its lengthy and ambiguous review process. The mere fact that a free utility that can quite possibly save lives cannot make it into people's hands within a reasonable amount of time is just a highlight of the ongoing problems independent developers like myself have been experiencing with Apple for the past year.
This letter is to make you aware of an application I've volunteered my time to engineer with the National Center for Missing and Exploited Children - AMBER Alert. This App Store application has the potential to revolutionize how missing children are reported to law enforcement. By using the iPhone's GPS and some geo-analytics, we're able to build a number of automated logistics tools and quickly relay sightings to law enforcement agencies. With an audience of millions of iPhone users, the missing kids that are out there stand to gain a LOT more exposure.
Yet nearly a month has passed since my February 14th submission, and the application continues to sit "In Review". NCMEC has adapted their infrastructure to handle these submissions and has a call center trained to respond to them, as well as their CIO, regional directors, and many others ready to devote time to making this application successful - yet this entire team continues to wait on Apple to approve this application.
The App Store review process is non-responsive to a cruel degree, and unfortunately, a month is sadly only a small amount of time compared to some of my other applications that Apple has chosen to flat out ignore for three months or more. While spending time developing commercial applications only to face Apple's silence is frustrating, to have an application (like AMBER Alert) developed solely on a volunteer basis, and for such a good cause as finding kidnapped children - to have this non-profit application ignored is entirely insulting.
Is it the belief of many that these discriminating and opaque review processes are hurting Apple's relationship with independent developers - a demographic that once carried Apple for many years. With the advent of the Android store, the Blackberry store, and competing iPhone application stores such as the Cydia Store, continuing to operate in this mode of cold silence will only drive away more developers.
While these matters are better left for lengthier conversations, I'm asking that you pick up the phone today and help push the AMBER Alert application through. If you had to sit and look at these kidnapped children, as I have while working on this application, you'd realize just what a depraved world we live in, and how urgent it is to have an application like this be able to get information out (and sightings back in). As a developer and a human being, I'm anxious to see this application released. If I were the parent of one of these missing children, I would be beside myself with anger over Apple's apparent lack of interest in this application. The reprobate and fearful world these children are surviving in - if they are still surviving - may very well be prolonged because of Apple's lack of interest in independent developers like me.
Please feel free to contact me if you'd like to discuss this. Otherwise, I hope you'll do the right thing and light a fire under someone's seat in the App Store. If there is any application that should be getting reviewed today, this is it. I would be glad to put all of my other application submissions on hold to see this processed as soon as possible.
Jonathan Zdziarski
------------------------