Booking.com App Update Makes It Easier to Manage Your Bookings
Posted October 21, 2013 at 4:33pm by iClarified · 35845 views
The Booking.com app has receive an update that makes it easier to manage your bookings, clearly labels smoking-only rooms, and fixes numerous bugs.
Booking.com puts over 350,000 properties at your fingertips for simple and secure booking on your iPhone and iPad. Find ideal accommodations – anywhere, anytime – best price guaranteed.
FIND PROPERTIES FAST
- For last-minute bookings, view available hotels near you for tonight in one tap.
- Or you can search for over 41,000 destinations worldwide.
CHOOSING THE RIGHT PLACE FOR YOU
- Is free Wi-Fi or parking an absolute must for your stay? Refine your search with filters for facilities, price range, district and more.
- Then sort by what's important to you – whether it's distance from your current location, the best deal, lowest price or guest review score.
- Hotel names and addresses are available in Arabic, Japanese, Korean, Chinese, Russian and in the hotel's language (and English of course!)
- 8 million photos and 24 million real guest reviews makes finding the perfect place to stay fun and easy.
- Choose between a huge range of hotels, apartments, villas, hostels, B&B's and more.
SIMPLE, SECURE BOOKING
- If you're an account holder, simply sign in and your details, including stored credit cards, will be prefilled for super-fast booking.
- No account? No worries. You don't need one to make a booking.
- Bookings are automatically saved to your device and are available offline – plus you can add them to your calendar and photo gallery.
- Book now, pay when you stay – with free cancellation on many rooms.
HELPING YOU AT EVERY STEP OF YOUR STAY
- Offline booking confirmations mean you don't need a printer or an internet connection to check-in once you arrive.
- Use maps to find the way to your stay.
- Our 24/7 customer service is available in English and 40 other languages.
BOOKING.COM ON YOUR COMPUTER, PHONE & TABLET
- If you search or make a booking on the website or mobile apps when you're signed in, pick up where you left off at any time - on any device.
- The Booking Cloud syncs your bookings, searches, viewed hotels, wish lists, as well as stored credit card and profile details, for faster booking anywhere , anytime.
ALREADY A BOOKING.COM USER?
- After installing the app, sign in to the account you used on the Booking.com website. All of your hotel bookings, searches, viewed hotels, wish lists and account information will be automatically available in the app.
- If you don't have a Booking.com account, but made a booking on the website, you can import your booking to the app. Go to "My Bookings" in the account area and import using the Booking Number and PIN from your confirmation (also received via email).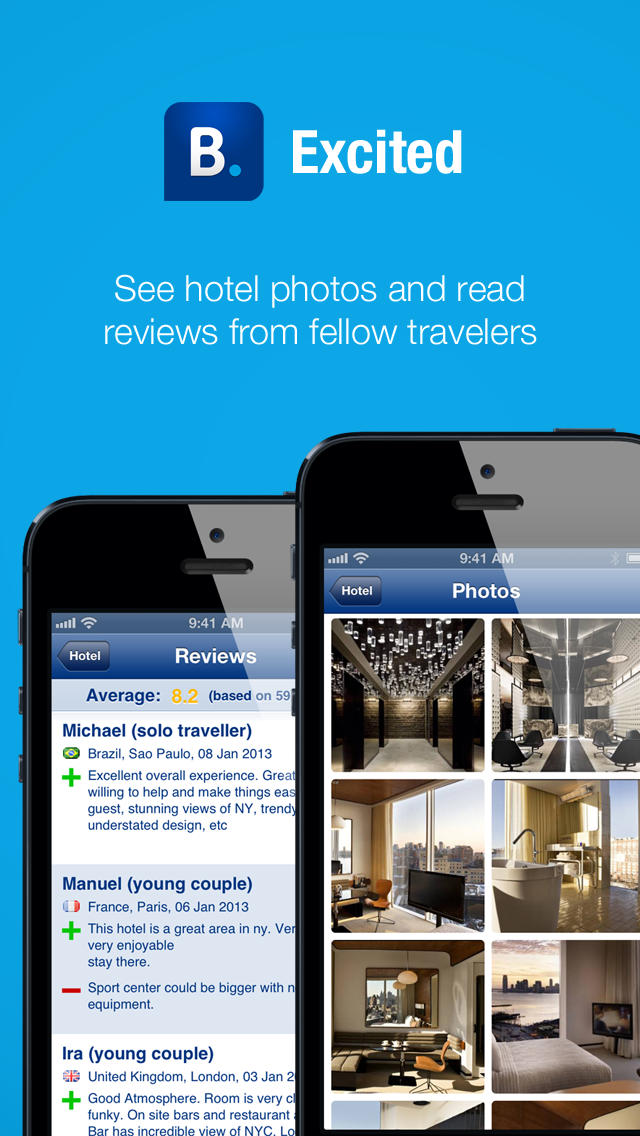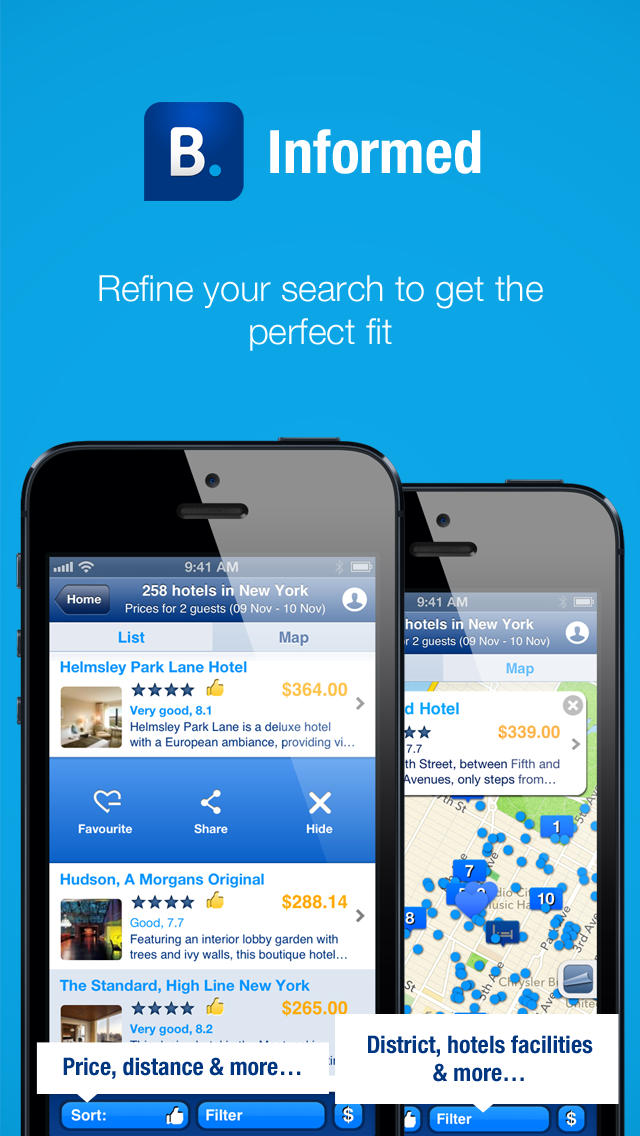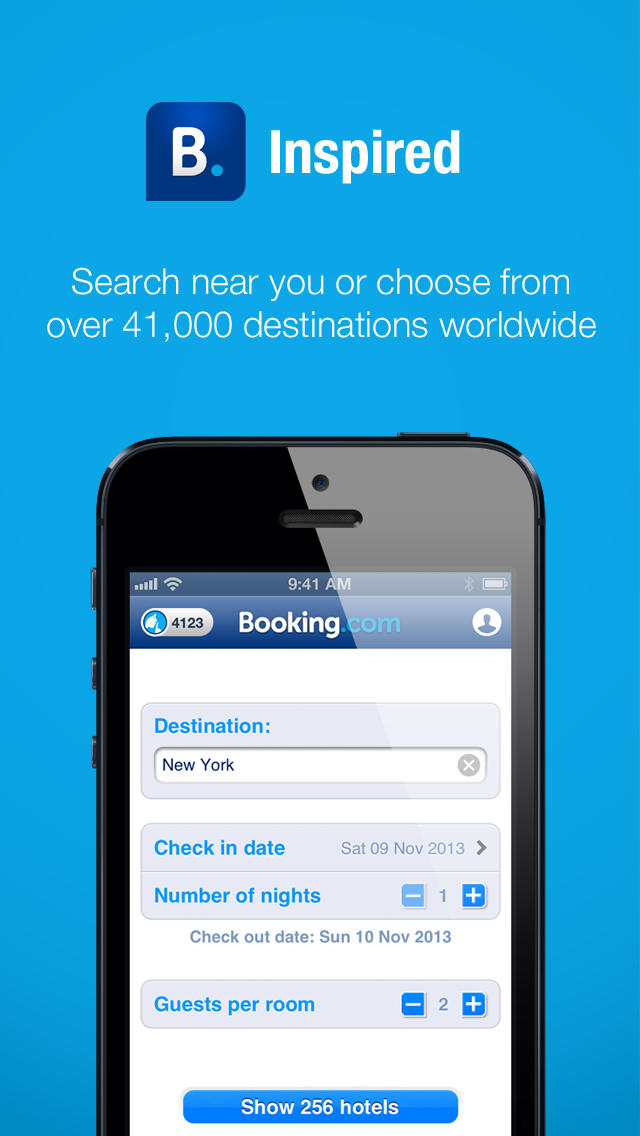 What's New In This Version:
IT'S SIMPLE TO MANAGE YOUR BOOKING
- Change or cancel your booking in one less step. Tap the booking you want to modify from the "My Bookings" list and we'll give you the option to change or cancel in one tap. You can still view your confirmation, hotel details and get directions from the "My Bookings" list, too.
- Smoking-only rooms are more clearly labeled in the booking process, so you can easily see exactly what you're booking. No unwanted surprises when you arrive.
SMOOTHER SAILING WITH THESE BUG FIXES
They say it's the little things in life that matter, and in this version they sure add up to make your app experience even more enjoyable.
- For those of you running iOS7 on your iPhone 4, you won't experience freezing anymore.
- When you choose to hide a booking on a device it will stay hidden. It is still an active booking, and you can see it on all other devices you're signed into.
- Plan for the whole year! Now you can book a whole 12 months ahead (was previously 11 months).
- Our app handles longer wish list names better now, so we challenge you to dream up even more creative titles!
- We'll show you if you go offline in the wish list feature. Which means no more frustration when your wish list changes aren't saved (you need to be online to edit your wish lists).
- We fixed the bug that was stopping you from extending your search radius from your original search. You can view places to stay that are a little further out from your original search (scroll down to the bottom of the search results list to find these options).
You can download Booking.com from the App Store for free.
Read More