Snapseed, a photo app for iOS, has been updated with a new HDR SCAPE filter and a Shadows slider in the Tune Image options.

Snapseed is the only photo app you'll want to use every day. It makes any photograph extraordinary with a fun, high-quality photo experience right at your fingertips. Anyone can enhance, transform, and share their photos with ease using incredibly advanced features from the leader in digital photography software. Built-in Google+ capabilities make it even more powerful to share your images with your friends and family.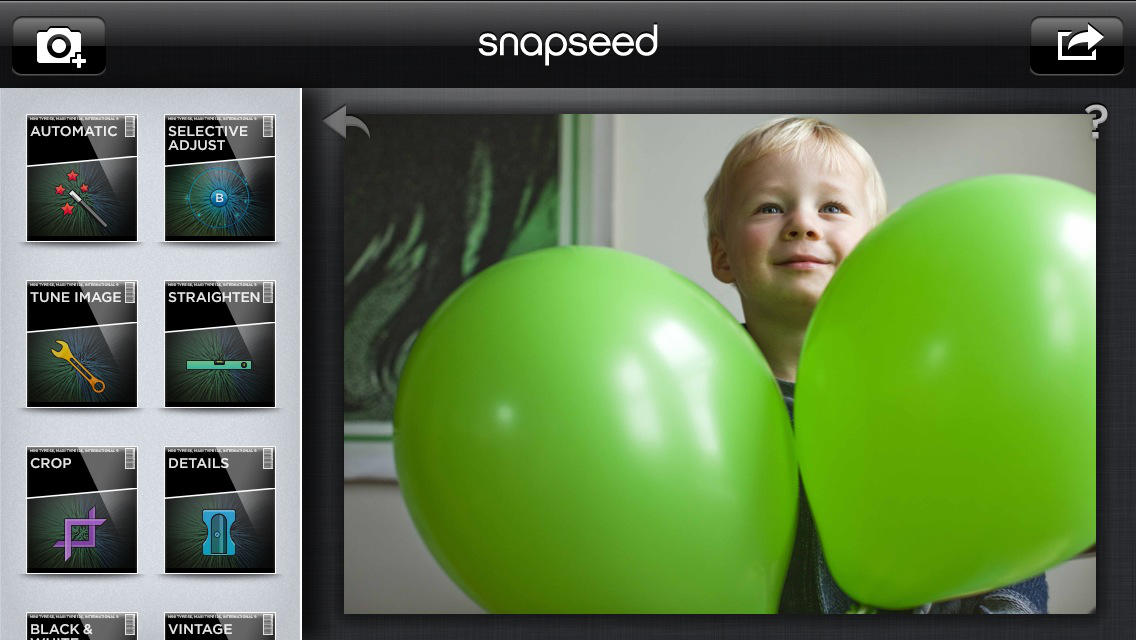 FEATURES:
== Basic Adjustments ==
• Auto Correct - Automatically analyzes your photo and adjusts color and exposure to perfection.
• Selective Adjust - Make precise selections and enhancements to specific areas of your photos in seconds with Nik Software's revolutionary U Point technology.
• Tune Image - Use Ambience to create depth and vibrancy that uniquely adapts to colors and textures. Adjust White Balance, Saturation, Contrast, more.
• Straighten & Rotate - Rotate 90° and/or straighten photos with simple gesture controls.
• Crop - Easily crop images to remove distracting parts of your photo with standard aspect ratios, or a free crop.
• Take Photos – Open photos from the Camera Roll or take new photos.

== Creative Enhancements ==
• Black & White - Get that classic Black and White look with this darkroom-inspired filter.
• Vintage Films - Make any photo look like a vintage color film photo from the 50's, 60's or 70's.
• Drama - Add style with a custom effect specifically tailored to your photos, ranging from subtle textures to wildly artistic effects.
• Grunge - Give your photos a totally unique, hip, and dingy look.
• Tilt-Shift - Create a narrow in-focus area designed to simulate depth of field, common in a Miniature Scene look.
• Details - Enhance details with traditional sharpening or the unique Structure control found in the Nik Software professional products.
• Center Focus - Draw attention to the subject of your photo by blurring and adjusting the brightness of the surrounding background.
• Frames - Add stylized borders to photos for the perfect finishing touch.
• Retrolux - Make your photos look truly retro with light leaks, scratches, film styles, and more.




What's New In This Version:
• The new HDR SCAPE filter brings a stunning look to your images
• A new Shadows slider in Tune Image brightens dark areas naturally
• Plus bug fixes and other small improvements

Please don't install this update in case you use iOS 5 or 6. It has a bug that leads to problems when saving or sharing images on these versions of iOS. We will release an update in a short while that fixes this issue.

You can download Snapseed from the App Store for free.

Read More