RoCam 2 has been redesigned from the ground up to compliment iOS 7 with a streamlined interface and a focus on function over form.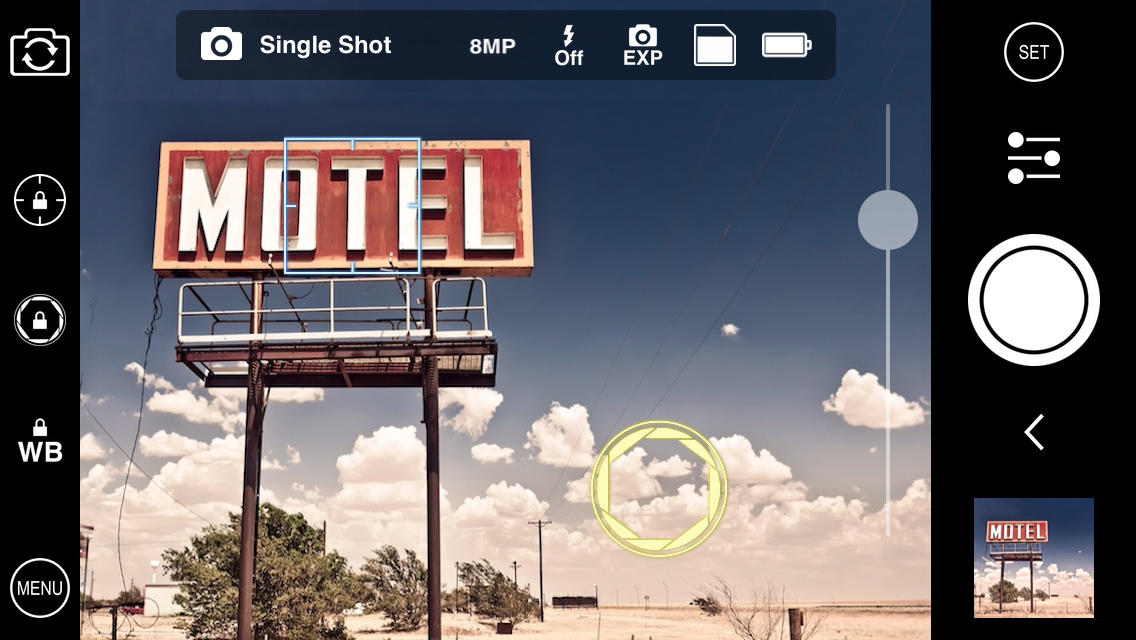 HIGHLIGHTS:
◉ 20 live filters:
12 expertly crafted, retro themed filters + Apple's 8 iOS 7 standard filters. Many more coming soon!
◉ Slo-Mo mode:
True slow motion video mode with 4 playback speeds (Max fps / 30 fps / 24 fps / 15 fps). Max fps is 120 fps on iPhone 5S and 60 fps on iPod touch 5G, iPhone 5/5C.
◉ High speed time lapse video , now with up to 60 fps.
◉ Improved fullscreen mode with access to all menus and settings.
◉ Many under the hood tweaks and performance improvements.
◉ $0.99, 50% off introductory price.
◉ A very comprehensive user guide can be downloaded from our support website: procamapp.com.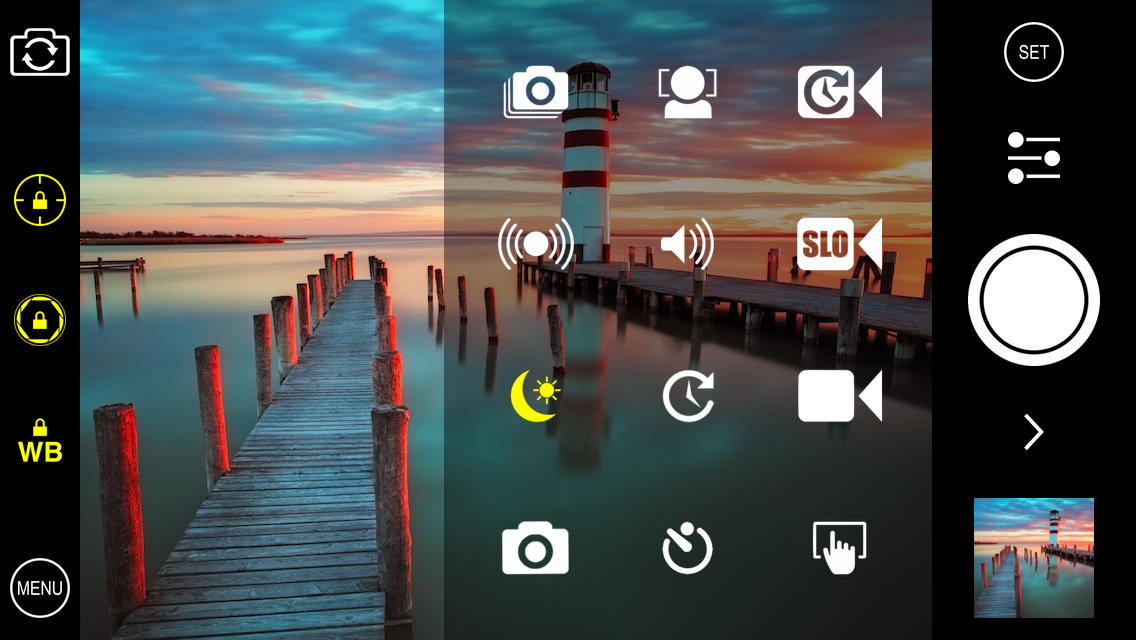 SHOOTING MODES
- Single Shot
- Night Mode with timer option
- Anti-Shake with adjustable sensitivity (High / Medium / Low)
- Burst mode with adjustable image quality (Full / VGA) and shot counter
- Self-Timer
- Interval
- Sound Snap
- Face Detection with auto shooting option
- Big Button (Screen Shutter)
- Video with zoom, pause, ability to take stills, and audio meter
- Slow motion video with 4 playback speed options - iPhone 5S/ 5C / 5 / iPod touch 5G only
- Time Lapse with the ability to add an audio track from iTunes music library

CAMERA FUNCTIONS
- 20 live filters: 12 expertly crafted, retro themed filters + Apple's 8 iOS 7 standard filters - iPhone 5S/ 5C / 5 / iPod touch 5G only
- Full focus and exposure control (touch focus / touch exposure)
- Two fingers tap to separately control focus & exposure
- Focus, exposure & white balance (WB) lock
- Manual exposure compensation (-2 - +2 stops) - iPhone 5S/ 5C / 5 / iPod touch 5G only
- Manual white balance compensation (3,500 - 9,500 Kelvin / candlelight - shade) - iPhone 5S/ 5C / 5 / iPod touch 5G only
- Manual saturation control (0 - 2) - iPhone 5S/ 5C / 5 / iPod touch 5G only
- Adjustable image resolution (Full / High / Medium / Low)
- Adjustable aspect ratio (4:3 / 3:2 / 16:9 / 1:1)
- Adjustable JPEG compression quality (100% / 90% / 80%)
- Lossless image quality
- Manual shutter speed/exposure time control (1/8 sec / 1/4 sec / 1/2 sec / 1 sec)
- Video pause/resume functionality
- Adjustable video resolution (Full HD: 1080p / HD:720p / VGA: 640x480 / Low:480x360)
- Adjustable video frame rate (30 fps / 24 fps / 15 fps / 5 fps)
- User defined video frame rate (1-30 fps)
- Still photo capture during video recording
- Realtime video stabilization (can be turned ON/OFF)
- Video disk space counter
- Time lapse video resolution (Full HD: 1080p / HD:720p / VGA: 640x480 / Low:480x360)
- True slow motion video mode with 4 playback speeds (Max fps / 30 fps / 24 fps / 15 fps)
- 6x digital zoom
- Video zoom
- Video audio meter (Avg. / Peak signal levels)
- Geo location tagging
- Alignment grids (Thirds / Trisec / Golden / Horizon)
- Front / Back camera support
- Photo date stamp
- Photo time stamp
- Photo location stamp
- Photo Copyright stamp
- Video / time lapse date stamp
- Video / time lapse location stamp
- Video / time lapse Copyright stamp
- Time lapse audio track from iTunes music library
- Flash settings (Auto / On / Off / Torch)
- Front camera flash
- Quick launch notification (allows quick access from the lock screen or notification center)

DESIGN
- Volume Up Snap
- Volume Down Torch
- Fully orientation adaptive UI
- Full screen mode in 3:2 & 16:9 aspect ratios
- Full screen mode in video mode (1080p & 720p resolutions)
- Status bar battery indicator
- Status bar disk space indicator

You can purchase ProCam 2 from the App Store for $0.99.

Read More [via AppAdvice]