The Vonage Mobile app has been updated with support for responding to calls and messages from the Apple Watch. The app lets users set personal reminders to return a phone call or message at a later time directly from the watch's incoming call screen, or by accessing recent calls/messages from the watch.

Vonage Mobile on Apple Watch means that users no longer need to pick up their iPhone to respond to messages and calls. Vonage Mobile users can respond to calls and text messages from other Vonage Mobile users directly from Apple Watch.

"In today's fast paced environment, consumers want the ability to communicate wherever and how ever they wish," said Alan Masarek, CEO of Vonage. "Recognizing the increasing integration of wearable technology into everyday life, we created a version of the Vonage Mobile App for the launch of Apple Watch. This evolution of the app is another great example of the Company's continued commitment to mobility and innovation so our customers have the ability to communicate from anywhere, on any device."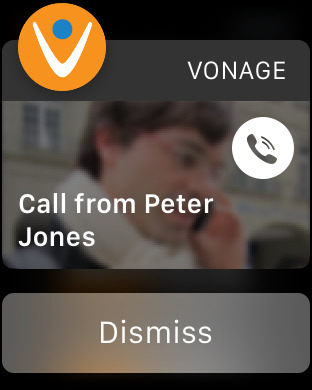 Users can reject a call and send a pre-set "Can't talk right now" message to the caller from the watch. In addition, they can respond to text messages with voice-to-text functionality or with one of five preset responses:
-- I'm in!
-- In a meeting, can't talk right now
-- Busy, ttyl?
-- Running late, be there soon
-- I'll talk to you soon

Other app features include integration with the phone's native contact list, call waiting and mirroring the iPhone's notifications.

You can download Vonage Mobile from the App Store for free.

Read More