Greenpeace has released its 2015 Clean Clean Report which examines which major companies are leading the way or falling behind in the race to build a greener online.

Apple easily topped the list receiving a 100% Clean Energy Index score. Yahoo followed behind with 73%, then Facebook with 49%.

Apple continues to lead the charge in the race to build a green internet, and has significantly increased its impact as a change agent driving renewable energy in the past year. Apple's public commitment to be an environmentally responsible company and specifically to renewable energy has been significantly elevated since Greenpeace's last report, and embraced directly by its CEO Tim Cook on several occasions. Evidence of the strength of Apple's ongoing commitment to a renewably powered iCloud was strongly demonstrated in the past year as it underwent dramatic growth in its data center infrastructure in both the US and the EU; growth that it matched with an equal increase in renewable electricity. Apple's commitment to a 100% renewable cloud appears to be driving change not only among Apple's utility sector partners, but also among other major data center operators that play a supporting role in the delivery of Apple's online products.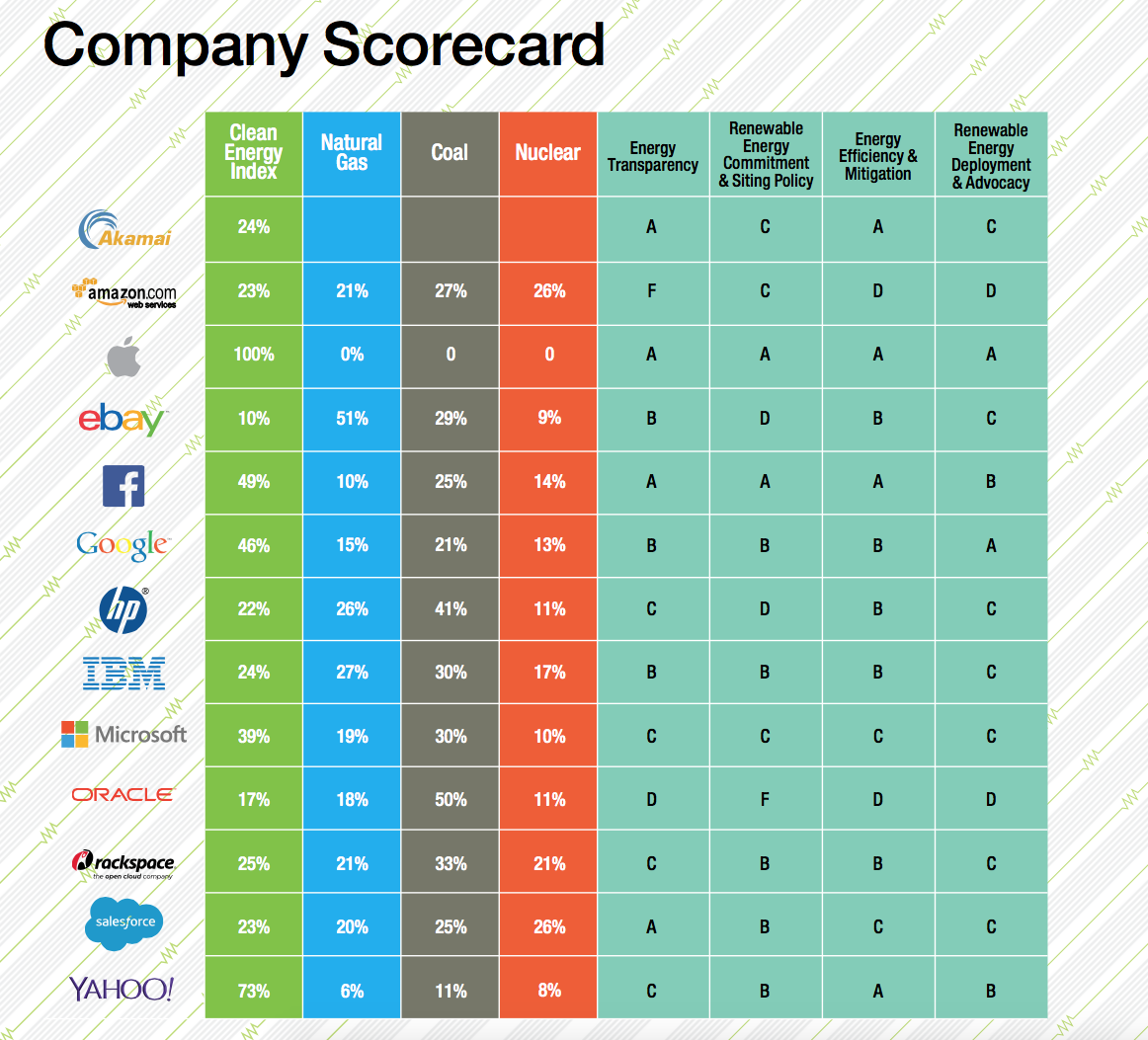 Energy Transparency: A
Apple has steadily improved the amount of information it provides on the amount of electricity consumed at each of its data centers, and the source of electricity used to power each. In April 2014, Apple published a detailed breakdown on its progress toward 100% renewably powered data center operations, setting a high bar for other companies to match, including facility level information of renewable energy supply and the impact its renewable investments and procurement had, in keeping with the spirit of the dual track reporting under the recently adopted Scope 2 Greenhouse Gas Protocol. Apple also submitted an emissions report to CDP for the first time since 2010, scoring in the top percentile.

Renewable Energy Commitment & Siting Policy: A
Apple's 2012 commitment to power its data centers with renewable electricity has proven to be a major driver in its siting of data centers. Apple announced three new data centers in the past year in Arizona, Ireland, and Denmark, and with each facility, made clear that it would be able to deliver renewable energy to power its operations. Apple's success in gaining the cooperation of Salt River Project, the utility for its newest data center in Arizona, as a partner for solar is particularly notable given the utility's hostility to solar growth among its residential customers. Apple has also continued to follow its commitment to prioritize delivering renewable electricity from either on-site or local sources for its data center operations.

Energy Efficiency & Mitigation: A
Apple continues to be aggressive in reducing its energy and carbon footprint for all of its operations, and recently achieved its 2014 reduction targets. Apple has maintained a high level of transparency on its efforts to mitigate its carbon and energy footprint for each of its data centers, including in both its 2014 Environmental Progress report and also in its CDP submission. Apple's commitment to mitigate the energy footprint of its data center in North Carolina has been particularly impressive to date, but will demand regular investment as that facility continues to grow. Apple's recently announced data center in Viborg, Denmark will be designed to capture any excess heat from the data center and pipe it into the town's district heating system, heating other buildings. Apple also recently announced its decision to join the Open Compute Project, which facilitates the sharing of design and other best practices among major data center operators.

Renewable Energy Deployment & Advocacy: A
Apple remains the most aggressive among major internet companies in deploying renewable energy to power its corner of the internet. In North Carolina, while other data center operators like Facebook and Google have remained stymied in their effort to secure a supply of renewable electricity from Duke Energy, Apple has moved forward with its 3rd major solar installation in North Carolina to power its growing data center in Maiden. Similarly in Oregon, while a number of data centers in
the region have tapped into electricity from large-scale dams, Apple has also shown its willingness to invest in a micro-hydro project to deliver a sustainable supply of hydroelectric power for its Oregon data center. Apple also announced an $850 million contract to buy over 250MW of solar for its Cupertino Headquarters and its Newark, California data center.132 Apple's impact as a change agent among US monopoly utilities expanded this past year, as it was able to secure a commitment to jointly develop 70 MW of solar capacity with Salt River Project (SRP), the local utility for its data center now under construction in Mesa, Arizona.133 SRP currently produces over 50% of its electricity from coal.134 Apple has increased its public support for renewable energy and climate policy, as both CEO Tim Cook and Senior VP for Environmental Affairs Lisa Jackson have spoken with increasing frequency on the threat posed by climate change.

Hit the link below to download the full report...

Read More