Latest iOS 9.3 Betas Disable Night Shift While in Low Power Mode
Posted March 2, 2016 at 5:13pm by iClarified · 10781 views
Apple has updated iOS 9.3 in betas 4 and 5 to disable Night Shift when in Low Power Mode, reports MacRumors.
Night Shift uses your iOS device's clock and geolocation to determine when it's sunset in your location. Then it automatically shifts the colours in your display to the warmer end of the spectrum, making it easier on your eyes. In the morning, it returns the display to its regular settings.
In the latest betas of iOS 9.3 the toggle switch to enable Night Shift in both Settings and Control Center are grayed out when you're in Low Power Mode.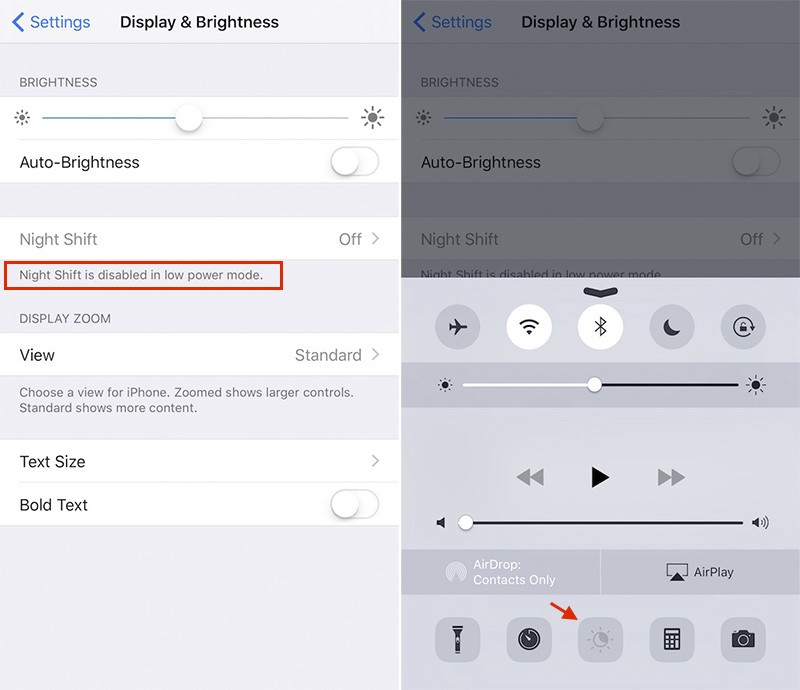 Additionally, tapping the Night Shift icon in Control Center no longer gives you the options "Turn On For Now" and "Turn On Until Tomorrow"; rather, the toggle activates Night Shift until the next trigger in your automatic schedule, such as sunrise, sunset, or a set time. In Settings there is a new "Manually Enable Until Tomorrow" toggle that keeps the feature on until sunrise or a specified time.
Apple has also tweaked Settings to move the temperature slider to the bottom, and updated the "Cooler" and "Warmer" labels to "Less Warm" and "More Warm".
iOS 9.3 beta 5
is currently available to developers and public beta testers. Please follow iClarified on
Twitter
,
Facebook
,
Google+
, or
RSS
for updates.
Read More