First Look at Apps on Windows Phone 7 [Video]
Posted March 15, 2010 at 2:06pm by iClarified · 8115 views
Microsoft has detailed how applications will work on Windows Phone 7 during its MIX 2010 keynote.
Scott Guthrie, corporate vice president, .NET Developer Platform, and Joe Belfiore, corporate vice president, Windows Phone Program Management, detailed the opportunity for developers to use proven technologies such as Microsoft Silverlight and the XNA Framework to build new mobile applications and 3-D Games.
"As the browser, server, Web and devices evolve, a focus on delivering consistently great user experiences has become paramount," Guthrie said. "By extending our familiar platform technologies and tools to phones, Microsoft is delivering the premier application development experience across a variety of devices and form factors."
End-to-End Application Development Platform for Windows Phone 7 Series
During the keynote, Microsoft provided the first deep dive into Windows Phone 7 Series application development. By combining Silverlight features for rich application development and the XNA Framework for games, Windows Phone 7 Series empowers millions of developers and designers to build visually stunning and immersive applications and games — one of the industry's most profitable mobile application categories — while taking advantage of device-specific capabilities. Specifically, developers will be able to take advantage of the following features:
• Accelerometer, an intuitive control that responds to motion
• A Microsoft Location Service to provide developers with a single point of reference to acquire location information
• Microsoft Notification Service for pushing information to the phone, regardless of whether or not an application is running
• Hardware-accelerated video with digital rights management (DRM)
• Internet Information Services Smooth Streaming for the industry's highest quality content viewing experience
• Multitouch
• Camera and microphone support
"Windows Phone 7 Series brings together a rich application environment, powerful hardware, a fresh approach to software and a smart new design," Belfiore said. "It was designed to generate incredible opportunities for developers and designers to quickly and easily deliver compelling applications and games. With the best developer tools, an established ecosystem and marketplace, and a path for developers to use their Silverlight and XNA Framework skill sets, we are delivering an application platform that is simple, powerful and inspiring."
Free Tools for Windows Phone 7 Series Developers and Designers
To further support an end-to-end development experience, Microsoft announced the availability of comprehensive tools support for Windows Phone 7 Series. The easy-to-install package includes previews of the following:
• Microsoft Visual Studio 2010 Express for Windows Phone
• Windows Phone 7 Series add-in to use with Visual Studio 2010 RC
• XNA Game Studio 4.0
• Windows Phone 7 Series Emulator for application testing
• Expression Blend for Windows Phone Community Technology Preview (available as a separate download)
A Marketplace for Windows Phone 7 Series Applications
Microsoft also showed how developers and designers will be able to bring applications and games to market with a new Windows Phone Marketplace. The Marketplace features a panoramic design and active merchandising to increase the discoverability of games and applications, and supports one-time credit card purchases, mobile operator billing and advertising-funded applications. The Marketplace will also enable customers to try applications before buying them and allow developers to cross-promote their applications through deep linking.
Several leading companies will be creating exciting applications and games for Windows Phone 7 Series. They include The Associated Press, Archetype International Inc., AWS Convergence Technologies – WeatherBug, Citrix Systems Inc., Clarity Consulting Inc., Cypress Consulting, EA Mobile, Fandango Inc., Foursquare Labs Inc., frog design inc., Glu Mobile Inc., Graphic.ly, Hudson Entertainment Inc., IdentityMine Inc., IMDb.com Inc., Larva Labs, Match.com LLC, Matchbox Mobile Ltd., Microsoft Game Studios, Namco Networks America Inc., Oberon Media Inc., Pageonce Inc., Pandora Media Inc., Photobucket Inc., PopCap Games Inc., Seesmic, Shazam Entertainment Ltd., Sling Media, SPB Software Inc., stimulant, TeleCommunications Systems Inc., Touchality LLC and Vertigo Software Inc.
Continued Innovation With Silverlight and Expression Blend
Microsoft announced a release candidate (RC) for Silverlight 4, available for download today, which builds on the beta version released at the Professional Developers Conference in November 2009. The Silverlight 4 RC provides powerful media and enterprise application and media capabilities, out-of-browser flexibility and world-class tools support via Visual Studio and Expression Blend with Sketchflow to enable robust application development and rich interactive experiences.
In addition, Microsoft unveiled the Expression Blend 4 Beta, a design and development workflow tool. New features such as Path Layout enable developers and designers to build and animate innovative user interface design via a groundbreaking visual layout mechanism, without the need to write code. Expression Blend 4 Beta also adds support for Silverlight 4, .NET Framework 4 and Visual Studio 2010.
Below you can see a video of the Associated Press application for Windows Phone 7. The application uses Silverlight to deliver a user enticing ad for Ford.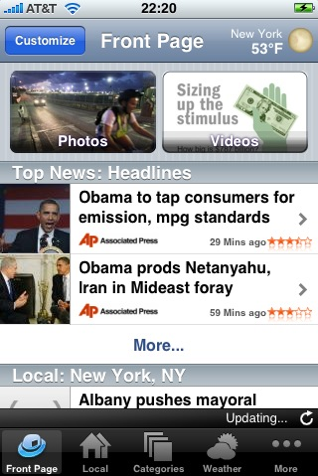 (Associated Press iPhone App for Comparison)