How to Unlock Your iPhone With WinPwn [Updated]
Posted May 7, 2008 at 11:29pm by iClarified · 400017 views
These are detailed instructions on how to unlock your iPhone using WinPwn. This tutorial will also show you how to create custom payloads/packages and customize your boot images.
2008-05-08: This tutorial has been updated to reflect the latest beta of WinPwn. There is no longer a need to install BootNeuter through Installer.app!
Step One
Download the WinPwn to your Desktop from
Rapidshare
Step Two
Download the iTunes DLLs to your Desktop from
Prodigy60
,
MegaUpload
Step Three
Download the .Net 2.0 Framework from
here
Step Four
Double click the downloaded .Net 2.0 Framework(dotnetfx.exe) on your Desktop and install it. You may not have to do this if its already part of your system (ie Vista).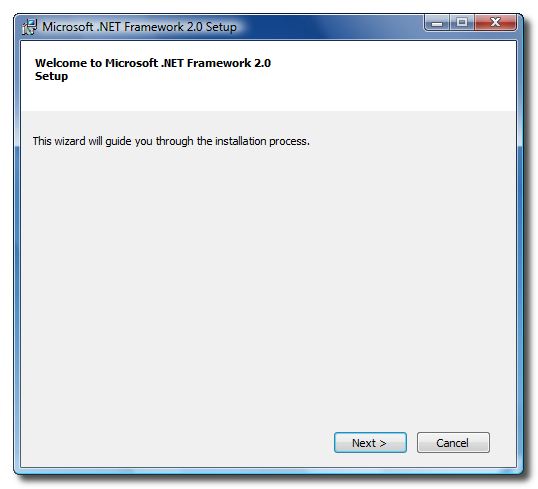 Step Five
Extract the WinPwn zip (winpwn_0.99.2.19.zip) you just downloaded to your Desktop. Now double click the extracted exe (winpwn_0.99.2.19.exe).
WinPwn will open an installation helper. Click the
Next
button to begin.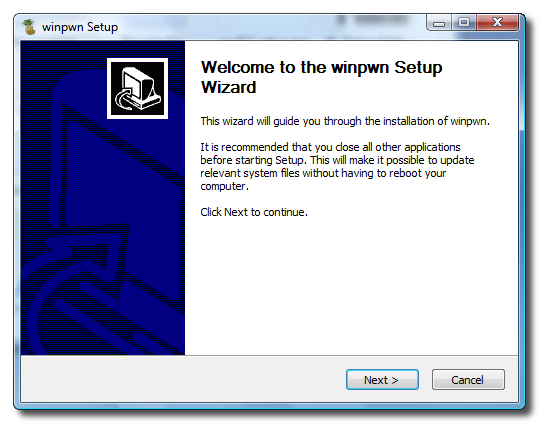 Choose whether you would like Desktop Shortcuts created then click the the
Next
button.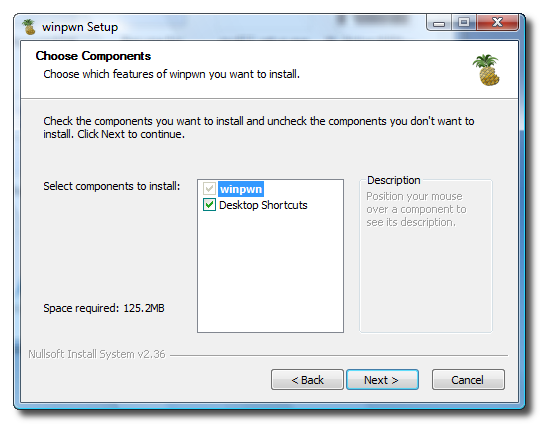 Enter a destination folder to install WinPwn to. ie
c:program files
. Click the
Next
button to continue.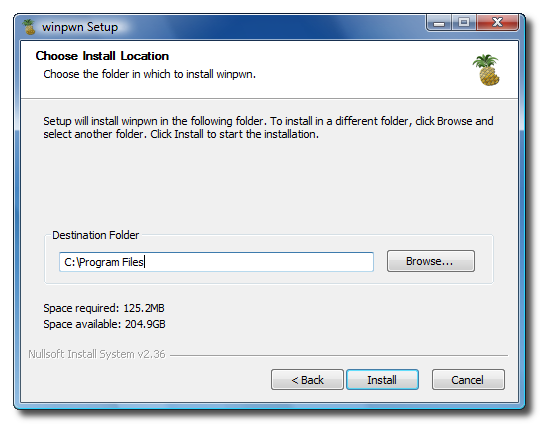 Once Installation is finish click the
Finish
button.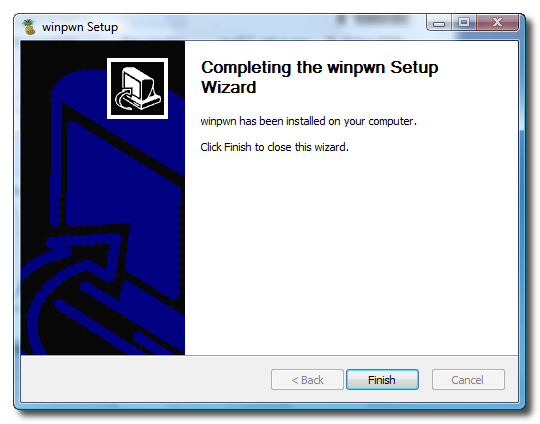 Step Six
Extract the itunesdll.zip you download earlier to the folder you installed WinPwn to. In my example this would be
c:program fileswinpwn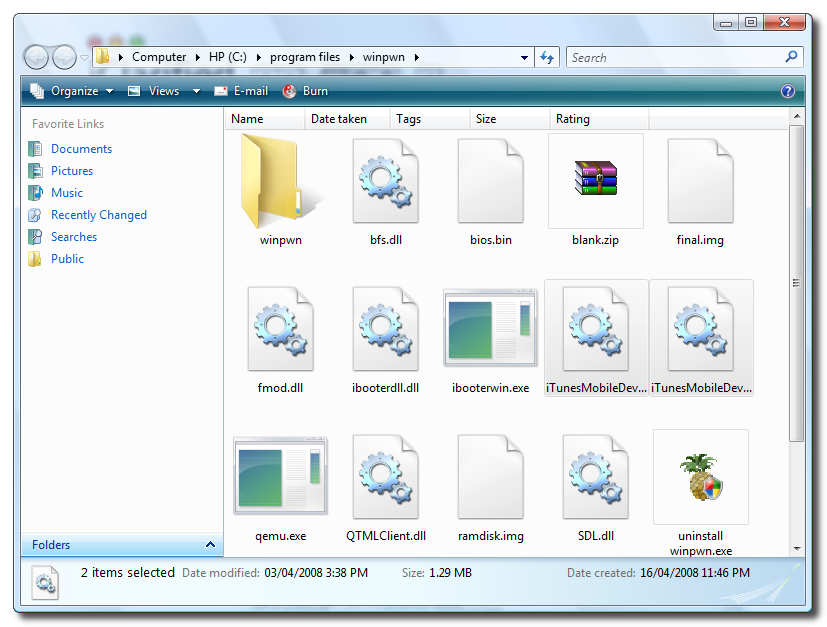 Step Seven
Download the firmware you would like to pwn. You can find links to the released firmware files
here
Step Eight
Launch
WinPwn
by double clicking its icon on the Desktop.

Step Nine
Click the
Browse .ipsw
button.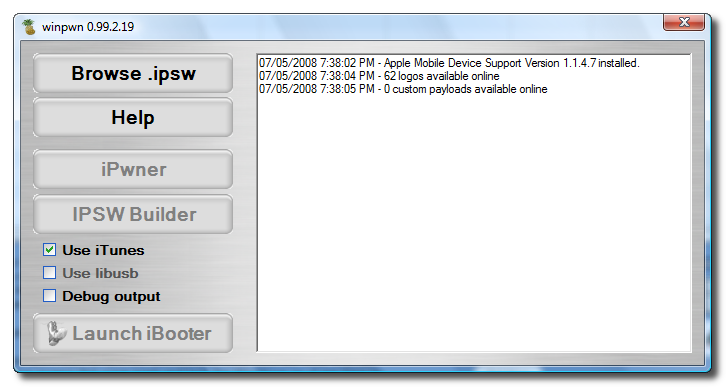 Step Ten
Select the firmware you would like to Pwn and click the
Open
button.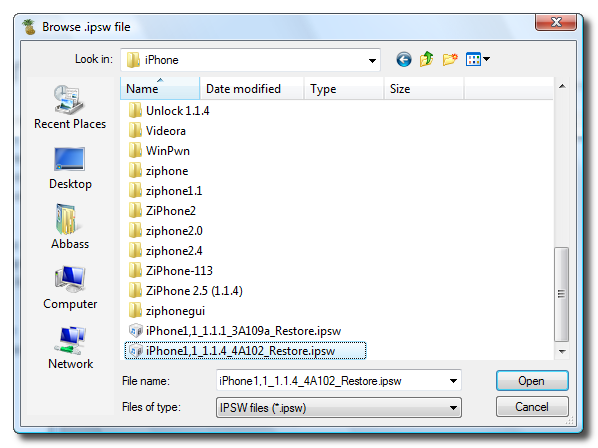 Step Eleven
WinPwn will then check if your firmware is valid. Attach your iPhone to the computer. Now click the
iPwner
button on the left side of the window.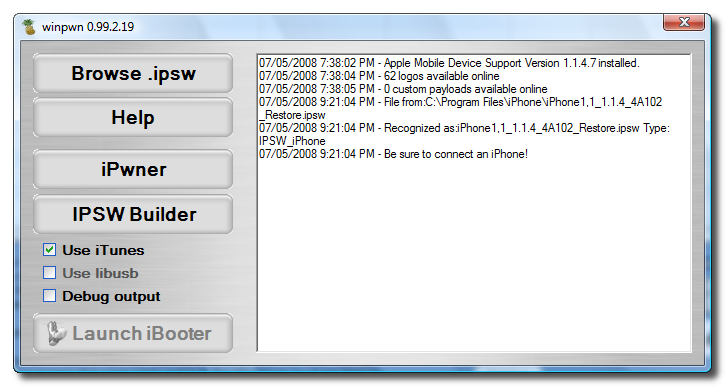 Step Twelve
WinPwn will then attempt to put your iPhone into recovery mode. If it does not succeed then you will have to do this manually. Hold down the
Sleep/Wake
and
Home
buttons until the iPhone reboots and the Apple logo appears. Once you see the Apple logo release the
Sleep/Wake
button and keep holding down the
Home
button until your see the iTunes logo and the dock connecter displayed on screen.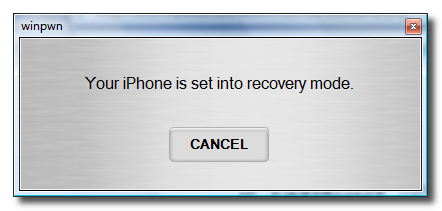 Step Thirteen
You will then be notified that your iPhone is being Pwned. Please wait until your iPhone reboots.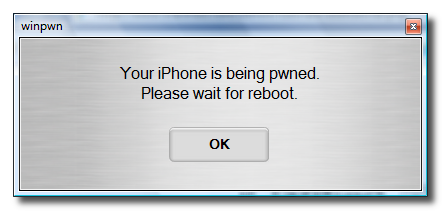 Step Fourteen
WinPwn will then inform you that your iPhone has been Pwned! Now click the
IPSW Builder
icon on the left.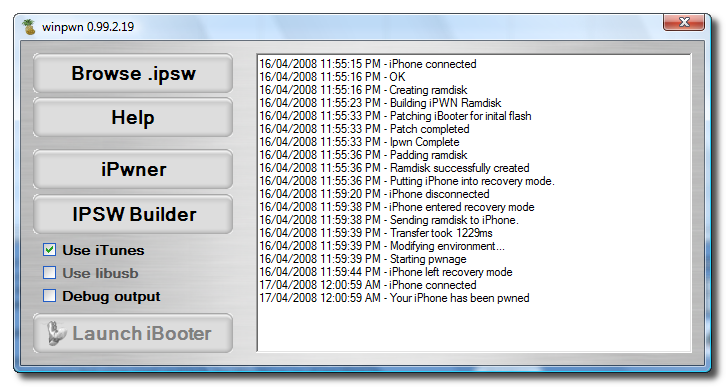 Step Fifteen
The IPSW Builder will open to the
Applications
tab. You can easily add your own sources by entering the source address and clicking the
Add Source
button.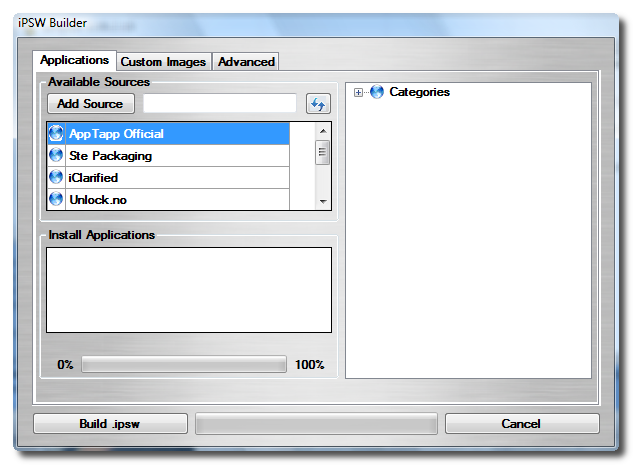 Use the Categories list on the right to select the packages you would like to have installed on your iPhone. Double click a package name to have it added to the Install list. Notice the indicator will let you know how much space you have left for installed applications.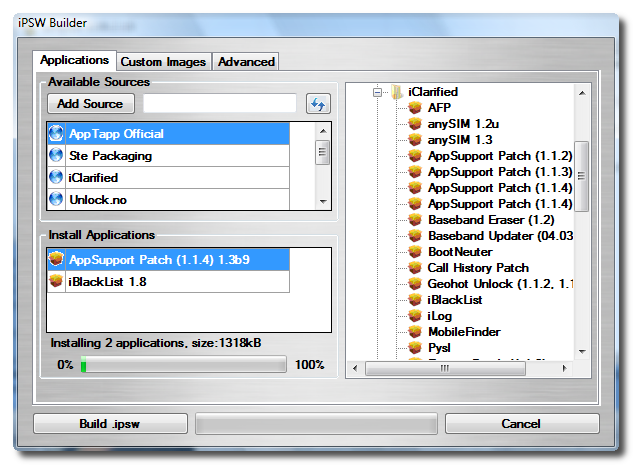 Step Sixteen
Click to select the
Custom Images
tab. Then click to select the
Use Custom Pictures
checkbox.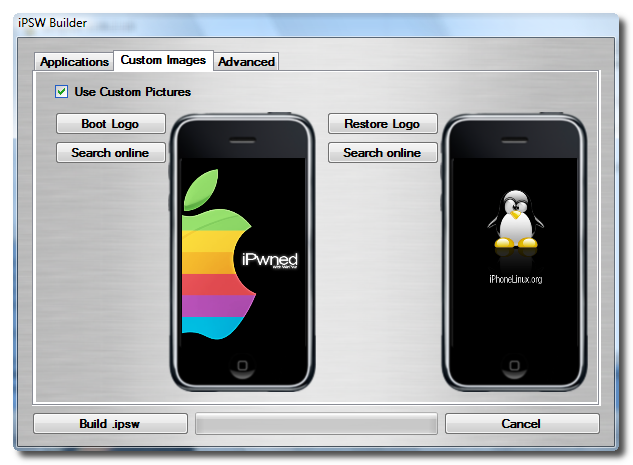 You can now click the
Boot Logo
and
Restore Logo
buttons to select your own custom images. Use the
Search online
button to find images done by others.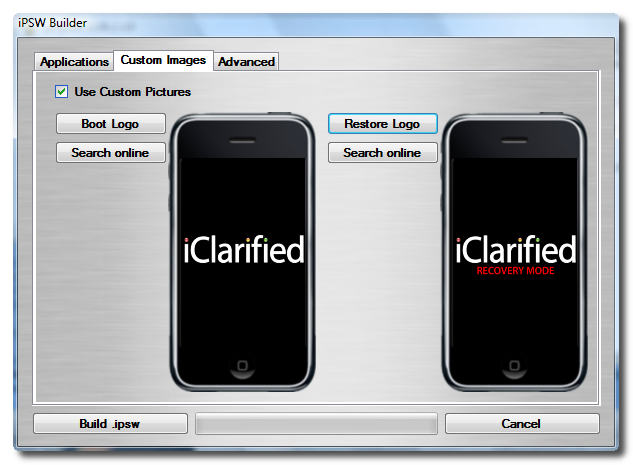 NOTE***: There are stringent requirements for these files. They must be 24bit PNGs, 100KB or less, have an alpha layer, RGB or Greyscale, and 320x480 or less in size.
HINT***: If you want to use a solid image as your background. Create a new transparent image in photoshop just slightly bigger then your original image. Copy your original image onto the new transparent image you just created. Make sure you can see some of the transparency layer on the sides. Then select Save for Web from the File Menu. Make sure you save it as PNG24 with transparency enabled!
Step Seventeen
Click to select the
Advanced
tab. From this window select the checkboxes next to the tasks you would like perform. If you would like to unlock your iPhone most likely you should check: Activate Phone, Enable Baseband update, Neuter Bootloader, and Unlock Baseband.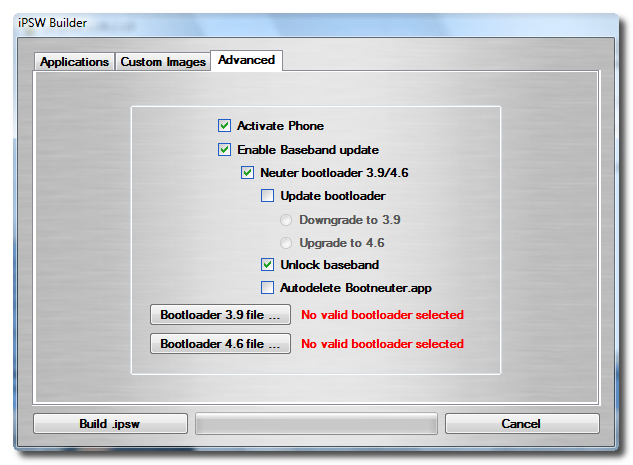 You will now need to provide IPSW Builder with access to the 3.9 and 4.6 bootloader files. Download bootloaders.rar from
here
onto your Desktop. Double click this to extract its contents.
Click the
Bootloader 3.9 file ...
button for the bootloader 3.9 image and select BL-39.bin file from your Desktop.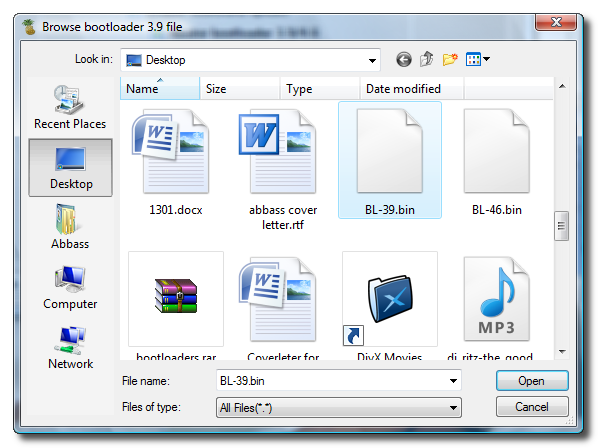 Click the
Bootloader 4.6 file ...
button for the bootloader 4.6 image and select BL-46.bin file from your Desktop.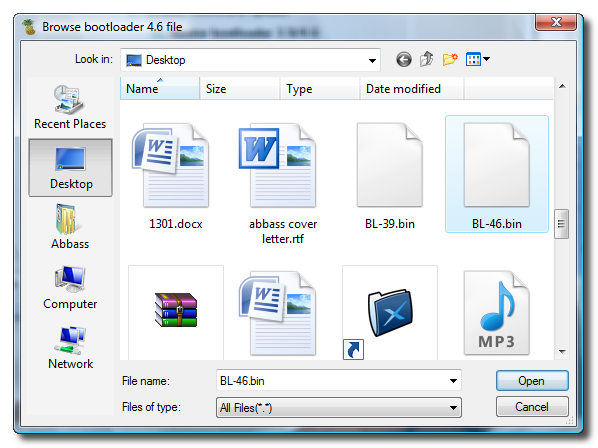 Step Eighteen
Click the
Build .ipsw
button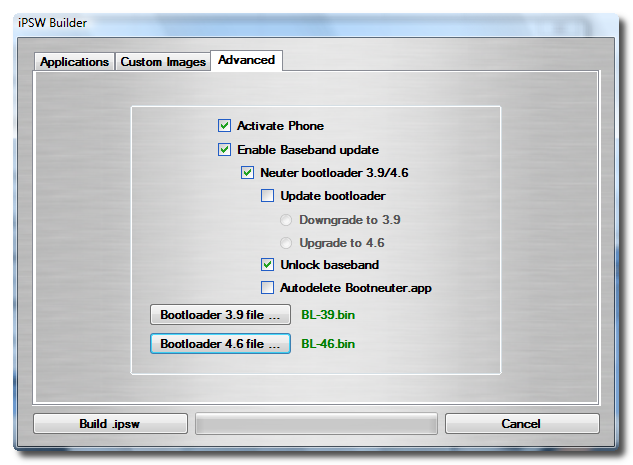 Select a location to save the customized firmware to and click the
Save
button.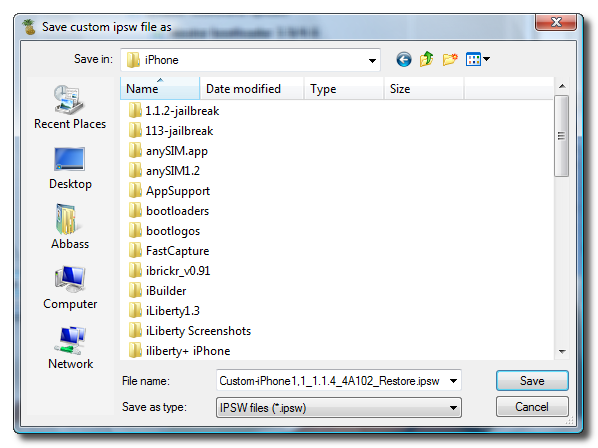 Step Nineteen
A dialog box will popup when your ipsw file has been successfully built. Click the
OK
button.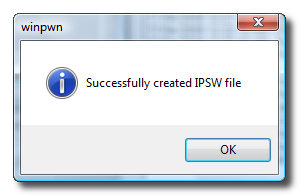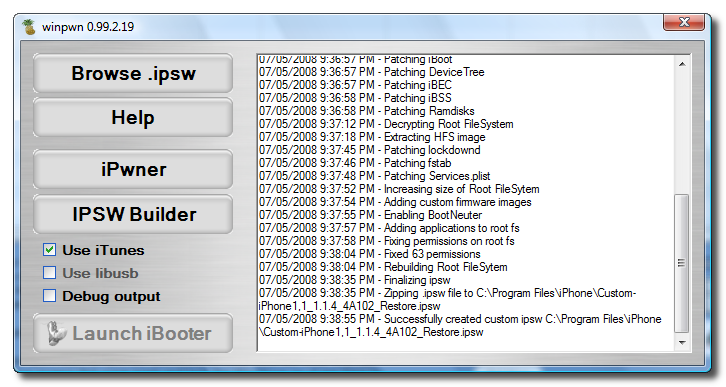 Step Twenty
Open
iTunes
by launching it from your Programs.

Step Twenty One
Select your iPhone from the list on the left. Hold down
Shift
and click the
Restore
button.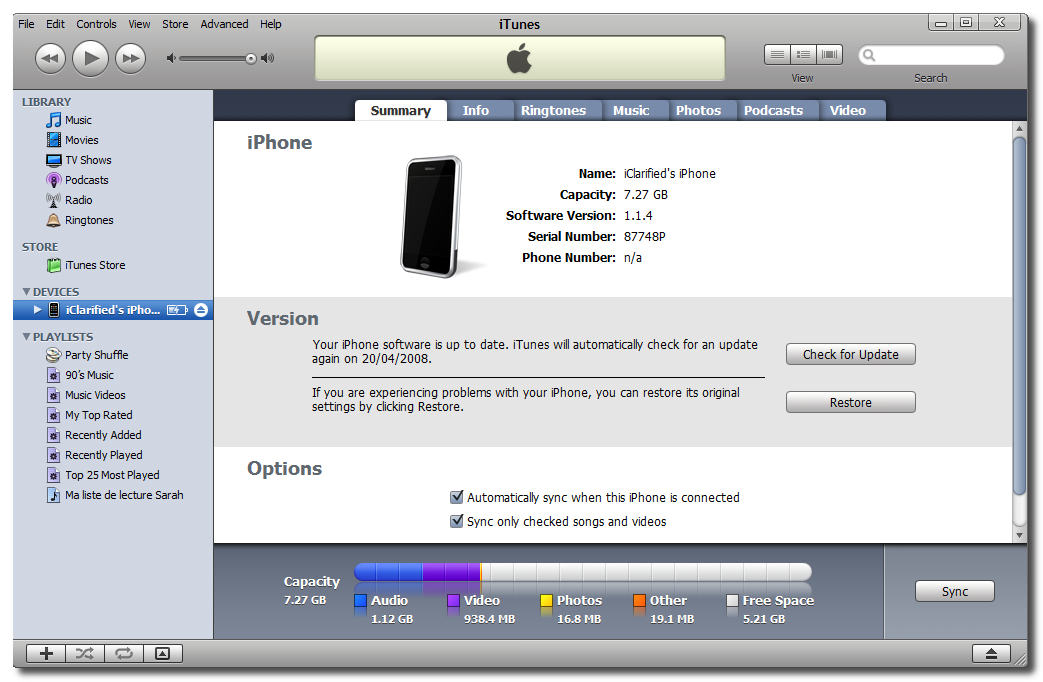 Step Twenty Two
Select the custom firmware file (iPhone1,1_1.1.4_4A102_Custom_Restore.ipsw) we just created and click the
Open
button.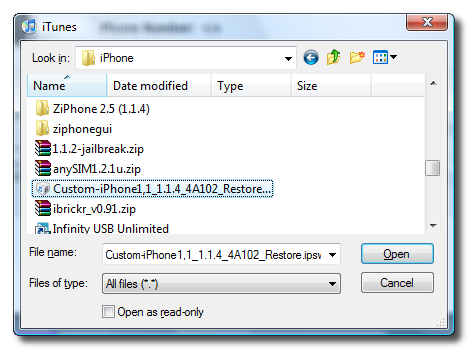 Step Twenty Three
iTunes will then restore to our new custom firmware.


Step Twenty Four
Once iTunes restore is complete your iPhone will reboot and autolaunch BootNeuter. BootNeuter will then proceed to Flash Bootloader and Flash Baseband. Do not interrupt this process. Once BootNeuter is done it will reboot the iPhone on its own and your Pwnage process will be complete!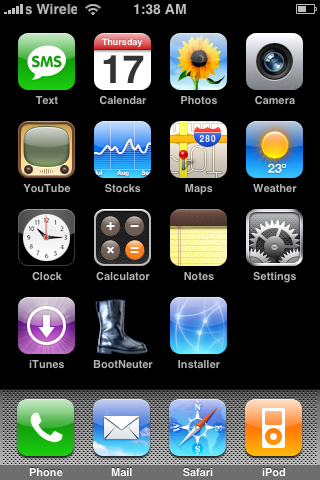 THANKS***: Make sure to thanks to cmw, asap18, bgm, Bugout, bushing, chris, dinopio, drudge, Fred_, ghost_000, gray, kroo, MuscleNerd, NerveGas, netkas, np101137, planetbeing, pr3d4t0r, pumpkin, pytey, roxfan, sam, Turbo, w___, wizdaz, Zf, Sam and others. These guys have put alot of hard work into making this a reality.
You can send donations to iphone.devteam@gmail.com using paypal.