Announcing Photon 1.1
Posted May 10, 2008 at 8:14pm by iClarified · 5100 views
Photon 1.1 has been released and it introduces a ton of new features, performance improvements, and bug fixes.
Designed for both professional photographers and advanced photography enthusiasts, Photon is a high-performance digital photo workflow application that makes it easy to review and organize large numbers of photos.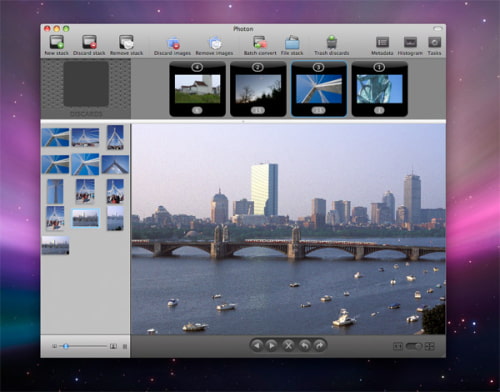 Photon 1.1 Improvements:
* NEW: Added ability to save and recall stacks when re-launching the application
* NEW: Added a preference for turning off memory card auto-downloading
* NEW: Added a new "Discards" stack feature. The discard stack keeps track of deleted files, and provides a way to send them to the Trash
* NEW: Added a new "File stack" feature. With the introduction of this feature, you now have the ability to physically move your files to a new location. When you choose to file a stack, Photon will prompt you for a destination folder, and will then physically move all the files in the selected stack to the new location on disk.
* NEW: Improved caching engine. Major portions of the internal caching engine were rewritten for improved speed and responsiveness
* NEW: Improved memory card downloading performance
* NEW: Added the ability to drag and drop files or folders onto the Photon icon in the dock or the finder, and automatically create new stacks
* NEW: Improved toolbar icons
* Fixed a bug in the Metadata window that showed a cryptic label for some EXIF data
* Fixed a problem with cursor updates when moving between images
* Fixed a bug that caused the 'Open with Editor' command to fail when opening a file that was downloaded from a memory card
* Photon now ignores hidden files (I.e. files with a "." prefix)
* Fixed a problem that would cause a rendering "glitch" in the image viewer
* Fixed a bug where the delete image action was not working properly with multiple selection
* Fixed the "close window" behavior so that the main window can now be closed with command-w and recalled via the Windows menu or by clicking on the dock icon
* Fixed sizing problems with the Metadata and Histogram panels
* The Hide/Show Image names menu option is now stored in preferences
Read More