Jumsoft Releases Five New Aperture Themes
Posted May 13, 2008 at 2:53pm by iClarified · 3548 views
Jumsoft releases five new themes for Apple Aperture. Our artistic color scheme and popular designs will be appreciated on all types of displays. That is why Aperture Themes will fit your needs whether you are a professional or an amateur. Each of the high-quality themes includes two-page layouts you are likely to need, such as "Web Gallery" and "Web Journal" that allow you to choose the intelligent ways to display your images or photos.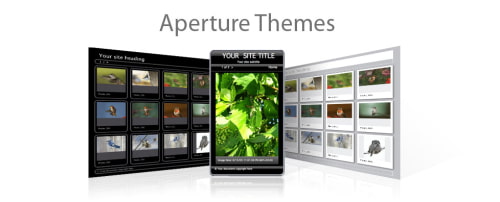 Frames Gray Theme
Frames Gray Theme produces pictures that have a photo frame, with shadows that imitate the real 3D look of the photo. Your pictures' gallery background coloring is bright, but not too intense, so you have no need to worry that the design of Frames Gray Theme will be noticed before your incredible images or photos.
Grid Black Theme
Grid Black Theme reveals a solid and straight attitude toward image or photo display. Each picture has a frame and the gallery appears in a table form that evokes the image of orderliness. If your pictures are bright, or have a lot of color, this dark background will be the best solution for your picture gallery or journal. As you know, bright colors against a dark background always meet the viewer's eye very quickly.
iPhone Theme
iPhone Theme is both — modern and calm. All your pictures and headings are framed together. That is why this theme fits collectors' or photographers' needs perfectly — all the photos in the gallery or journal have the same subject and are concurrent.
Rounded Black Theme
Rounded Black Theme is similar to the Grid Black Theme, but has some differences. The strong line of the Rounded Black Frame for each picture perfectly separates it from the others. The name of the picture on the bottom of the frame will be noticed quickly, but will not disturb viewers' attention to the picture.
Mental Image Theme
Mental Image Theme has attractive details for the top and the bottom of your picture gallery or journal pages. These details are intended to create an informal atmosphere with a little bit of solidness, but will not disturb the viewers' attention to your great pictures.
Pricing and Availability:
Each theme is available for $19.99 USD
Read More