These are instructions on how to create an SSH install patchstick using ATV USB Creator and use it to jailbreak your Apple TV.
Before getting started you need a USB Stick that has been formatted to a single Mac OS Extended (Journaled) partition that uses a GUID Partition Table. You can find instructions on doing this
here
.
Step One
Download ATV USB Creator from https://atvusb-creator.googlecode.com/files/atvusb-creator-1.0.b10.zip and place it on your desktop.
Step Two
Double click to extract the
atvusb-creator-1.0.b10.zip
archive on your Desktop. A folder called
atvusb-creator1.0.b10
will created.
NOTE***: Make sure there are no spaces in the folder name!
Step Three
Connect a USB Stick to your computer.
Step Four
From the
atvusb-creator 1.0.b10
folder, double click the
atvusb-creator
icon
Step Five
You will be informed that the application was downloaded from the Internet. Click the
Open
button.
Step Six
From the
Choose an Installation
dropdown select
ATV-Patchstick.
Step Seven
From the
Installation Options
dropdown select
ssh tools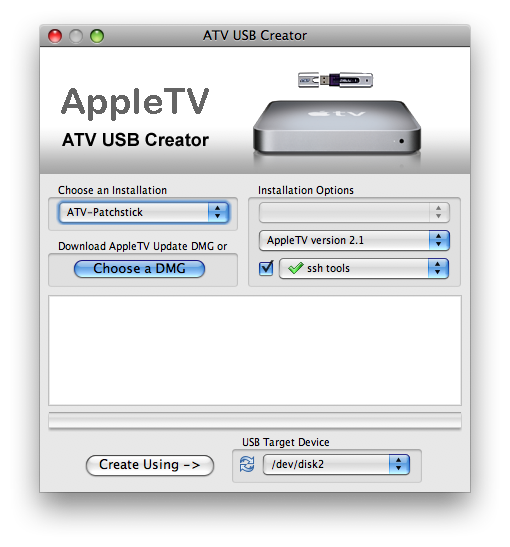 Step Eight
Make sure the correct USB stick is selected for use.
Step Nine
Press the
Create Using -->
button.

Step Ten
ATV USB Creator will now download the AppleTV Update DMG. If you prefer to select this file yourself you could click the
Choose a DMG
button.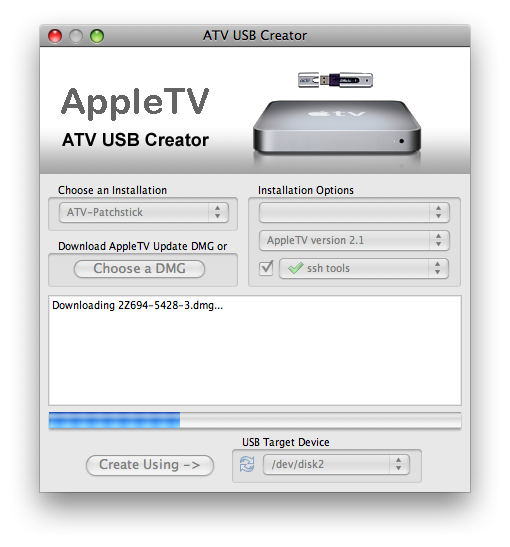 Step Eleven
The program will inform you when your patchstick has been completed successfully.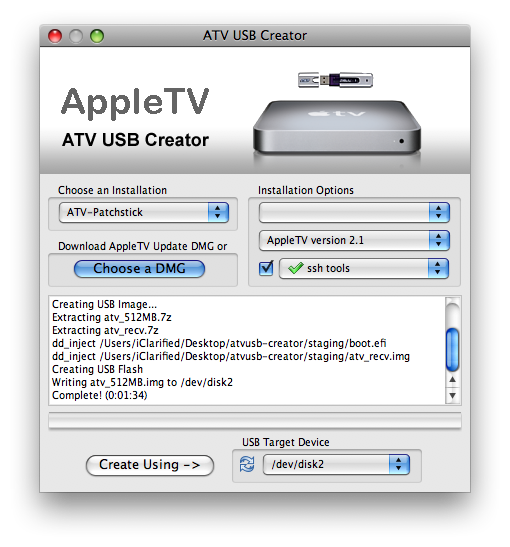 Step Twelve
Notice that your USB Stick has been renamed and now contains files...
Step Thirteen
Eject the USB Stick and connect it to your AppleTV.
Step Fourteen
Hold down the
Menu
and
-
buttons on the AppleTV remote until it reboots.
Step Fifteen
Notice the Patchstick will now do its job and install SSH on the AppleTV.
Step Sixteen
When complete, remove the USB Stick from the AppleTV and unplug the device. Plug it back in to reboot.
Step Eighteen
You can now access your AppleTV via SSH to perform a host of functions and hacks. You can find many interesting tutorials for your AppleTV
here
THANKS***: A big thanks to sdavilla for creating this great app!
NOTES***: Some users have reported issues with certain USB Sticks. If you have any problems try a different one... We will post more info as we get it!