Parallels Desktop for Mac v4.0
Posted November 12, 2008 at 10:04am by iClarified · 6091 views
Parallels today announced the availability of version 4.0 of Parallels Desktop for Mac, its market-leading product that currently enables more than 1.5 million users to run Windows, Linux and other operating systems side-by-side with Mac OS X. This new version of the award-winning Parallels Desktop for Mac improves OS integration, performs up to 50% faster and incorporates a range of security, backup and power saving features to give Mac users a truly easy, fast and powerful desktop computing solution.
"We run a high volume of Macs and it's absolutely vital that they deliver on fast performance and ease of use. Parallels has met this need well with features like Coherence and SmartSelect in creating a seamless Windows-on-Mac experience," said John Hermes, Chief Technology Officer at Oklahoma Christian University. "Parallels Desktop 4.0 for Mac builds on this, providing blazing speed and all-round performance through innovations such as the Adaptive Hypervisor, which gives our users the resources they need on the fly; and advanced graphics support, which provides a very smooth experience."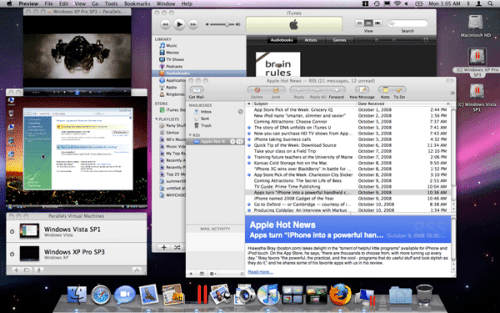 Parallels Desktop 4.0 for Mac introduces support for DirectX 9, DirectX Pixel Shader 2.0 and OpenGL 2.0, providing fast video performance, while the Adaptive Hypervisor dynamically allocates resources to meet user needs. The responsiveness to all applications is further enhanced as the virtualization engine has been optimized to consume 15-30% less resources than previous versions.
"Parallels is committed to continuing the innovation that has resulted in Parallels Desktop for Mac winning more than 30 major awards and being a premier Windows-on-Mac virtualization product," said Serguei Beloussov, CEO of Parallels. "With version 4.0, we are delivering an advanced solution that is easy, fast and powerful – with industry-leading tools and utilities included at no extra cost."
Parallels Desktop 4.0 for Mac addresses two other primary user concerns: security and backup. The software offers users peace of mind through Parallels Internet Security powered by Kaspersky for anti-virus, firewall, scanner, recovery, filtering and identity protection as well as Acronis True Image Home backup and restore and Acronis Disk Director Suite. These three additions to Parallels Desktop represent $175 in extra value along with a more complete user experience.
"Mac OS X is the world's most advanced operating system and its ability to run Windows on a Mac is yet another reason users are switching to the Mac at a rapid rate," said Ron Okamoto, Apple's vice president of Worldwide Developer Relations. "This rapid adoption is supported by applications like Parallels Desktop for Mac, which enables users to get the most from their hardware."
Parallels Desktop 4.0 offers a computing experience that is:
* Easy – Get easy access to all your applications and data while enjoying the full Mac experience with Improved Windows and Mac integration, True Drag & Drop and Copy & Paste, SmartX Technologies and Built-in Installation and Migration Tools.
* Fast – Experience the fastest speed for all applications with Adaptive Hypervisor, FastLane Architecture, up to 8 way SMP and 8 GB RAM plus 64-bit support for each VM, HyperBus and support for DirectX 9.0, DirectX Pixel Shader 2.0, and OpenGL 2.0.
* Powerful – Get a complete suite of essentials for Internet security, data protection and disk management with Parallels Internet Security powered by Kaspersky, Acronis True Image Home backup and restore, SmartGuard, PowerSaver, Full-hardware ACPI support and Acronis Disk Director Suite disk management.
* Developer and Enterprise Ready – Additional features specifically for Developers and IT administrators include Mac OS X Leopard Server and Windows Server OS support, VM Directory, CLI and Scripting support, SDK and API, remote control from iPhone, PXE Boot, improved networking and VM Templates.
With more than 50 new features, additional highlights include a redesigned user interface with quick access to all VMs, additional Screenview modes, Clips for screenshots, Speech Recognition, Security Manager, Safe Mode, Shut Down Mode and Over 45 Supported Guest OSs.
"The growth, in both performance and ease of use, of desktop virtualization software is making it easier for Windows users to adopt Macintosh computers. The availability of this technology is one of many factors driving growth in the adoption of Mac desktops and notebooks, for which shipments have grown 46.6% between the first half of 2007 and the first half of 2008, according to our data," said Michael Rose, Industry Analyst at the research firm, IDC. "Those users leveraging virtualization software on their Macintosh hardware will find that many of the new capabilities in Parallels Desktop 4.0 represent another step forward."
Availability and Pricing
Parallels Desktop 4.0 for Mac is available in English and localized versions will soon be available in Chinese, Czech, French, German, Hungarian, Italian, Japanese, Spanish, Polish and Russian.
The standard retail price (SRP) of Parallels Desktop 4.0 for Mac is $79.99. New users can test a free, fully-functional copy for 15 days. Current Parallels Desktop users can upgrade their existing software for only $39.99 – a 50% off promotional price available until November 30, 2008. Users that purchased version 3.0 on or after September 1, 2008, qualify for a free upgrade to version 4.0.
Read More