Announcing NEAT Receipts for Mac
Posted May 19, 2008 at 11:13am by iClarified · 5659 views
NEAT Receipts today announced an Advance Release (version 1.0) of a completely new scanner and software solution, its first product specifically designed for the Mac platform. It is also the first product developed using NEAT Receipts' proprietary new hardware design.
The Advance Release product offers individuals and small businesses the ability to scan and manage receipts and documents using Mac OSX. NEAT Receipts for Mac was developed in the Apple programming environment so it provides an easy-to-use interface, with a look and feel that Mac users are already familiar with such as drag-and-drop functionality, image flow and other views and the ability to import e-receipts by printing to NeatReceipts PDF files.
The Advance Release does not yet include the full feature set of the most recent PC version (NEAT Receipts version 3). NEAT Receipts for Mac version 2, which will be available in early 2009, will include additional features that make the Mac version more analogous to the NEAT Receipts (Windows) feature set.
All customers who purchase the Advance Release will receive a free upgrade to version 2 once it is available.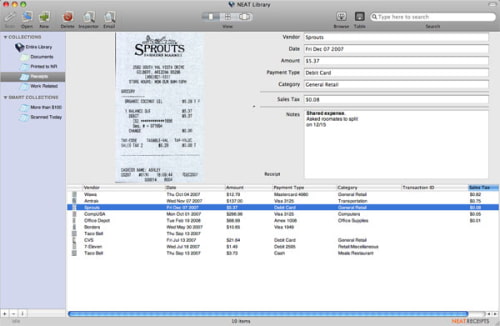 Key Features of NEAT Receipts for Mac Advance Release Include:
- Receipt and Document Scanning – Create a digital filing cabinet for all important receipts and documents
- Multiple Libraries – Create separate libraries for multiple businesses, projects or time periods
- Document Collections – Organize paperwork by groups to keep relevant items organized together
- Smart Collections – Create a collection of receipts or documents based on specific criteria such as vendor name, category or date
- Intelligent Text Recognition – Extract key information from receipts and capture it in digital format
- Expense Reports – Export receipt collections to a PDF expense report format
- Searchable PDF Format – Documents are stored as PDF files that can easily be dragged and dropped anywhere in the file system - even directly into e-mail
- PDF Importing – Import PDF copies of receipts and documents stored on hard drive
- Search by Keyword – For easily searching and locating scanned receipts and documents
Read More