How to Check the Weather on Your iPhone
Posted May 23, 2008 at 12:19am by iClarified · 48110 views
These are instructions on how to use your iPhone to check weather conditions. This is a basic tutorial but for those of you just setting up your iPhone it may help.
Step One
Press to select the
Weather
icon from your iPhone SpringBoard.
Step Two
If this is the first time you are setting up your Weather application then it will default to Cupertino. Press the small
i
button at the bottom right of the screen.
Step Three
You will now be presented with a list of the cities for which you can check weather.
Step Four
To delete a city (ie Cupertino) press the red "Do Not Enter" button at the left side of the city name. A
Delete
button will then appear. Press it to remove the city from your list.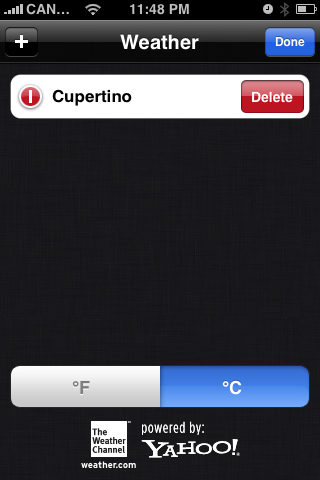 Step Five
To add a city press the
+
button at the top left hand corner of the screen.
The Add Location window will appear. Type in the name of your city then press the
Search
button.
Now a list of possible results will appear. Press to select the correct location.
Notice the city now appears in your list of Weather Locations. You can continue to add more cities if you like.
Step Six
You can drag the handles at the right of each location to order the cities in your list. At the bottom of your weather list you can choose between Celsius and Fahrenheit using the two large buttons. Then press the
Done
button at the top right to finish your changes.
Step Seven
You will now be taken to the weather conditions for your chosen city! You can
swipe
to move between cities on your list.