iPhone Nano By Christmas is Optimistic?
Posted August 5, 2008 at 8:37pm by iClarified · 9147 views
Rumors that an iPhone nano will surface this year are overly optimistic, according to Lehman Brothers and an AppleInsider report. They believe a spring release is more likely.
"While we believe Apple is working on a lower-end iPhone form factor, we do not think one will come until Spring 2009," analyst Ben Reitzes advised clients.
Reitzes believes that with Apple launching the iPhone 3G in another 50 countries that the nano would complicate matters. Also iPhone owners became irate when Apple dropped the price of the 2G nano just after release. Most likely they would want to avoid a similar occurrence.
"While we have picked up indications of a product like this in the supply chain, it doesn't appear that the company has yet solidified the form factor, so it may be hard to get it finalized in time for the holidays," the analyst added.
"We believe that strong demand in the initial countries could make a rollout overseas take longer simply based on supply," he said. "We believe that initial demand overseas could be quite strong and estimate 8.3 million iPhones could be sold in [the fiscal first quarter of 2008] (December) with 24.2 million sold in fiscal 2009."
Read More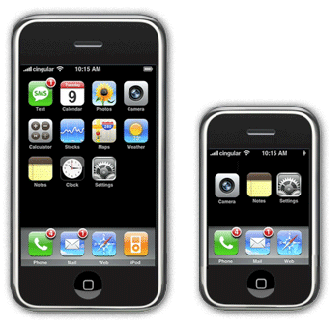 (NOTE*: This is just a mockup image)