****THIS TUTORIAL HAS BEEN UPDATED FOR THE NEW 3.0 FIRMWARE. PLEASE FOLLOW THE UPDATED INSTRUCTIONS
HERE
****
These are instructions on how to jailbreak your iPhone with QuickPwn. The instructions have been updated for the 2.2.1 version of the iPhone firmware.
IMPORTANT***: If you have an iPhone 3G and would like to unlock please use
this
tutorial to jailbreak your iPhone.
Before beginning click the
Restore
button in iTunes to update your iPhone to the 2.2.1 firmware.
Note: You could use this tutorial as first step to unlocking the iPhone 2G. Simply complete this tutorial to jailbreak then install BootNeuter from Cydia to complete the unlock.
Step One
Create a folder on your desktop called
Pwnage
Step Two
Download QuickPwn 2.2.5 from
here
and place it in the Pwnage folder. Likewise, download the latest 2.2.1 firmware from below and place it in the same folder.
2.2.1 (2G):
iPhone1,1_2.2.1_5H1_Restore.ipsw
2.2.1 (3G):
iPhone1,2_2.2.1_5H11_Restore.ipsw
Step Three
Double click to mount the QuickPwn [QuickPwn_2.2.5.dmg] archive. Drag the QuickPwn application icon into the Pwnage folder on your desktop.
Step Four
Double click to launch
QuickPwn
from the Pwnage folder.

Step Five
Click
OK
to accept the copyright notice.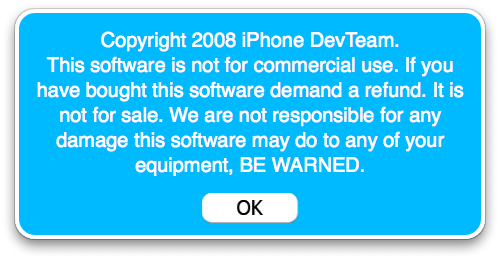 Step Six
Connect your iPhone to the computer when asked then click the
OK
button.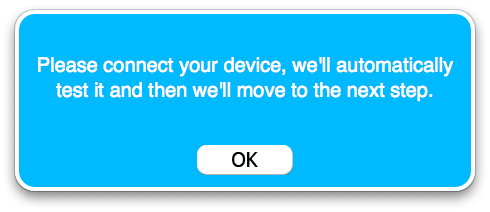 Step Seven
QuickPwn will now automatically detect the device connected!
Step Eight
QuickPwn will now automatically search for the latest firmware for this device
Step Nine
You will be asked if you would like to replace the original boot and recovery logos on your iPhone. Select
Yes
or
No
to continue.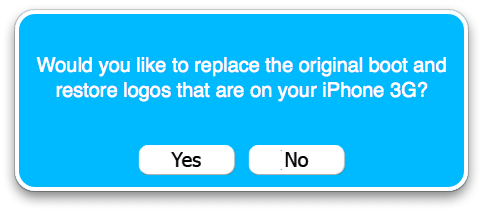 Step Ten
QuickPwn will now begin building your custom IPSW.
Step Eleven
You will be asked to enter your administrator username and password. Do this, then click
OK
to continue.
Step Twelve
QuickPwn will now help you put your iPhone into DFU mode. First, turn off the device.
Next, you will be asked to hold both the
Home
and
Power
buttons for 10 seconds.
Finally, you will release the power button and continue holding down the
Home
button for another 10 seconds.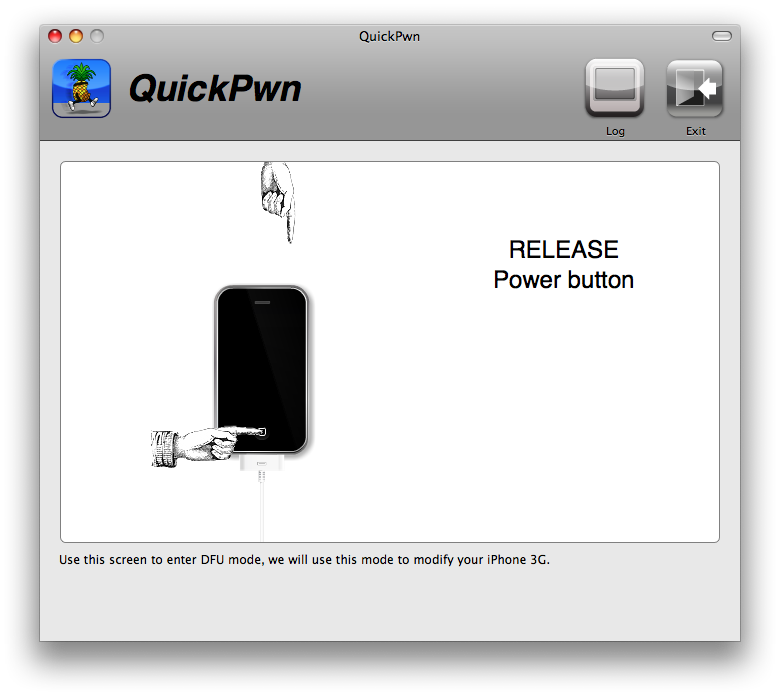 Step Thirteen
QuickPwn will now automatically begin sending information to your iPhone.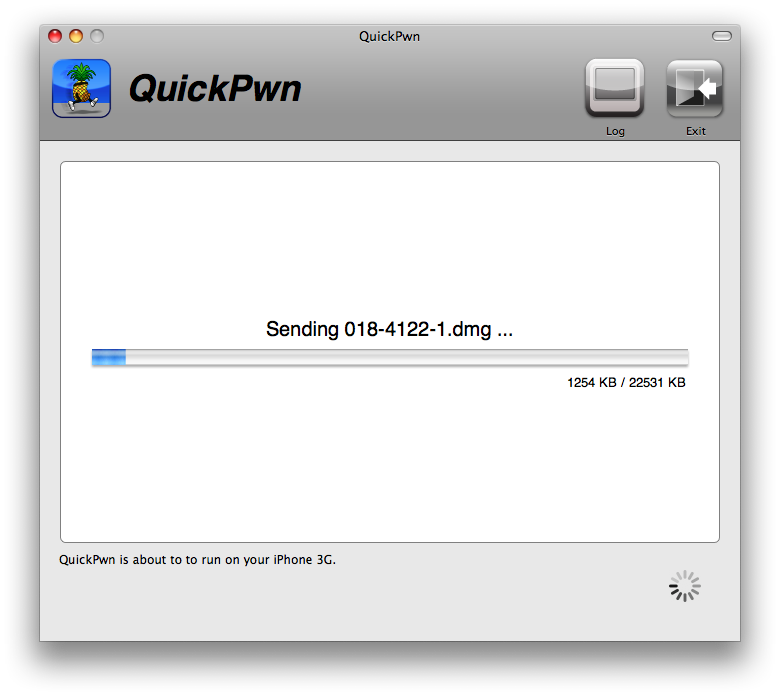 Step Fourteen
You will now be notified that QuickPwn is modifying your iPhone. The process will take some time and will cause the iPhone to reboot. Don't do anything until the process has completed!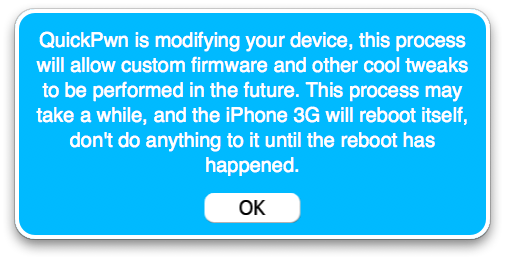 Step Fifteen
Once your iPhone has rebooted it will be jailbroken and have both Cydia and Installer on the Springboard!