Dit zijn de instructies om je iPhone te Jailbreaken met QuickPwn. De instructies zijn vernieuwd voor de laatste (2.2) versie van de of iPhone firmware. Voordat je begint, wees er zeker van dat je hebt hersteld naar firmware 2.2 door te klikken op de
Herstel
knop in iTunes.
Tip: Je kan deze gebruiksaanwijzing gebruiken als eerste stap voor het unlocken van de iPhone 2G. Rond deze gebruiksaanwijzing af om te jailbreaken en installeer BootNeuter uit Cydia om te unlocken.
Stap Een
Creeer een map op je desktop genaamd
Pwnage
Stap Twee
Download QuickPwn 2.2 van
hier
en zet het in de Pwnage map. Hetzelfde doe je met onderstaande laatste 2.2 firmware en zet het in dezelfde map.
2.2.0 (2G):
iPhone1,1_2.2_5G77_Restore.ipsw
2.2.0 (3G):
iPhone1,2_2.2_5G77_Restore.ipsw
Stap Drie
Dubbel klik voor het activeren van QuickPwn [QuickPwn_22.dmg] applicatie.
Sleep het QuickPwn applicatie icoon in de Pwnage map op je desktop.
Stap Vier
Om te starten, dubbel klik op
QuickPwn
in de Pwnage map.

Stap Vijf
Klik
OK
om de copyrights te accepteren.
Stap Zes
Sluit je iPhone aan de computer zodra daar om gevraagd wordt en klik op de
OK
knop.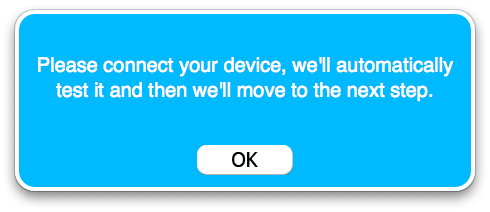 Stap Zeven
QuickPwn zal nu automatisch het apparaat herkennen dat gekoppeld is!
Stap Acht
QuickPwn zal nu automatisch zoeken naar de laatste firmware voor dit apparaat.
Stap Negen
Je zal worden gevraagd of je de orginele opstart en herstel logo's wil vervangen op je iPhone. Selecteer
Yes
of
No
om door te gaan.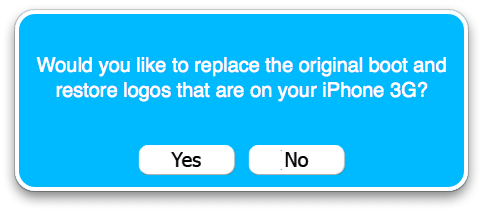 Stap Tien
QuickPwn zal nu een nieuwe IPSW maken.
Stap Elf
Je wordt nu gevraagd om je gebruikersnaam en wachtwoord in te vullen.
Doe dit en klik dan op
OK
om door te gaan.
Stap Twaalf
QuickPwn zal je nu helpen om je iPhone in DFU mode te zetten.
Als 1e, zet je apparaat uit.
Vervolgens, wordt je gevraagd om zowel de
Home
als
Power
tegelijk in te drukken voor 10 seconden.
Als laatste, laat de Power knop los en hou de
Home
knop vast voor nog 10 seconden.
Stap Dertien
QuickPwn zal nu automatisch informatie sturen naar de iPhone.
Stap Veertien
Je wordt nu op de hoogte gesteld dat QuickPwn je iPhone aan het aanpassen is.
Het proces zal wat tijd innemen en zal de iPhone opnieuw opstarten.
Doe niets totdat het proces volledig is afgerond!
Stap Vijftien
Zodra de iPhone opnieuw is gestart, zal de Jailbreak compleet zijn en heeft het zowel Cydia als Installer op je Springboard!