i.TV v1.1 Adds Netflix Queue Manangement
Posted November 12, 2008 at 3:32pm by iClarified · 3822 views
i.TV is a movie and TV guide for the iPhone and iPod Touch. Quickly and easily find out when and where your favorite movies and TV shows are playing anywhere in the US and Canada.
New Features in 1.1:
- Search results now include over 100,000 DVD titles from Netflix, in addition to TV programs, in-theater movies and detailed show information and cast lists.
- Discover Netflix DVD titles by tapping the 'Watch' button from any TV or movie details screen.
- Easily reorder or delete items in your Netflix queue from within the My Media tab.
- Add movies and TV episodes to your Netflix instant watching queue, allowing you to instantly stream content to your Windows PC, Xbox 360, Roku box, TiVo® Series3, TiVo HD, or TiVo HD XL digital video recorders and select Blu-Ray players. (Mac support by end of 2008).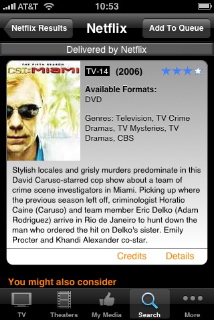 Also new in this release: WIKIPEDIA
- Wikipedia articles now linked to most show, movie and actor screens.
TV Listings Improvements:
- Many new TV service providers added
- Over The Air digital sub channels now available
- Indicator when a show is NEW
- Display option to show only NEW programming
Movie and Theater Improvements:
- Movies can be displayed alphabetically, by star rating, by content rating, and now by location.
- Use device location services to find movies and theaters near your current location.
- Movie and theater data is now separate from TV listing data, allowing you to specify a different location for your theater and movie listings.
- Trailer quality improvements
Misc. Improvements:
- Reviews now easier to navigate
- Simplified account creation
- Bug fixes and performance improvements
Read More