Send SMS Text Messages From Gmail
Posted December 11, 2008 at 2:57pm by iClarified · 9051 views
Google has announced that you can now send SMS text messages right from Gmail.
It combines the best parts of IM and texting: you chat from the comfort of your computer, and your friends can peck out replies on their little keyboards.
To turn on text messaging for chat, click on Settings, and go to the Labs tab. Scroll down until you see "Text Messaging (SMS) in Chat" and select Enable and Save Changes.
Currently you can send texts to US phone numbers from anywhere in the world. To try it simply type a phone number into the chat window search box on the left, then select "Send SMS."
Give Gmail a name for the number then start chatting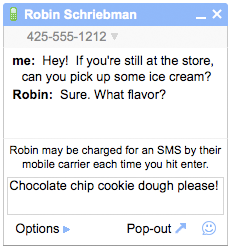 When you get a text message from Gmail on your phone, it will come from a number in the 406 area code. You can reply to this text on your phone just like you'd reply to any other text. The reply gets routed back to our Gmail servers and shows up in your friend's Gmail chat window. Each of your friends' messages will come from a different 406 number so you can reply to any message and it will get back to the right person.
Read More