Apple Maps Are 3x More Likely to Get You Lost Than Google Maps [Chart]
Posted December 20, 2012 at 5:43am by iClarified · 14200 views
According to a new study from CrowdFlower, Apple Maps are 3x more likely to get you lost than Google Maps, reports Mashable.
To test how Maps stacks up against Google's (and Bing's) offerings, the online workforce company CrowdFlower picked a random 1,000 business listings in the U.S., and another 100 in the U.K. For each listing, the company was looking for two things: whether you could find it on each of the three mapping services, and if so, whether the results were accurate.
Apple Maps performed worse than both Google and Bing. Only 75% of listings were found in the U.S. and only 50% of listings were found in the U.K. One third of U.K. listings were in the wrong place and 3.4% of U.S. listings found were in the wrong place. Compare that to Google at 1.1% wrong and Bing at 1.3% wrong.
That being said, CrowdFlower's lead product manager Lukas Bergstrom still gives Apple Maps a pass for the time being. "Local data is hard," he says. "Small businesses are closing and starting up all the time. And Apple is just getting into this game. We'll be very interested to see how their data improves over time."
Check out the charts below...
[
via Mashable
]
Listings Found: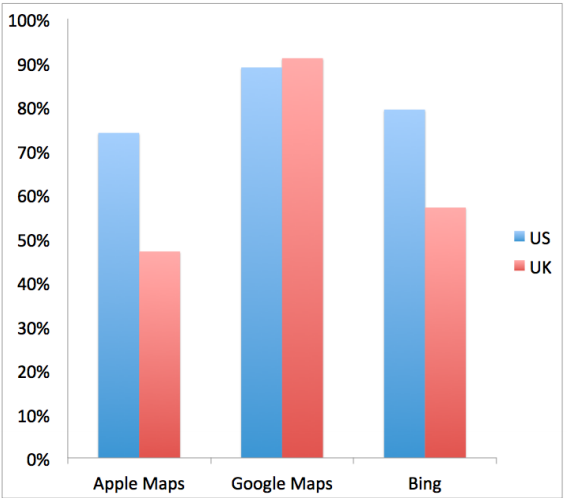 Listings Wrong: