Pioneer has launched the DDJ-WeGO2, a DJ controller that connects to your iPhone or iPad.

[iL]ike its predecessor, the DDJ-WeGO2 offers advanced but easy to use functions and features that make the art of DJing fun and simple including Jog FX, Pulse Control, multi-color LED illumination, Virtual DJ Limited Edition DJ software for Windows and Mac, and additional support for other DJ software such as Algoriddim's djay. The DDJ-WeGO2 adds quick connection with iPhone 5 and iPad using only the included Pioneer cable with Lightning connector1, and a Multi-purpose Grip that makes the controller easy to carry as well providing a convenient stand for compatible iOS devices.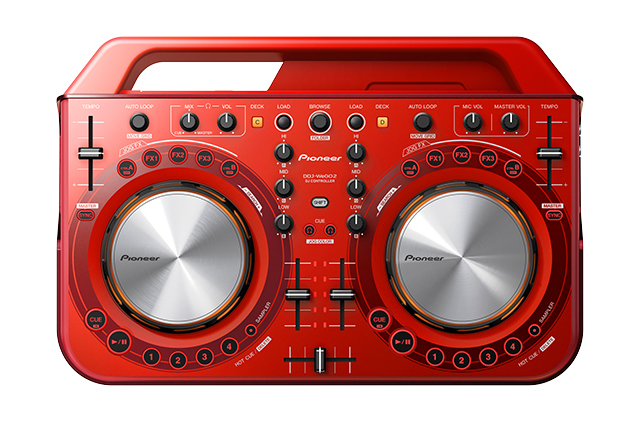 Features:
● iPhone and iPad Cable (included) – The Pioneer cable with Lightning connector enables quick connection of the unit to an iPhone 5 or iPad, while the "djay 22" application provides instantaneous access and playback of music stored in compatible iOS devices.
● Jog FX – Allows users to combine multiple effects and control them simultaneously using the Jog wheel.
● Pulse Control – Provides users with visual prompts with a variety of colored lights on the Jog platters:
● Mix Pulse – Lights around the Jog wheel show the beat of the tracks in play. The intensity of the lights is reduced as the beats go out of sync, giving novices a visual aid to beat matching.
● Launch Pulse – Triggers a red light on the Jog wheel to signify that music has been loaded successfully.
● FX Pulse – The effect being applied to the currently playing song will be heard and represented visually via the light movements on the Jog wheel.
● DJ Software – The DDJ-WeGO2 is bundled with the "Virtual DJ Limited Edition" software by Atomix Productions (for Windows or Mac) that offers a broad range of functions for mixing songs, including making loops and creating samples, and mixing up to four channels for unlimited user creativity and mixes. The DDJ-WeGO2 has the ability to support other DJ software including Algoriddim djay and djay LE.3
● USB Power – The DDJ-WeGO uses power from USB connections found on most computers, eliminating the need for an external power supply.
● Multi-purpose Grip - The controller features a convenient dual purpose grip for transporting the unit as well as functioning as a stand for a connected iPhone 5 or iPad device.
● Built-in audio ports for high quality sound input and output.
● Built-in sound card for expanded music storage and portability.
● Compact (14.9" x 8.2" x 2.5") and weighs less than four pounds (without stand) for easy transportation.




The DDJ-WeGO2 will be available in white, black and red to complement the user's taste, with each color option now covering the entire controller body. The DDJ-WeGO2 colors also match the popular line of HDJ-500 DJ headphones. The controller features multi-color LED backlighting for the Jog wheel and a color-customizable user interface for the included software.

Pricing and Availability:
The ultra compact DDJ-WeGO2 will be available in October 2013 with a suggested retail price of $429.

Read More [via Desire This]