Brink's Home Security unveiled its new 'Array' digital deadbolt at the International Builders Show in Las Vegas. The deadbolt can be installed without adding separate hubs or accessories and features a highly efficient, proprietary power system.
"When we began development of Array over two years ago, we started with the premise that a connected deadbolt shouldn't be complex or inconvenient for homeowners to use. Our goal was to provide a highly secure, digital deadbolt homeowners could rely on without needing to purchase additional equipment or connect through a gateway hub. We selected Wi-Fi because of its ubiquity, and worked with development partners to build a power management solution into the Array deadbolts that won't require frequent battery replacements or home rewiring," said Jim Hartung, executive vice president, Hampton Products.
Array's breakthrough power management system eliminates the need for frequent battery changes. The proprietary, onboard photovoltaic panel, powered by SunCore, provides an energy yield nearly twice that of standard solar panels and is capable of extracting useful energy even in low levels of ambient light.
"Hampton's integrated solar power management and battery system enables integration of Wi-Fi, the default home network technology available in 86% of U.S. households," said Tom Kerber, director of research at Parks Associates. "Technologies that extend battery life or eliminate the need to replace batteries altogether provide significant differentiation in the smart home market."
Features:
● Array uses proven Wi-Fi wireless technology to enable turn-key operation right out of the box. Homeowners can install Array using a single screwdriver, and easily connect to their home router.
● To power the deadbolt's Wi-Fi connection, Array uses an innovative power management system that combines a proprietary battery PLUS an onboard photovoltaic panel that captures light energy from a variety of indoor and outdoor sources – even in dim light – to sustain the lock's functions.
● Array's unique, advanced power management circuitry regulates the battery's intake and output to provide a multi-year, useful battery life.
● Array users can open their doors three ways: via smartphone, touch pad, or traditional metal key.
● The Array smartphone app for iOS and Android devices enables multiple usage and tracking functions.
● Data encryption, two-step authentication, and a highly secure cloud architecture provides enterprise-class security.
● The photovoltaic panel built into the elegantly designed deadbolt doubles as a cover to the discretely hidden metal touchpad.
● And, in addition to working as a stand-alone connected deadbolt, Array will also work with popular Smart Home systems.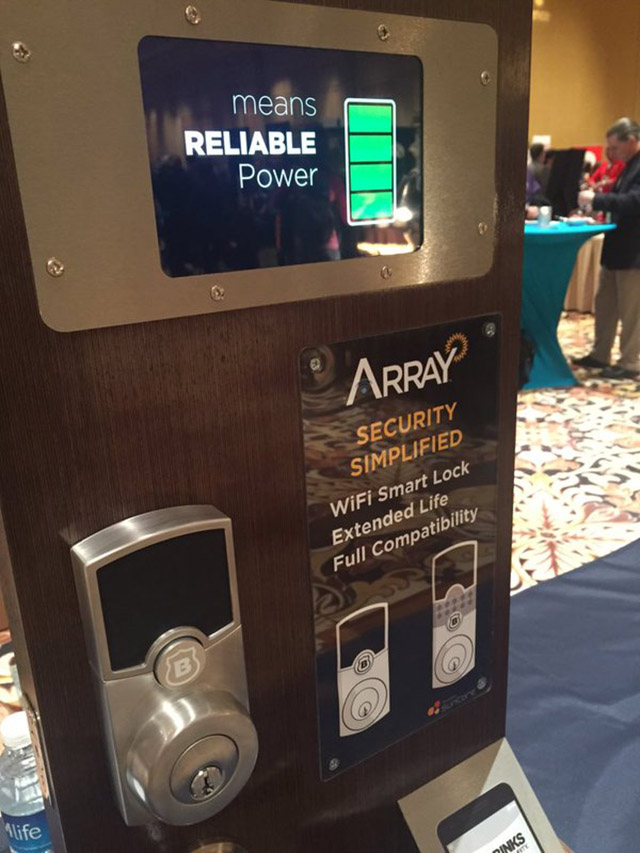 The Array smartphone app will allow the user to operate the deadbolt with both iOS and Android devices. Consumers can open their doors with a smartphone instead of using keys; provide access remotely to guests using E-Keys and E-Codes; check to confirm whether the door is closed and locked; and use the app to view door lock usage, and schedule or manage user access.
Array digital deadbolts are also compatible with Apple HomeKit, Works with Nest products, and various Smart Home platforms. The deadbolts are designed to meet or exceed American National Standards Institute (ANSI) Grade 2 standards – the highest performance rating for residential door hardware – and are pick-resistant, bump-resistant, and drill-resistant.
Array deadbolts will be available in several finishes including satin nickel, Tuscan Bronze, and polished brass. Pricing has yet to be announced and availability is set for late 2016.
Please follow iClarified on
Twitter
,
Facebook
,
Google+
, or
RSS
for updates.
Read More