The popular CARROT weather app has received a big update that includes an iPad design refresh, Split View and Slide Over support, iCloud Sync & Restore, and much more.

The minimalistic weather app uses Dark Sky's weather data and can be upgraded to use AccuWeather, ClimaCell, Foreca, MeteoGroup Aeris Weather, and WillyWeather data sources.

Check out the full list of new features below...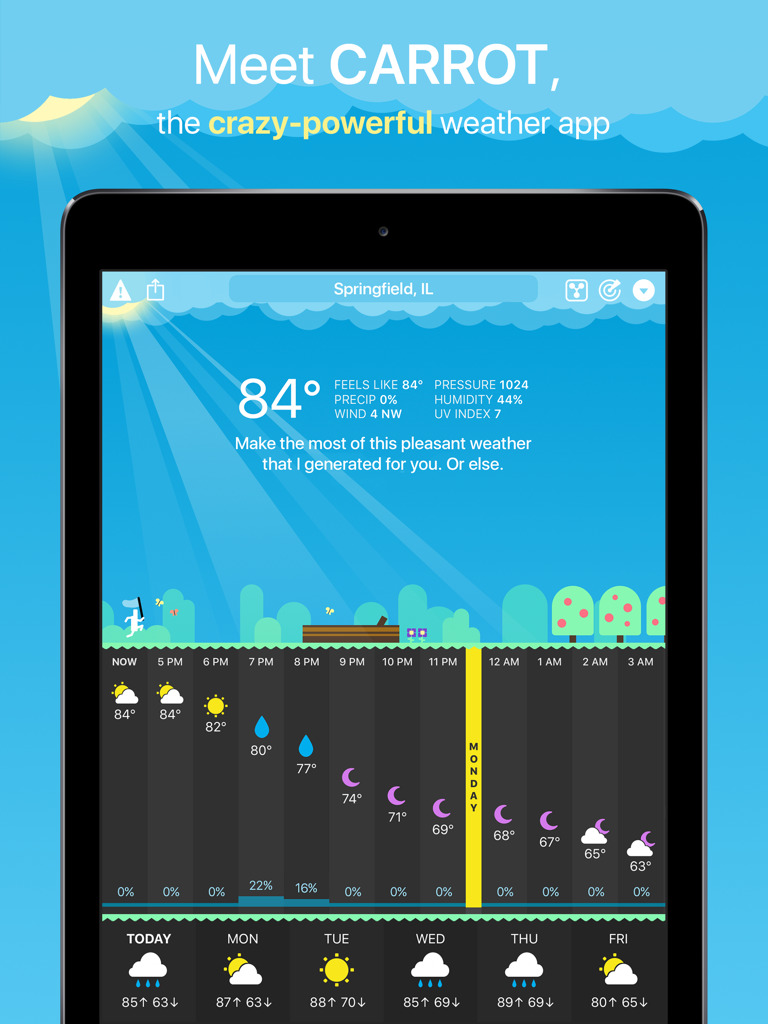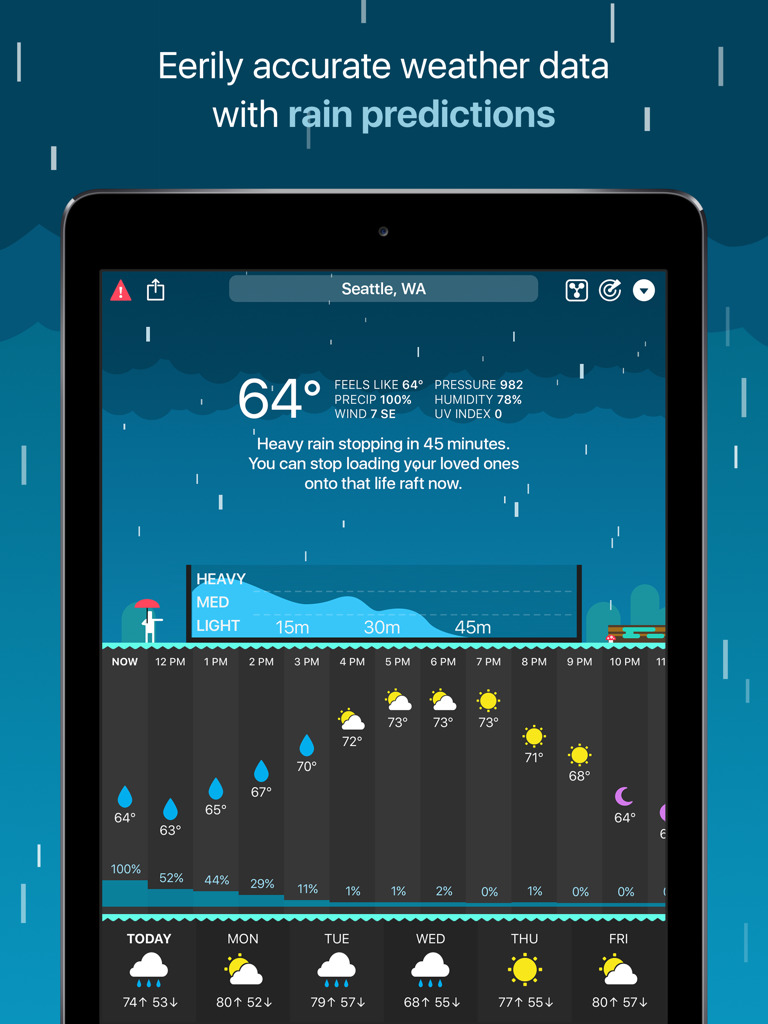 What's New In This Version:
Summer is in full swing, meatbags! I know it's hot enough to actually consider jumping in a contaminated public pool to cool down, but first: check out this big update I've prepared for you.

iPad Multitasking
Achieve peak efficiency by checking the weather in Split Screen and Slide Over multitasking modes! (Disclaimer: your puny human brain may become overwhelmed trying to juggle more than one task at a time.)

iCloud Sync & Restore
My settings, saved locations, weather stations, achievements, and secret locations can all sync via iCloud now. (Settings sync is disabled by default.) Even better, you can restore all 150+ app settings from a backup during app setup or via the new iCloud screen in my settings.

Air Quality Notifications (Tier 2 required)
Air pollution got your weak human lungs down? Add a custom notification for Air Quality Index to get a heads up on days where you'll be struggling to breathe outdoors.

iPad Design Refresh
To go with my new multitasking features, I also redesigned large portions of the iPad app to make better use of the tablet's larger screen. More current observation data points, a new day details screen, and popovers galore!

iPad Autorefresh (Tier 3 required)
Leave me running in the foreground on your iPad and I will now automatically update my data periodically - perfect if you have an old tablet laying around that you'd like to turn into an always-on, wall-mounted weather display.

Data Sources (Tier 1 required)
In case you missed it from last month's update, I've added not one, not two, but three amazing new data sources: CimaCell, Foreca, and MeteoGroup. And with this version, all three providers now have full day/night summaries.

Weather Map Improvements (Tier 2 required)
Celebrate hurricane season by tracking storms in style! Just tap a hurricane's path or an individual storm cell on my maps screen to get more details.

Notification Improvements (Tier 1 required)
The severe weather alert and hurricane tracker notifications have both been completely redesigned to show lots more useful information in their respective rich notification views. Because if you're going to die, you might as well know as much as possible about the severe weather that's going to kill you.

But wait, there's more!
- The legibility of current observation data points has been improved to help those of you with weak human eyes.
- You can save a few steps by adding cities to your saved locations while searching.
- There's a bunch of new iPad keyboard shortcuts for you to mash with your fat human fingers.

And along with a bevy of bug fixes and performance improvements, I also added 1 new secret location and 2 new achievements to help distract you from wondering whether this month's A/C bill will bankrupt you.

You can purchase CARROT Weather from the App Store for $4.99.

Read More