Apple has retaken its place as the world's second largest smartphone vendor, reports IDC. This comes in a quarter that saw smartphone shipments decline year over year.
The double-digit growth in the smartphone market in the early quarters of 2021 came to an end in the third quarter of 2021 (3Q21) as worldwide shipments declined 6.7% year over year. According to preliminary data from the International Data Corporation (IDC) Worldwide Quarterly Mobile Phone Tracker, smartphone vendors shipped a total of 331.2 million units during the quarter. Although a slight decline was expected in the seasonally low third quarter, the actual decline were over twice the forecast of -2.9% growth.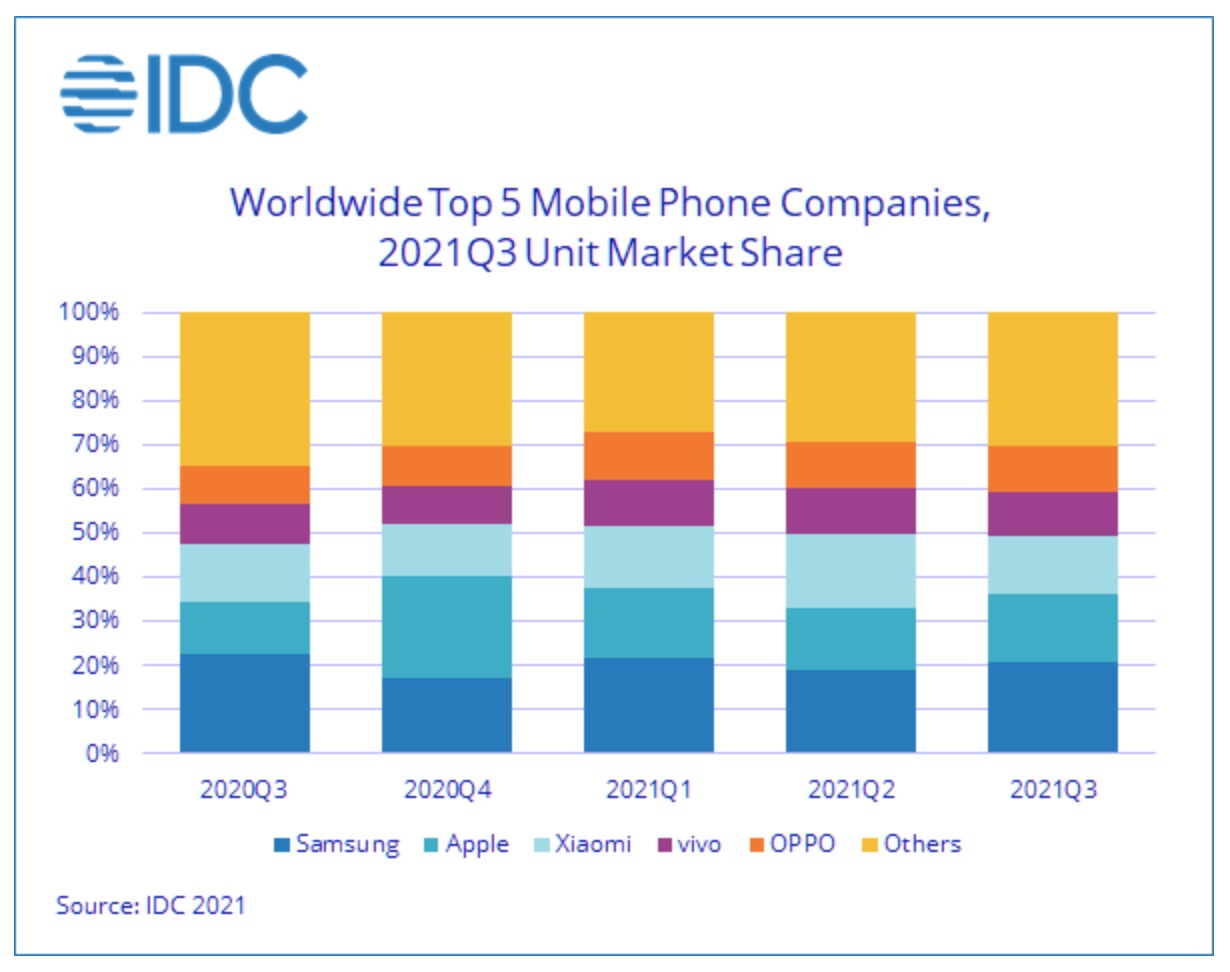 "The supply chain and component shortage issues have finally caught up to the smartphone market, which until now seemed almost immune to this issue despite its adverse impact on many other adjacent industries," said Nabila Popal, research director with IDC's Mobility and Consumer Device Trackers. "In all honestly, it was never fully immune to the shortages, but until recently the shortages were not severe enough to cause a decline in shipments and was simply limiting the rate of growth. However, the issues have now compounded, and shortages are affecting all vendors alike. On top of component shortages, the industry has also been hit with other manufacturing and logistical challenges. Stricter testing and quarantining policies are delaying transportation and power supply constraints in China are restricting manufacturing of key components. Despite all efforts to mitigate the impact, all major vendors' production targets for the fourth quarter have been adjusted downwards. With continued strong demand, we don't anticipate the supply-side issues to ease until well into next year."
Samsung finished the third quarter with 69 million units shipped, putting it in first place with 20.8% market share. Apple came in second with 50.4 million units shipped and 15.2% market share, a 20.8% year over year improvement. Xiomi came in third with 44.3 million units shipped and 13.4% market share followed by vivo and OPPO with 33.3 million and 33.2 million units shipped.
Hit the link below for the full report...
Read More