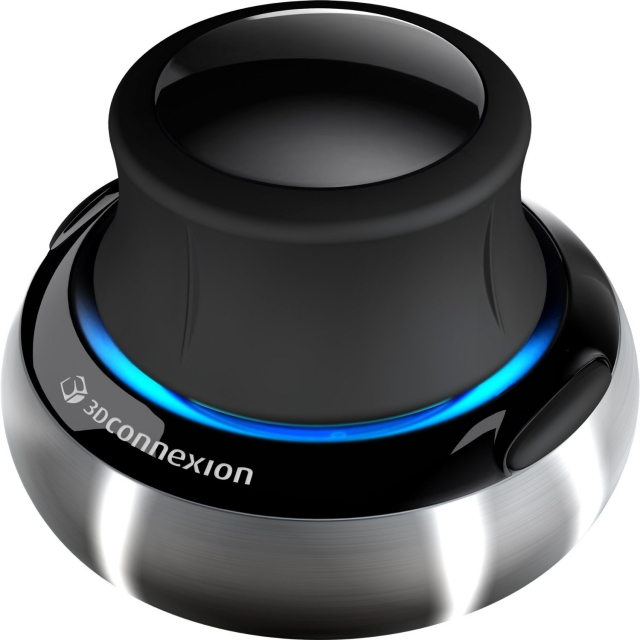 Description:
A true 3D mouse, SpaceNavigator represents a great leap forward in price and performance for controller technology. Unlike a conventional mouse that confines movement to a flat plane, the SpaceNavigator 3D mouse makes it much easier to control 3D models and scenes. By gently pushing, pulling, tilting or sliding the SpaceNavigator's pressure sensitive controller cap users simultaneously move objects with six degrees of freedom. By varying the amount of pressure on the cap users can easily accelerate or decelerate actions with precision.

Unique pressure sensing technology makes the 3D mouse a virtual extension of a user's body—and the perfect companion for today's most popular 3D applications, including SolidWorks, Autodesk Inventor, Autodesk 3ds Max, Adobe Photoshop CS3 Extended, ArchiCAD, and many more.
Features:
● Advanced 6 degrees-of-freedom optical sensor
● Simultaneously pan, zoom and rotate 3D models
● 2 programmable function keys
● SpaceNavigator SE model includes commercial use license and full technical support
● Ideal for 3D designers, CAD engineers, architects
● Universal compatibility: Works with all your favorite 3D applications--on Windows, Mac, or Linux.
Manufacturer:
3Dconnexion
Brand:
3Dconnexion
Model:
3DX-700028
Color:
Navy Blue
Price:
$

185.00
$185.00