AppleTV Wireless Multi-touch Keyboard?
Posted May 19, 2008 at 3:15pm by iClarified · 9989 views
Macenstein has received a tip from faithful reader Doug with news of an upcoming Apple TV update and the first Apple TV-specific accessory, a multi-touch Apple keyboard.
The following is from the email sent in to Macenstein:
a new keyboard. bluetooth. aluminum with design and keys just like existing wireless. but to the right a touch-sensitive area. it is aluminum and backlit. a thin groove defines the edge of its area. it is programmable. it can illuminate a numerical pad. a click wheel. a standard trackpad. a keyboard. whatever. create your own.


some intrepid investigators have noticed the apple tv has a unused bluetooth capability. not for much longer. you will be able to pair this keyboard with the apple tv. why? an apple tv software update will include full .mac compatibility. check and write email, surf, organize photos, create and order a photo book or upload them to a .mac gallery, and ichat, even video ichat. plug in a USB webcam, or even a digital camcorder or just a digital still cam as long as it has video capture and USB.

apple tv gets a standard hardware upgrade. slighter better processor and video card, but storage can go up to 340GB. the bigger the drive the more stuff you can buy from itunes.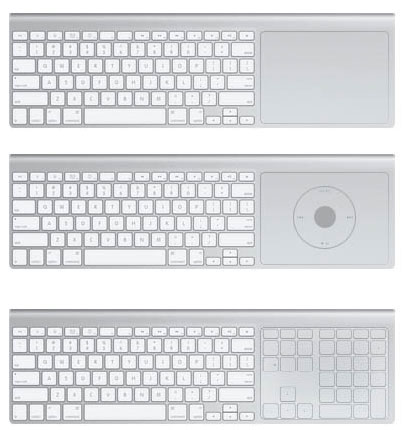 (This is a mock up image and not a real product!)
Last year a patent for a fully multi-touch keyboard was filed by Apple. This would seem like a logical progression towards that. An official keyboard for the AppleTV would definitely increase its range of possible uses and its popularity.
Read More