Documents Show Apple Failed to Find Ideal iPod Chief
Posted November 13, 2008 at 10:44am by iClarified · 4447 views
Documents show that iPod & iPhone chief Mark Papermaster was at first considered a secondary pick by Apple.
This information comes via an AppleInsider report.
A statement by Apple Human Resources VP Danielle Lambert reveals that the Cupertino, Calif.-based firm had started searching as early as October of 2007 for 'iPod father' Tony Fadell's replacement. Apple quickly grew frustrated as it unsuccessfully tried to find a candidate with experience in consumer electronics, and ultimately made concessions to its strategy five months later, when it became clear an ideal candidate wasn't in view.
"We interviewed numerous individuals with backgrounds in consumer electronics," Lambert wrote in court filings. "Although several of the people we interviewed possessed the technical skills necessary to understand the complex design of the iPod and iPhone, they lacked the managerial and leadership skills necessary to lead such a large and extensive undertaking. Moreover, in many cases we did not believe that the candidates would fit into Apple's culture."
Apple instead asked Senior VP of Macintosh Hardware Engineering, Bob Mansfield, for recommendations; he named eight candidates. AppleInsider has posted a copy of his recommendations: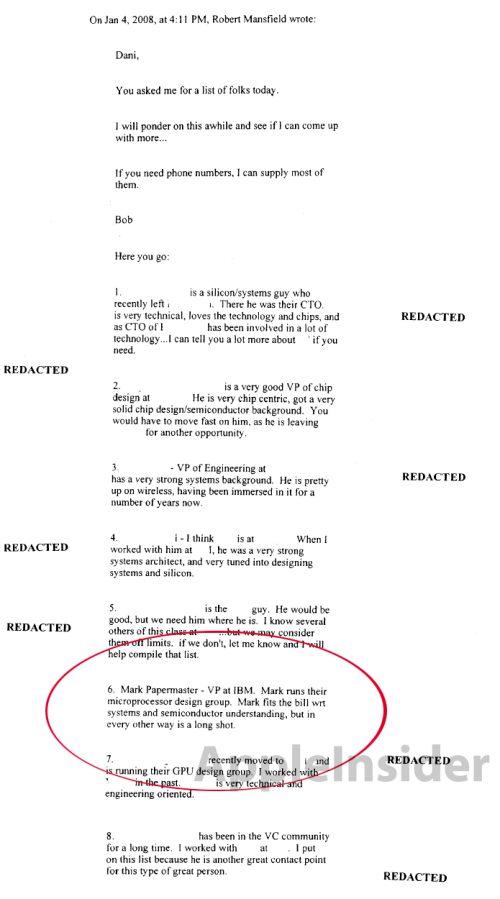 Read More