How to Soft Reset (Turn Off) Your iPhone
Posted November 20, 2007 at 11:01pm by iClarified · 36978 views
To power off your iPhone (Sometimes called a soft reset) follow these instructions:
Step One
Hold down the Sleep/Wake button for 3 seconds.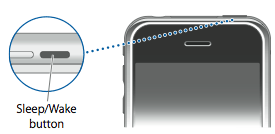 Step Two
A Power Slider will appear on the screen. Move this slider to the left to power off your iPhone.

Step Three
Press the Sleep/Wake button again to power back on your iPhone.