You can now get your Apple news and tutorials on the Apple Watch with the iClarified app!

Our latest app update (which is now live) brings Apple Watch support. The app lets you read full articles, get notifications, and quickly glance at the most recent headlines - all from your wrist.

We're looking forward to bringing even more features to the Apple Watch as soon as Apple expands to a native SDK.

Give the app a try and let us know what you think in the comments. If you like it, please consider reviewing it on the App Store. It's very helpful.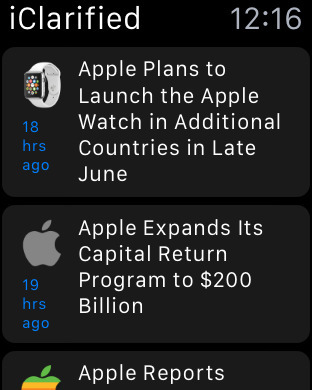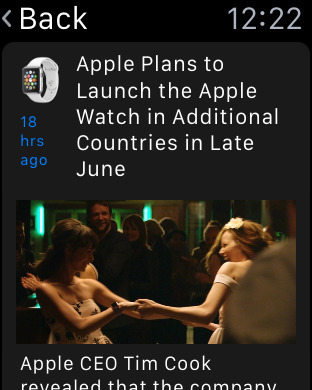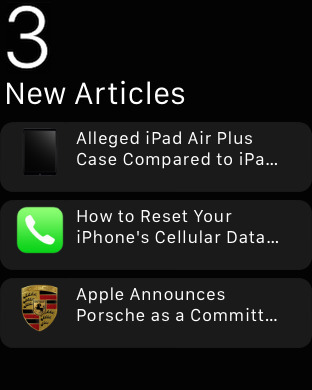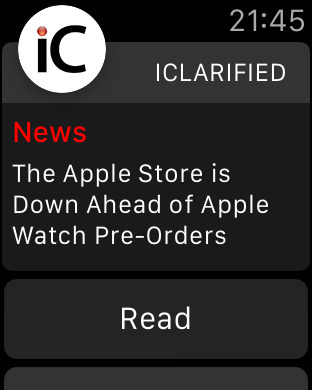 Here are some of the iPhone and iPad app features...

iPhone App Features:
● Read the Most Recent/Trending Apple News
● Get Help From Detailed Apple Tutorials
● Save News/Tutorials for Offline Reading
● Get Updates Via Push Notification
● Comment on Your Favorite Articles
● Search for Topics of Interest
● Share Via Email, iMessage, SMS, Twitter, Google+, LinkedIn, Facebook, Pinterest
● Pull Down to Refresh Article List
● Full iOS Multitasking Support
● Automatically Loads New Articles When Opened
● Retina Display Support
● Universal Binary With iPad Support

Navigation:
● Swipe Left/Right on an article to move to the next or previous article.

*Please report any bugs found at https://www.iClarified.com/appsupport rather than writing a review for this purpose.

You can download iClarified from the App Store for free.

Download [Thanks: EvilPenguin]