Samsung has announced three new wearable devices today, the Gear Sport smartwatch, the Gear Fit2 Pro sports band, and the Gear IconX wireless earbuds.

The new Gear devices assist with a range of activities – from robust fitness tracking to nutrition and sleep monitoring, as well as motivational coaching as a lifestyle companion. By introducing new smart capabilities and easy-to-use features, and by partnering with leading names in tech and fitness, Samsung is helping consumers go beyond fitness and accomplish big things.

"At Samsung, we celebrate the everyday athlete – whether you're going for a light jog, or training for your next triathlon. We have a long history of embracing choice and innovation, and our wearables are designed to help consumers of varying fitness levels meet their goals and aspirations. We want to help remove the stigma that fit can only mean one thing and that fitness trackers are complex and for only the most intense of workouts," said DJ Koh, President of Mobile Communications Business, Samsung Electronics. "Our new Samsung Gear wearables help consumers 'go beyond fitness' and enjoy an active, balanced and fulfilled life in a smart and seamless way."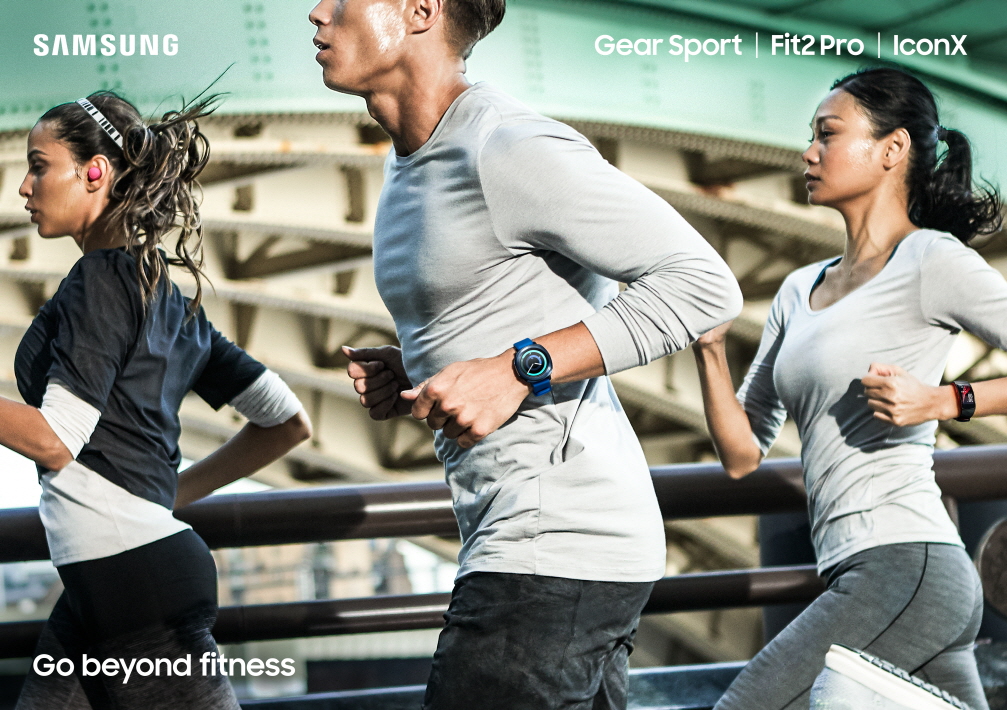 Here's a look at the new devices...

-----
New Capabilities for Gear Sport and Gear Fit2 Pro:
● Industry-Leading Water Resistance and Swim Tracking: An ideal companion for any swim - from laps to playing in the pool - these devices are 5 ATM certified for water resistance. Now with Speedo's latest swimming training app, Speedo On, the Gear Sport and Gear Fit2 Pro also allow you to easily track key swim metrics including lap count, lap time, stroke type and more.
● Top-of-the-line Heart Rate Monitoring: With improved accuracy, the devices offer advanced real-time heart rate monitoring. They help you continuously monitor your heart activity – whether it's enjoying a stress-free nap or an invigorating cycling class.
● Premium Partnerships: Daily activity can be supplemented with updated Under Armour and Spotify partnerships. Both devices provide access to Under Armour's fitness apps including Under Amour Record, MyFitnessPal, MapMyRun and Endomondo for activity, nutrition, sleep and fitness tracking functions– these apps provide users with a holistic picture of their health and fitness. Spotify's Offline mode lets you listen to your favorite music online, offline or even without your smartphone so you can enjoy your favorite tunes regardless of location.
● Auto Activity Detection: Automatic activity detection built into the devices are in tune with your body and can recognize the following categories of activities: Walking, Running, Cycling and performing Dynamic Activities that could include dancing to basketball.
● Personalized Motivation: You can customize your own wellness plan with tailored goals and alerts.

Gear Sport
Gear Sport is stylish, yet practical with a minimalistic, circular bezel, Super AMOLED 1.2-inch display and improved user interface that makes it easy to view information, even when on-the-go. With Gear Sport, users can work to achieve health and wellness goals, and receive nutrition management alerts and activity recommendations even when they are offline.

Designed with military-level-durability, it can handle a wide-range of environments3. With its sleek, ergonomic form that can be worn in a variety of colorful and easily changeable standard 20mm straps, it is perfect for any occasion so you can effortlessly transition from the gym to a night out with friends. Gear Sport will be available in Blue and Black and also includes Gear foundational functions:

● Control of Samsung IoT-enabled devices through Samsung Connect
● Act as a remote control, whether for a PowerPoint presentation or Samsung Gear VR headset
● Pay for goods with a flick of the wrist via Samsung Pay (NFC Only)




Gear Fit2 Pro
In addition to the new swim and heart rate monitoring capabilities, the new Gear Fit2 Pro features advanced built-in GPS tracking to capture your run or ride with accurate activity tracking. Gear Fit2 Pro's Super AMOLED curved 1.5-inch display and a high-resolution color touchscreen make real-time updates and notifications easier to read. The all-new secure, ergonomic band is light weight and comfortable to use for all activities. Available in Black and Red, its versatile design also makes it a stylish accessory.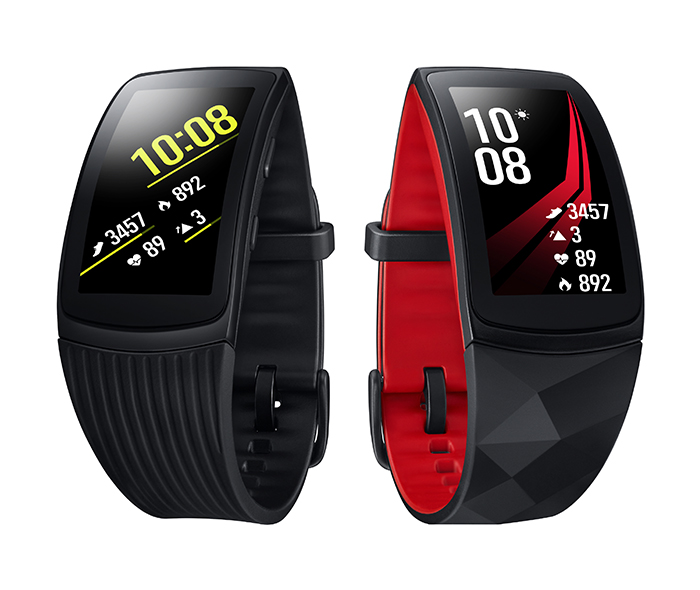 Gear IconX
IconX cord-free earbuds let you effortlessly listen to your favorite music – making your daily commute more enjoyable and helping you get more from your workout. Music can be enjoyed on and offline by transferring songs from a Samsung smartphone5 or PC, or accessing your favorite tunes through Bluetooth connectivity. The earbuds are also your newest connection to Bixby6. With a simple tap and hold of the earbud you can use your voice to control your music or your phone – without even having it in your hand.

The updated design comes in Black, Gray and Pink and is even more ergonomic and lightweight so they are effectively secure, comfortable and stylish to use. For the fitness enthusiast, the Gear IconX automatically tracks your running routines, and also features the standalone Running Coach function which can be activated by simply tapping the earbud to provide in-ear audio7 exercise status updates – in real-time and without your phone. With a fast-charging and improved battery life of up to five hours of music streaming or seven hours of standalone music playback, and up to 4GB of internal storage, you can enjoy a seamless and fully standalone music listening experience.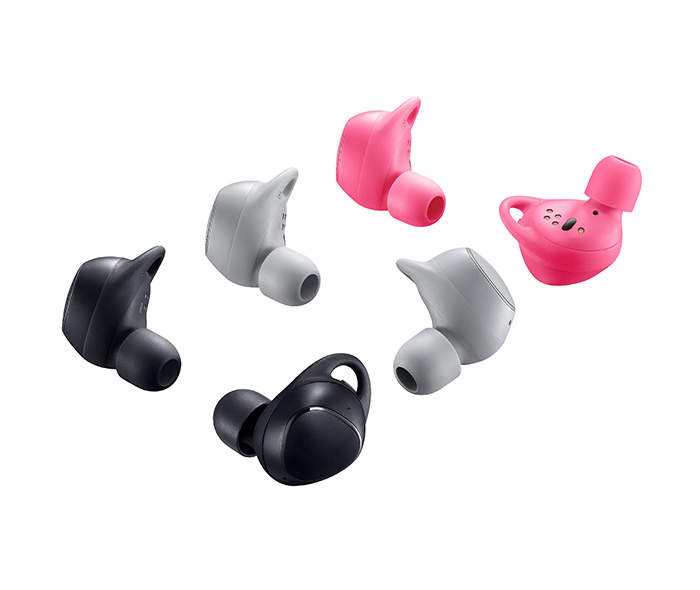 -----

Take a look at the video below for more details...