Paste is a New Collaborative Presentation Tool From FiftyThree [Video]
Posted November 30, 2017 at 7:34pm by iClarified · 11132 views
FiftyThree has announced Paste, a new collaborative presentation tool that works with
Paper
.
Having ideas is just the beginning. Ideas want to be heard, improved, and realized. For this, we built Paste: the collaborative presentation tool for you and your team to build ideas into compelling stories. It's for modern teams who collaborate across mobile, messaging, and a range of new web-based tools. We need tools that work as fluidly as they do — valuing speed, impact, flexibility, and beauty.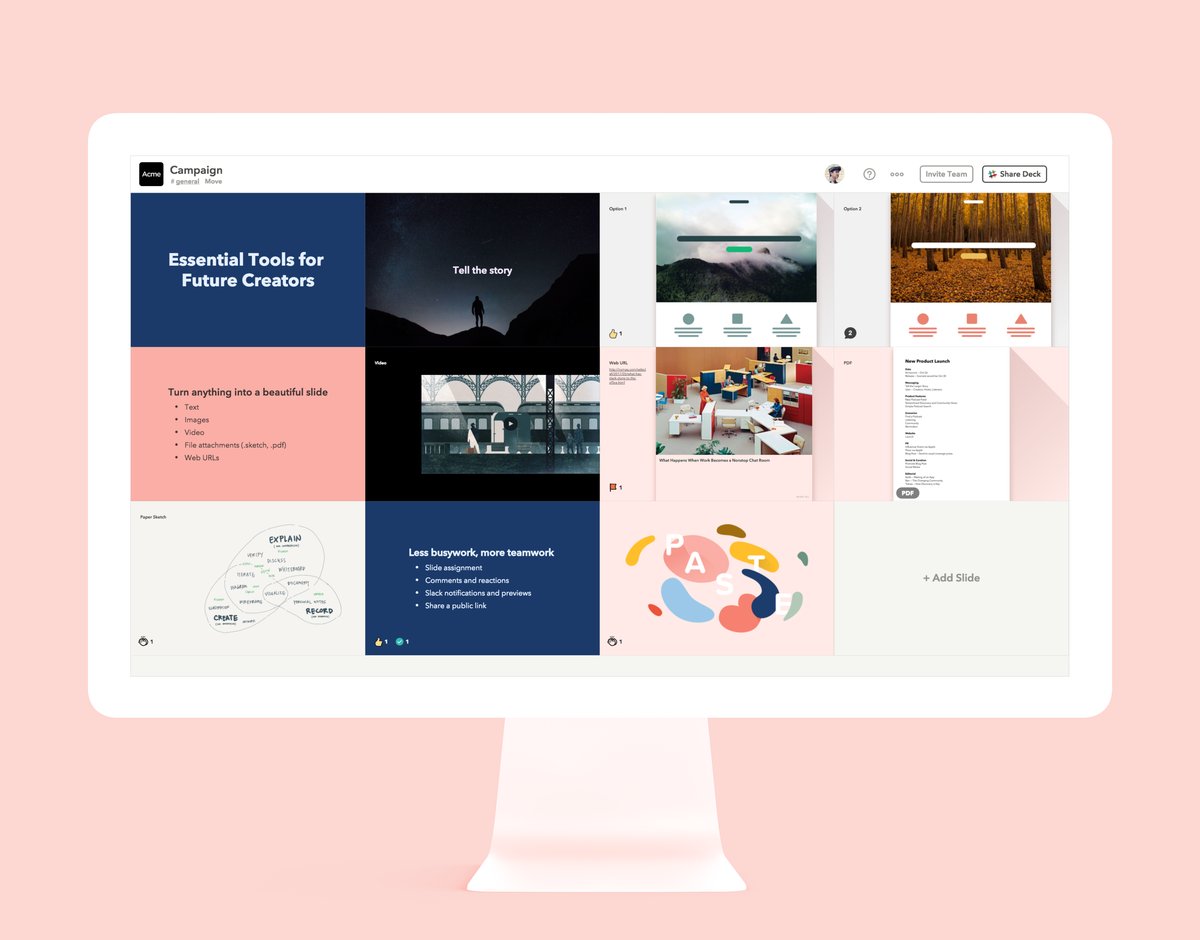 Turn anything into a slide
Drag and drop images, videos, links, docs, PDFs — even embed the new generation of connected tools like Google Docs, Figma. Paste formats everything beautifully for you.
● Drag and drop to quickly create slides
● Import from popular sources like Paper, Files, Giphy, Figma, and more
● Auto-layout with color detection
● Split screen and iOS Drag and Drop
Weave ideas into stories
Paste lets you view a deck as a storyboard, rearrange slides, and find the flow that brings your team's story to life.
● Storyboard view to see everything at once
● Create titles and sections
● Reorder Slides
Less busywork, more teamwork
Get your team's input on your latest direction.
● Slack integration for notifications, comments, and group permissions
● Reactions to vote, flag, or mark it done
● Comments to gather feedback and discuss options
● Viewed status shows you who has seen the latest thinking
Always in sync, your team and beyond
Never get lost in old versions. Always have your team's latest thinking at your fingertips.
● Synced to the cloud
● Zoom into and download full resolution assets
● Share a public view-only link
● Export as PDF
Paper and Paste
● Capture your rough ideas and shape them into stories with your team.
● Drag and drop sketches directly from Paper into Paste
● Quickly launch Paper from Paste
Paste is available now. It's free to try and costs $8/month/user. You can signup at
fiftythree.com/paste
or download it from App Store at the link below...
Download