Flickery: Flickr on Your Mac
Posted May 19, 2008 at 11:39pm by iClarified · 3331 views
Flickery is a new Flickr client for Mac OS X Leopard users by Eternal Storms software. It allows users to browse, view, upload, manage, and comment on photos.
A public beta is available today and will run until June 30, 2008.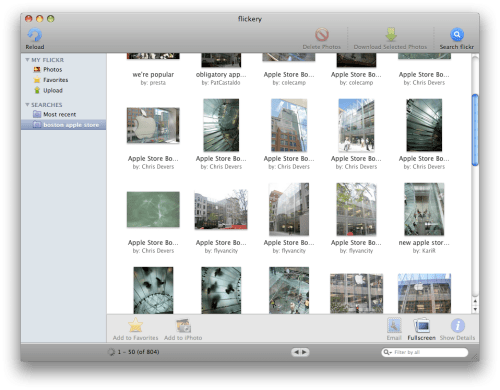 Browse Flickr.com
With an easy and fun to use interface, flickery lets you browse all of flickr.com's photos.
Use Flickr.com
Do all the things you'd do on flickr.com. Comment, manage your favorites and sets, upload new photos, and much more.
Love for Detail
We love detail as much as everyone else, so with flickery, you can view all of flickr.com's photos in the highest resolution
Always at Home
Wherever you are, your photos are always with you. It feels like you're browsing your local photo library.

Focus on the Photos
All that matters when using flickr.com are the photos. flickery's minimalistic UI lets focus on them.
Read More