iPhone 4 on AT&T Drops Far More Calls Than on Verizon
Posted April 5, 2011 at 12:02pm by iClarified · 14042 views
A new study by ChangeWave found that AT&T iPhone 4 owners experience dropped calls significantly more often than Verizon iPhone 4 owners.
Notably both carriers show high satisfaction rates for the Apple phone.
A look at the Very Satisfied ratings for each shows 82% of Verizon iPhone 4 customers saying they're Very Satisfied versus 80% of AT&T iPhone 4 customers.
In terms of dropped calls Verizon maintains its lead.
In the current survey, Verizon continues to maintain the best overall rating in the industry, with their customers reporting on average only 1.4% of calls dropped over the past 90 days. T-Mobile (2.3%) comes in second, followed by Sprint/Nextel (2.7%).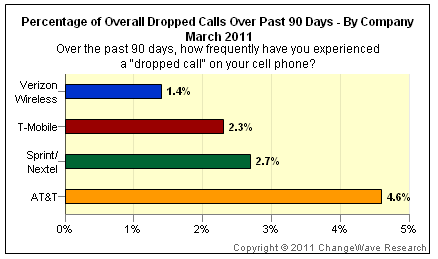 The dropped call findings specifically for the AT&T iPhone 4 versus the Verizon iPhone 4 were very similar to the overall results with Verizon iPhone 4 owners at 1.8% vs. AT&T iPhone 4 owners at 4.8%.
Read More