The First T-Mobile and Google Android Phone
Posted September 23, 2008 at 11:42am by iClarified · 9714 views
T-Mobile has introduced the first phone powered by Android, the T-Mobile G1. You can read the official press release below...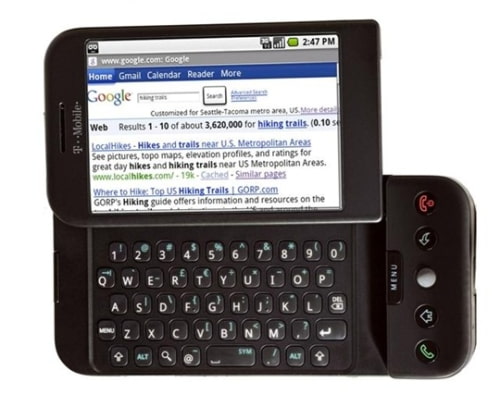 -----
Introducing the T-Mobile G1 with Google, the first phone powered by Android, an innovative mobile software platform. Available for T-Mobile customers spanning two continents, the T-Mobile G1 combines full touch-screen functionality and a QWERTY keyboard with a mobile Web experience that includes popular Google services such as Google Maps Street View, Gmail, YouTube and others.
With a fun and intuitive user interface and one-touch access to Google Web Search, T-Mobile customers can now get instant answers on the go to all of their questions and stay connected in more ways than ever before. The T-Mobile G1 is also the first phone to provide access to Android Market, where customers can find and download unique applications to expand and personalize their phone to fit their lifestyle.
Key Features of the T-Mobile G1 include:
· Intuitive user interface and hinged touch screen that slides open to reveal a full QWERTY keyboard
· Convenient trackball for one-handed navigation
· Three color options in the U.S. - white, brown and black
· One-click contextual search to instantly find relevant information with a touch of a finger
· Full HTML Web browser and zoom function that expands any page section by simply tapping on the screen
· One-touch access to popular Google applications including Google Maps Street View, Gmail, YouTube and others
· Google Maps provides map information, satellite imagery, local business info and driving directions as well as MyLocation to let users know where they are; Google Maps Street View syncs with the built-in compass on the phone – an industry first – to allow users to view locations and navigate 360 degrees by simply moving the phone with their hand
· Google Maps Street View for virtual street-level exploration while on the go
· Rich HTML email client, which seamlessly syncs e-mail from most other POP3 or IMAP mail services, including Gmail; displays photos and graphics right along with the text
· A beta version of Android Market for access to new, innovative software applications to personalize your device to fit your life from games, music and on-the-go shopping
· At-Launch Applications:
o ShopSavvy: designed to help people do comparative shopping
o Ecorio: developed to help people keep track of their daily travels and view what their carbon footprint looks like
o BreadCrumbz: enables people to create a step-by-step visual map using photos; customers can create their own routes, share them with friends or with the world
o Amazon MP3 Store (pre-installed on device): enables people to search DRM-free, full-track MP3 music and download that music from Amazon directly to their device using a Wi-Fi connection
· Built-in support for T-Mobile's 3G (HSDPA) and EDGE network as well as Wi-Fi; T-Mobile G1 will seamlessly transfer between 3G and accessible Wi-Fi networks including T-Mobile HotSpot locations worldwide
· Built-in support for YouTube allows customers to enjoy the website's originally-created content, easily navigate through YouTube's familiar video browsing categories or search for specific videos
· Built-in instant messaging client with support for Google Talk, AOL, Windows Live Messenger and Yahoo! Messenger
· Support for advanced text messaging features to easily flag, delete or move groups of messages and keep track of group conversations through threaded text messaging
· 3-megapixel camera with photo-sharing capabilities
· Music player supports MP3, M4A (iTunes AAC, DRM-free), AMR, WMA, MIDI, WAV, OGG Vorbis
· Pre-installed 1 GB Micro SD memory card that can hold approximately 500 songs (device supports up to an 8GB memory card)
· 11 pre-loaded songs including tracks from The Helio Sequence, Kinski and Flight of the Conchords
· Bluetooth-enabled
· myFaves-enabled
· GPS capabilities
· Voice recognition, voice dialing and speakerphone
· GSM/GPRS/EDGE/Wi-Fi and UMTS/HSDPA
· 850/900/1700/1800/1900/2100Mhz
· Up to 130 hours standby, up to 5 hours talk time
· Dimensions: 4.60" x 2.16" x 0.62"; Weight: 5.6 ounces; Display: 3.17 inches
Pricing & Availability
For specific information on pricing and availability, please visit
www.t-mobileg1.com
.
-----