CMG Research Releases Sudoku Grab 1.3
Posted March 20, 2009 at 9:20am by iClarified · 3600 views
CMG Research has announced Sudoku Grab 1.3, their puzzle grabbing and playing tool for iPhone. Designed specifically to take advantage of the iPhone's unique abilities and interface, Sudoku Grab uses the iPhone's camera to grab an image of a sudoku puzzle from a newspaper or a book. The image is then located and processed automatically using optical character recognition (OCR). The numbers are recognized, ready to play.
The main screen of Sodoku Grab shows a picture of a camera lens and a newspaper. Touching the newspaper on the main screen accesses the puzzle book. From here, play one of the predefined puzzles (Easy, Medium, Hard, or Very Hard), or pick up a previously played puzzle (Current Game). Touching the camera lens displays the grab menu screen. From here the user can either browse pictures from their photo library or take a picture using the iPhone's camera.
Sudoku Grab does a excellent job of automatically locating a puzzle in the picture. However if for any reason it identifies the location incorrectly, users can manually adjust the location by touching and dragging the squares on the corners of the highlighted area.
Touching the Done button displays a screen where the difficulty of the puzzle can be set. Simply touch the appropriate star in the difficulty rating (1 star = easy, 4 stars = very hard). In addition to the "grab" feature, the application comes with over 1000 puzzles ready to play, already graded from easy to very hard. Users can email puzzles they have grabbed to their friends using the email a friend feature.
Sudoku Grab also sports a handy tags feature. To add a new tag to the captured puzzle, users enter the text for the tag into the text field and hit done. Adding tags and assigning a difficulty is completely optional. Users can play their newly created puzzle at any time.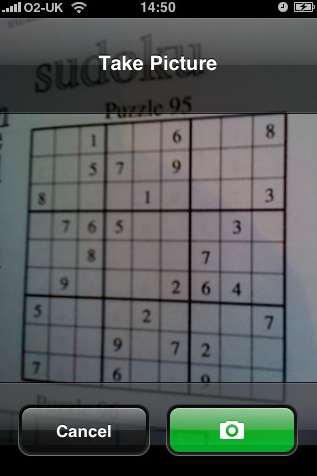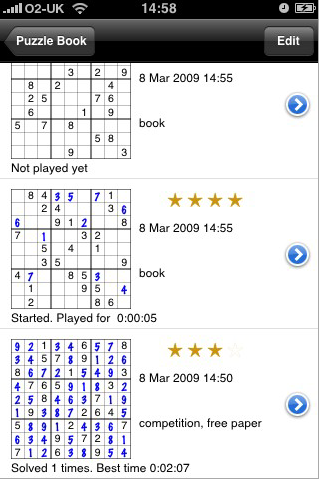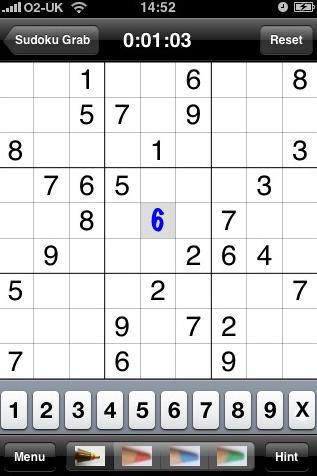 Pricing and Availability:
Sudoku Grab 1.3 for iPhone is only $.99 (USD) and available exclusively through Apple's App Store.