Apple Patents Auto-Ejecting Shock Absorbers That Protect Your iPhone When Dropped
Posted October 22, 2015 at 6:53pm by iClarified · 18980 views
Apple has filed a patent for auto ejecting shock absorbers that protect your iPhone when dropped. The patent is called 'Active Screen Protection for Electronic Device'.
The company notes that electronic devices, especially mobile ones, may be subject to various drop events. For example, an electronic device may fall from a table, fly from a user's hand when a user trips, and/or otherwise fall to the ground or other surface. Such drop events may damage glass layers and/or other fragile elements of screens included in the electronic devices. Repairing damage to screens may be expensive, burdensome, and/or impractical.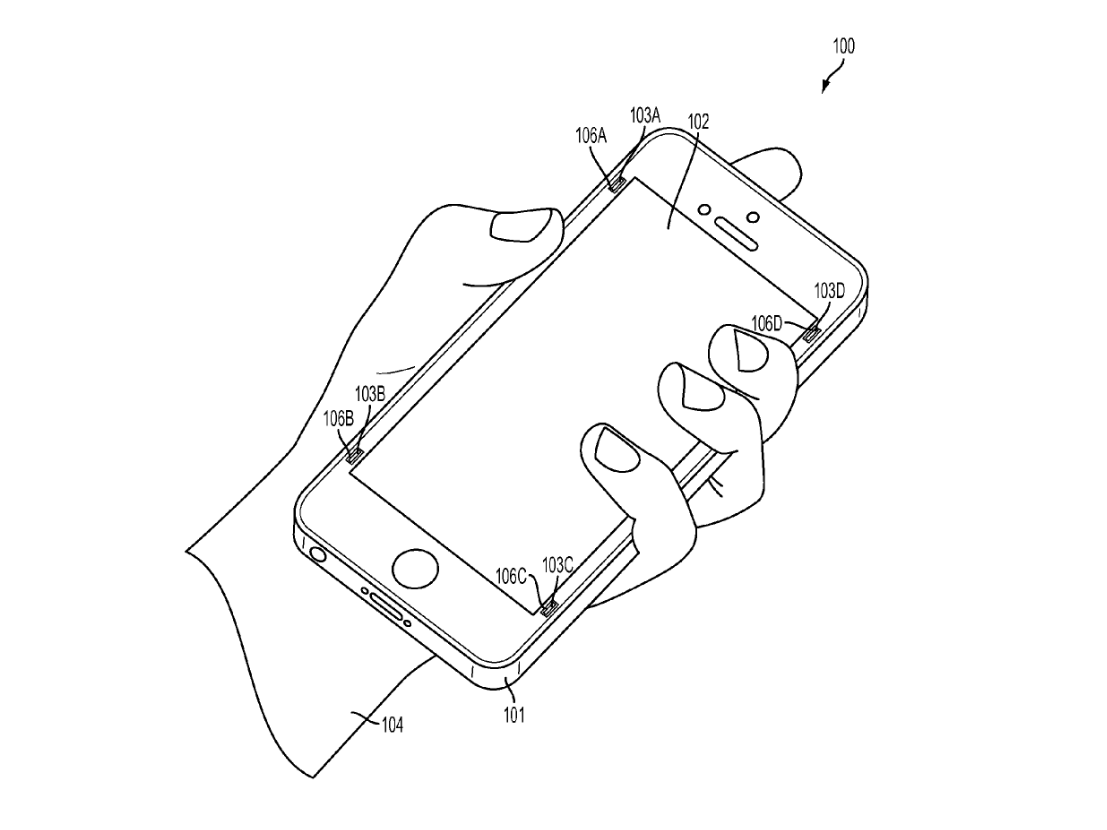 Apple's solution is to hide screen protector tabs inside the body of the device. These tabs may be formed of various flexible and/or rigid materials such as plastic, plastic film, polyethylene terephthalate or other polymers, metal, thin film metal, combinations thereof, and/or other such materials. In some implementations, these tabs may be positioned at each corner of the screen. However, in other implementations the tabs may be positioned at a variety of positions around the screen, such as at the sides of the screen.
In the retracted position, the screen protectors may be flush with the screen or positioned below the screen and/or otherwise internal to the electronic device. In the extended position, the screen protectors may extend above the screen such that ends or other portions of the screen protectors contact a surface onto which the electronic device is dropped before the screen contacts the surface, thus preventing contact of the screen. They could even project over the screen while extended for added protection.
After the screen protectors move to the extended position in response to the sensor detecting a drop event, they may return to the retracted position. Retraction could be initiated based on sensor detection that the drop event is over, in response to one or more user inputs, on expiration of a timer after the drop event is detected, when the sensor determines the electronic device is retrieved after the drop event, or at various other times subsequent to a drop event.
Check out the images below for more details...
Read More
[
via Patently Apple
]