Apple has filed a patent that details how Siri might work if integrated in Messages. The patent is entitled, "VIRTUAL ASSISTANT IN A COMMUNICATION SESSION".

The company notes that while current messaging systems enable users to communicate and perform tasks, users are required to manually perform the tasks. An integrated virtual assistant would be able to make some tasks easier, such as: scheduling a meeting, performing a financial transaction, determining an estimated time of arrival, providing directions, providing weather information, alerting a user of relevant information, etc.

One or more of the participant users can select to utilize a virtual assistant to assist the participant users with tasks during the communication session. A virtual assistant can be an application, module, software, etc., capable of analyzing messages included in the communication session to identify tasks and provide assistance with completing the identified tasks. For example, a virtual assistant can be an application such as Siri.RTM. available by Apple Inc., of Cupertino, Calif., that uses semantic analysis to analyze text, recognize terms and interpret the intended meaning.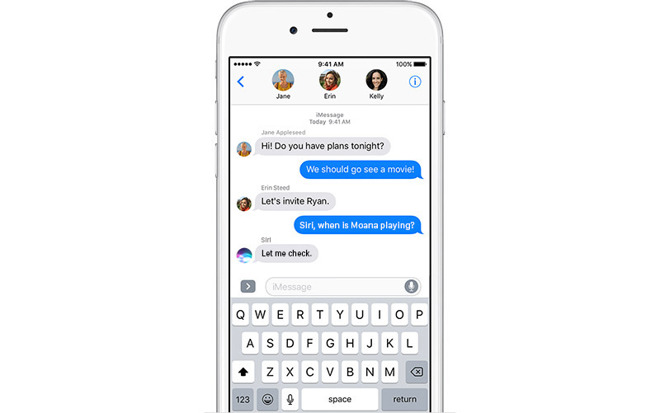 Apple says users would be able to communicate with Siri as part of the communication session by entering a message directed to Siri. That message would not be transmitted to other participants of the conversation and Siri would help the user with the identified task.

A virtual assistant can assist a user with a variety of different tasks. For example, the virtual assistant can gather requested data for the user from one or more web servers, such as weather data, traffic data, etc. Further, the virtual assistant can coordinate performing a task amongst multiple participant users of a communication session. For example, to assist with scheduling a meeting amongst multiple participant users of a communication session, a virtual assistant can gather calendar information for each of the participant users and recommend one or more proposed times for the meeting. Alternatively, to assist with performing a financial transaction amongst multiple participant users of a communication session, a virtual assistant can determine the financial applications available and/or utilized by each of the participant users and recommend a financial application to perform the financial transaction.

More details in the full patent filing linked below....

Read More [via AppleInsider]