HomeKit for TVs to Support Controlling Power, Volume, Input, Brightness, More
Posted January 11, 2019 at 8:51pm by iClarified · 8949 views
Vizio,
Sony
, and
LG
have all recently announced that their new smart TVs will support Apple HomeKit. Now thanks to a config file spotted by developer Khaos Tian, we some have some details on what features may be controllable.
HomeKit for TV includes support for controlling power, volume, input source, brightness, media state, picture mode, and actual remote functionalities (key simulation). (Someone forgot to remove plain-metadata-full.config from production release )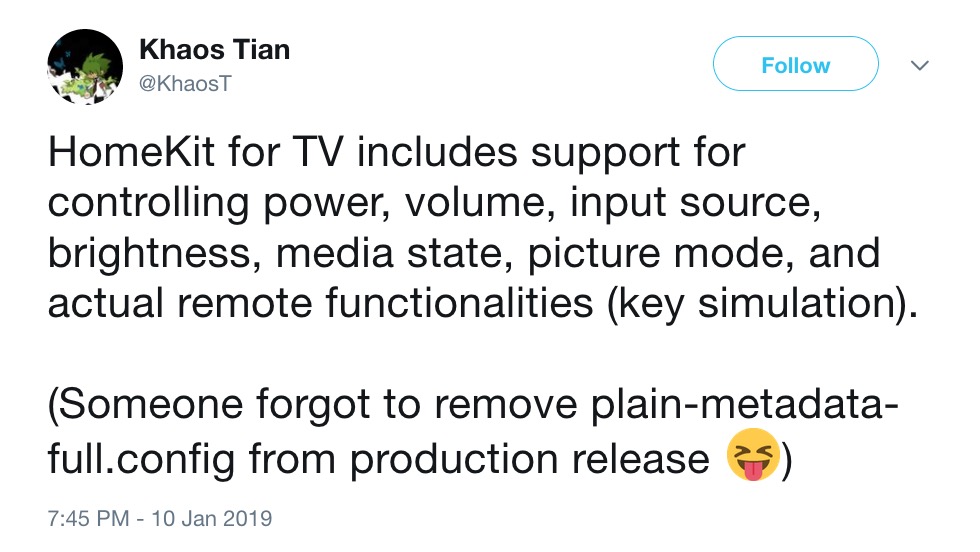 Tian also notes that "Actual implementation to support that apparently was behind some #if macro, and not actually in current build. But that plain text file contains service and characteristic definition".
This is exciting news for customers planning to purchase a new TV but not so much for users who have an older 2018 or earlier model. A
petition
has already started to convince LG to add HomeKit support to 2016, 2017, and 2018 televisions. Notably, Tian says this might not require that much work.
The profile actually fits quite well with existing LG TV API so bridging support for old TV may not actually need too much work
Apple has posted a list of upcoming
AirPlay 2 enabled televisions
but has yet to list all the models which will support HomeKit.
Please follow iClarified on
Twitter
,
Facebook
,
Google+
, or
RSS
for updates.
Read More
[
via iDB
]