Mode d'emploi pour libérer votre iPod touch avec QuickPwn pour Mac. Ce tutoriel a été mis à jour pour le micrologiciel (firmware) 2.1
NOTE*: Si vous possédez un iPod 2G, sachez que le the Dev-Team travaille toujours sur une solution pour vous. Restez à l'affût!
Étape 1
Téléchargez QuickPwn 1.1
ici
et placez ce document sur votre dessus de bureau.
Étape 2
Double cliquez sur le fichier téléchargé pour décompresser l'image disque QuickPwn [QuickPwn_1.1.dmg]
Étape 3
Branchez votre iPod touch à l'ordinateur et ouvrez
iTunes
à partir du dock.

Étape 4
Sélectionnez le iPod touch de la iste des appareils dans la barre de gauche et cliquez ensuite sur le bouton
Restore
.
NOTE**: Si vous n'avez pas encore fait la mise à niveau à 2.0.x on vous suggérera peut-être d'acheter le micrologiciel 2.1.
Étape 5
Un menu contextuel appraîtra pour vous demander si vous êtes certains que vous désirez Restaurer et Mettre à jour. Cliquez le bouton
Restore and Update
.
Confirmez que la version de mise à jour choisie est le micrologiciel 2.1, puis cliquez sur le bouton
Next
.
Ensuite, cliquez
Agree
pour accepter la licence d'utilisation du logiciel.
Étape 6
Une fois la restauration complétée, double cliquez l'icône
QuickPwn
dans le dossier décompressé de l'image disque QuickPwn dmg.
Étape 7
Cliquez
OK
pour accepter la note sur les droits d'auteurs.
Étape 8
Branchez le iPod Touch à l'ordi quand celui le demandera, puis cliquez sur le bouton
OK
.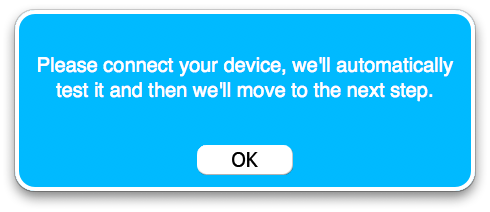 Étape 9
QuickPwn repérera automatiquement l'appareil connecté!
Étape 10
QuickPwn cherchera automatiquement pour trouver le micrologiciel le plus récent pour cet appareil.
Étape 11
On vous demandera alors si vous désirez remplacer les logos originaux de mise en route et de reprise de votre iPod Touch. Choisissez
Yes
ou
No
pour continuer.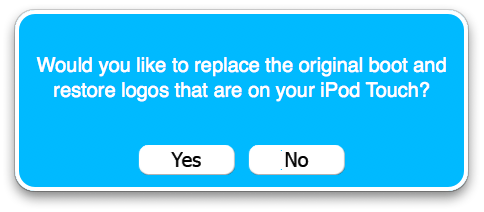 Étape 12
QuickPwn commencera dès lors à construire votre IPSW sur mesure.
Étape 13
Vous devrez ensuite entrer votre nom d'administrateur et votre mot de passe. Faites-le, puis cliquez sur
OK
pour passer à l'autre étape.
Étape 14
QuickPwn va maintenant vous aider à faire passer votre iPod touch en mode DFU. Tout d'abord, éteignez l'appareil.
Ensuite, vous devrez tenir les boutons
Home
et
Power
simultanément enfoncés pendant 10 secondes.
Finalement, vous devrez relâcher le bouton Power et continuer à enfoncer le bouton
Home
pendant un autre 10 secondes.
Étape 15
QuickPwn se mettra alors à envoyer automatiquement des informations à votre iPod Touch.
Étape 16
On vous signalera que QuickPwn est en train de modifier votre iPod Touch. Ce processus peut prendre un peu de temps et sera suivi par un redémarrage de l'appareil. N'interrompez pas cette étape avant qu'elle ne soit terminée!
Étape 17
Une fois que votre iPod Touch aura redémarré, il sera désormais « libéré » et vous trouverez Cydia ainsi que Installer sur votre Springboard!