1Password 2.6 Adds Anti-Phishing
Posted April 28, 2008 at 2:06pm by iClarified · 4390 views
This 2.6 release represents a major upgrade to 1Password. Over 60 changes, improvements and new features have been packed into this version! Despite the size, this is a free upgrade to all paid 1Password users. Holders of Mac Gem promotional licenses will need to purchase a new license to use this version.
The most notable improvements is a new Change Password window to make updating online password easy, as well as enhanced Anti-Phishing integration with PhishTank.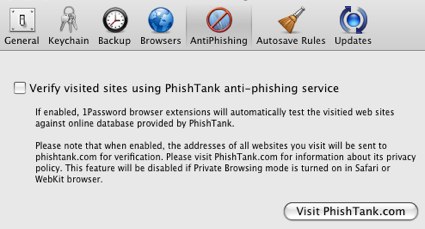 This build also adds support for OmniWeb 5.7, the latest Camino nightly builds, improved Firefox 3 support, as well as new support for the Fluid Site-Specific Browser. Currently Fluid support is only available from the shortcut menu and will require manual updating of the /Library/InputManagers/1Passwd folder; drag that folder to the Trash and restart 1Password.
Beneath the covers, major improves have been made to the Save Form/Restore Form features in 1Password to make it work on a wider variety of websites. If you have a page when Restore Form does not work correctly, please try to use Save Form to replace an old entry.
Furthermore, the Password Generator has been extended to include more password generation methods, including pronounceable and hash-based passwords.
Read More