The Tube 2.7 streams Live-TV via iChat
Posted May 13, 2008 at 1:32pm by iClarified · 5441 views
Now Mac users can enjoy digital TV with The Tube, regardless of their current location. equinux has released The Tube 2.7, featuring placeshifting, another free update to its innovative TV software that adds live-streaming of content via iChat. The Tube users can share the show they're currently watching with others via iChat, tell friends about their TubeToGo web gallery and subscribe to a podcast of their latest recordings, e.g. on the Apple TV in the living room. The Tube also adds numerous other Leopard-exclusive features.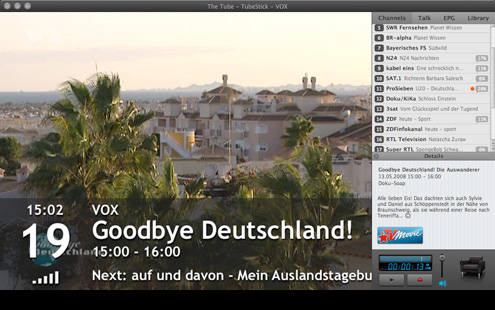 Placeshifting: Share live-TV with friends via iChat
The Tube 2.7 introduces Placeshifting: The current digital TV show can be shared with others via iChat. Leopard users can simply drag a The Tube icon into an active video chat to enjoy the show with friends via iChat Theater. The iChat partner can even record a video clip of the show being shared.
Subscribe to a TubeToGo podcast of TV recordings
Users can now subscribe to an RSS format podcast directly within iTunes of their TV shows that have been recorded and published to a TubeToGo web gallery. The podcast can then accessed directly by an Apple TV device, which can download any new recordings automatically. Users that would like to share their web galleries with friends can now invite them to take a look via email. To help keep track of TV shows, users can now also add individual entries from the electronic programming guide (EPG) to iCal and automatically be reminded when a show is about to start.
More power for Leopard users
The Tube users can now benefit even more from the power of Mac OS X 10.5: The Tube 2.7 can add a stack of a user's recordings to Leopard's Dock and they can also be previewed with QuickLook. The Tube uses Core Graphics animations throughout its interface and can exclude The Tube-recordings from Time Machine-Backups, in order to save valuable backup space for other files.
Read More