Übermind Announces New iPhoto Plugins
Posted June 3, 2008 at 11:34am by iClarified · 5999 views
Übermind has released three new plug-ins: ÜberUpload for iPhoto, iPhoto to Picasa Web Albums, and iPhoto to Archive.
"Our goal has always been to simplify the way photographers work by developing tools that are both powerful and intuitive to use," said Shehryar Khan, Übermind's CEO. "Now, with the release of iPhoto equivalents of our most popular plug-ins, we've made sharing photos a snap and managing digital image files hassle-free, all from within an application you already know and love."
The 25 for 25 Promotion
For a limited time, Übermind is offering a 25% discount good towards the purchase of any of its new iPhoto plug-ins. This discount, which applies to purchases made during the first 25 days the plug-ins are commercially available, will expire June 28th.
ÜberUpload for iPhoto
Add the power of FTP and SFTP exports to your workflow without ever leaving iPhoto. Packed with features like custom image sizing, on-the-fly file conversion, and a plethora of naming conventions, ÜberUpload for iPhoto is the easy way to get your photos where you need them, when you need them.
iPhoto to Picasa Web Albums
Share more, often. With its robust feature set, iPhoto to Picasa Web Albums gives you more control over how you share your photos than any other plug-in for Picasa Web Albums. And with its intuitive user interface, you'll simply want to share more.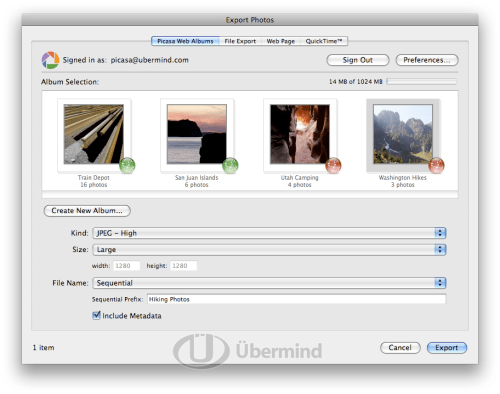 iPhoto to Archive
With the most powerful archiving formats at your fingertips, experience the convenience of compressing and bundling your images without leaving iPhoto. With iPhoto to Archive, your favorite memories now come in small packages.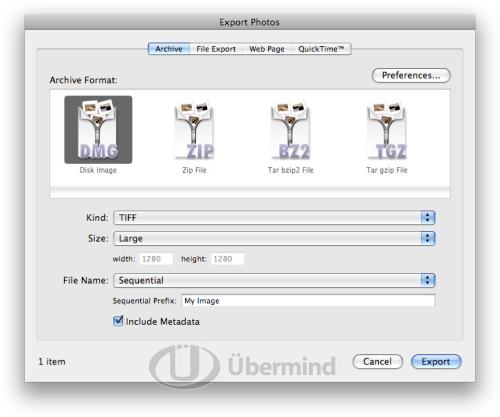 Pricing and Availability
ÜberUpload for iPhoto, iPhoto to Picasa Web Albums, and iPhoto to Archive will be available for direct download from Übermind's product page (www.ubermind.com/products/) starting Tuesday, June 3. You can try fully functional versions of any of these plug-ins free for 15 days. At any time, a software license can be purchased from within the plug-in.
ÜberUpload for iPhoto: $14.95* (Regularly $19.95)
iPhoto to Picasa Web Albums: $14.95* (Regularly $19.95)
iPhoto to Archive: $7.50* (Regularly $9.95)
Read More