Apple Premieres iTunes Movies in Canada
Posted June 4, 2008 at 10:51am by iClarified · 2937 views
Apple today announced that movies from major film studios including 20th Century Fox, The Walt Disney Studios, Paramount Pictures, Warner Bros. Entertainment, Universal Studios Home Entertainment, Metro-Goldwyn-Mayer Studios Inc. (MGM), Sony Pictures Television International and Lionsgate and Maple Pictures are now available on the iTunes® Store in Canada (www.itunes.ca). Movie purchases and rentals feature iTunes' legendary ease of use, which makes discovering and enjoying movies as simple and easy as buying music on iTunes has always been. The iTunes Store in Canada features over 1,200 films available for rent or purchase, with titles available for purchase on the same day as their DVD release, including recent blockbusters such as "Juno," "I Am Legend," "National Treasure 2: Book of Secrets," "The Bourne Ultimatum" and "Cloverfield." iTunes Movie Rentals also features over 200 titles available in stunning high definition, perfect for viewing on a widescreen TV with Apple TV®.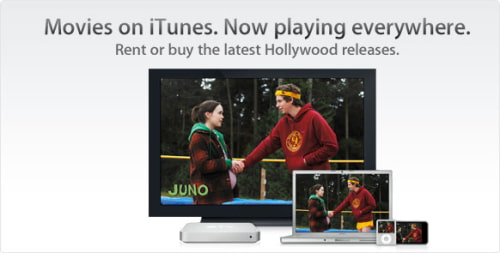 "Canadians have made iTunes the most popular place to find and buy music and TV shows online," said Eddy Cue, Apple's vice president of iTunes. "We're thrilled to give iTunes customers access to over 1,200 movies from major studios to rent or purchase, whether to enjoy at home on their widescreen TV with Apple TV or on-the-go on their iPod."
Pricing & Availability
Movie purchases and rentals from the iTunes Store for Mac or Windows require iTunes 7.6.2, available as a free download immediately from
http://www.itunes.ca
. iTunes movie purchases and rentals require a valid credit card with a billing address in the country of purchase. iTunes movies are available at CAN$9.99 for catalog title purchases, CAN$14.99 for recent releases and CAN$19.99 for new releases. iTunes Movie Rentals are CAN$3.99 for library titles and CAN$4.99 for new releases, with high definition rental versions priced just one dollar more. Movie rentals can be previewed, purchased and watched on iPod classic, iPod nano with video, iPod touch and on a widescreen TV with Apple TV.