Adobe Acrobat 9 Now Available
Posted June 25, 2008 at 12:18pm by iClarified · 3930 views
Adobe Systems Incorporated today announced the immediate availability of Adobe® Acrobat® 9 software, a significant upgrade that transforms the process of creating and sharing electronic documents. Acrobat 9 delivers major innovations that can enable organizations and individuals to communicate in an engaging, professional manner. Now included are native support for Adobe Flash® technology, the ability to unify a wide range of content in rich PDF Portfolios, and access to real-time capabilities for co-navigating a PDF document with colleagues.

"Rapid, reliable communication is key to success on all of our projects," said Shawn Pressley, director of project management systems and development at Hill International, one of the world's largest construction claims and management firms. "With enhanced support for a broad range of content types and expanded collaboration capabilities, Acrobat 9 will enable us to reach any audience with the right information, where and when it's needed. We can include proposals, images, computer-aided design models and even Adobe Flash applications in a single PDF Portfolio to clearly communicate what is required of our local and global teams."
For organizations worldwide, Acrobat 9 helps address today's critical challenge of communicating with widely dispersed teams of colleagues, partners and customers in a compelling way. Acrobat 9 is already garnering an enthusiastic response from long-term and first-time users in segments including financial services, government, legal, manufacturing, and publishing. They include: EDS; Allianz Deutschland AG; Italian Court of Cremona; Penguin Group; Dai Nippon Printing; and Kyowa Hakko.
Acrobat 9 provides deep support for Adobe Flash technology, enabling users to include Adobe Flash Player compatible video and application files in PDF documents. For example, a marketing manager can use Acrobat 9 to convert web pages with multimedia to PDF documents. The PDF file can be shared for review and comment with others who are using free Adobe Reader® 9 software, which is expected to launch up to twice as fast as earlier versions.
Acrobat 9 also includes the ability to unify a wide range of content into a single document with the new concept of PDF Portfolios. PDF Portfolios enable users to assemble multiple media types into one, compressed PDF file that can be customized with several professional layouts and specific branding. A sales professional could create a single proposal document for a prospective client that includes charts, spreadsheets and images, as well as a branded, introductory video from the CEO discussing the company's latest products.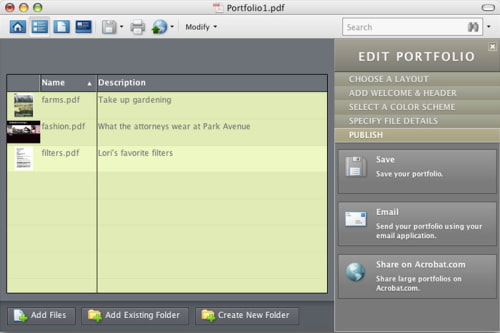 In addition, Acrobat 9 provides access to capabilities for collaborating live within a PDF document, enabled by working with Acrobat.com, a suite of hosted services available as public beta at www.acrobat.com . This new capability can enable users to drive a group's navigation through a PDF document in real-time, helping ensure everyone is literally, and figuratively, on the same page.
The Acrobat 9 family consists of Acrobat 9 Standard, Acrobat 9 Pro, and the new Acrobat 9 Pro Extended software. The most comprehensive member of the family, Acrobat 9 Pro Extended, includes Adobe Presenter software for easily turning Microsoft® PowerPoint presentations into multimedia experiences that can be published as PDF files.
Pricing and Availability
Acrobat 9 Pro Extended, Acrobat 9 Pro and Acrobat 9 Standard for Microsoft Windows®, and Acrobat 9 Pro for Mac OS X, are immediately available in English, French, German, and Japanese language versions. Acrobat 9 Pro Extended is available for US$699, and registered users of qualifying earlier versions of Acrobat (1) can upgrade to Acrobat 9 Pro Extended for US$229. Acrobat 9 Pro is available for US$449, and registered users of qualifying earlier versions of Acrobat (2) can upgrade to Acrobat 9 Pro for US$159. Acrobat 9 Standard is available for US$299, and registered users of qualifying earlier versions of Acrobat (3) can upgrade to Acrobat 9 Standard for US$99. Price listed is the Adobe Store direct price. Reseller prices may vary. Price valid in the U.S. and Canada only. Applicable local sales tax and shipping may apply. Additionally, Adobe Reader 9 is expected to be available by early July 2008.
Read More