Dimensions Leaked for New iPod Touch, Nano?
Posted September 3, 2008 at 2:16pm by iClarified · 11786 views
Dimensional drawings for both 4G iPod nano and 2G iPod touch have been leaked onto iLounge.com. The drawings suggest that the devices will have familiar measurements but with interesting new shapes and features.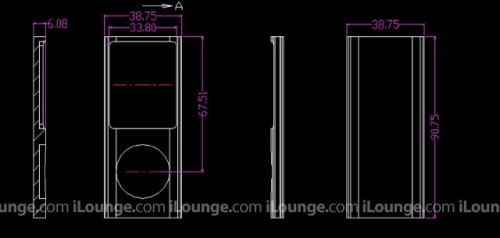 Images of the supposed new iPod nano show a device that measures 90.75mm tall by 38.75mm wide by 6.08mm deep, compared to the second-generation nano's measurements of 90mm by 40mm by 6.5mm. These numbers suggest that the device will be the thinnest and narrowest iPod nano yet released, though almost inperceptibly so, while also just a hint taller than the original and second-generation models. An oval-like body shape will be similar to, but apparently more pronounced than the one on the second-generation nano. Notably, the images seem to extinguish a concern that the device's screen would be curved to match its shape; the metal body will give way to a plastic-covered screen that is as flat as prior-generation screens.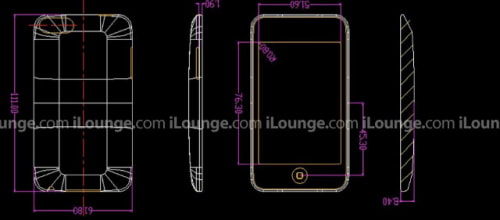 The second-generation iPod touch is depicted as having a shape similar to the iPhone 3G, masking increases in both the height and thickness by using a more tapered enclosure. This device is shown as measuring 111mm tall by 61.8mm wide and 8.4mm deep, versus the original iPod touch's 110mm height, 61.8mm width, and 8mm depth, and the iPhone 3G's 115.5mm, 62.1mm, and 12.3mm measurements. What appears to be an antenna enclosure is shown on its rear top left, with the same headphone port and Dock Connector port arrangement at its bottom. Notably, the drawings show what appear to be volume controls on the left side, addressing a key concern of iPod touch users; the added thickness might be attributable to changes in the battery.
Image descriptions come via iLounge.com. Click to
Read More