Study Finds iPhone 4S Customer Satisfaction is Higher Than iPhone 4's
Posted December 1, 2011 at 5:09pm by iClarified · 8384 views
A new ChangeWave study finds that customer satisfaction for the iPhone 4S is higher than that of the iPhone 4.
Here is what they found...
Customer Satisfaction:
Overall iPhone 4S customer satisfaction ratings show a high degree of approval – with 77% of owners saying they're Very Satisfied and 19% Somewhat Satisfied with their new iPhone. Only 2% of owners say they are Unsatisfied with it. These iPhone 4S satisfaction ratings are higher than those found in a July 2010 survey of iPhone 4 new owners, as this chart points out.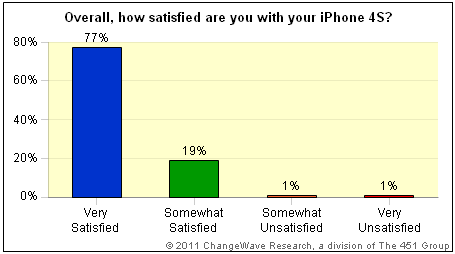 Likes:
We also asked iPhone 4S owners about the specific features they like best about their new smart phone, and by a wide margin the Siri Digital Assistant (49%) ranks number one. General Ease of Use (39%) is the second most liked feature, followed by the 8 Megapixel Camera with LED Flash (33%). We note that the iCloud Service (19%) – another new Apple feature – ranked 6th in terms of things owners liked best, after Faster Web Browsing (24%) and Screen Resolution (23%).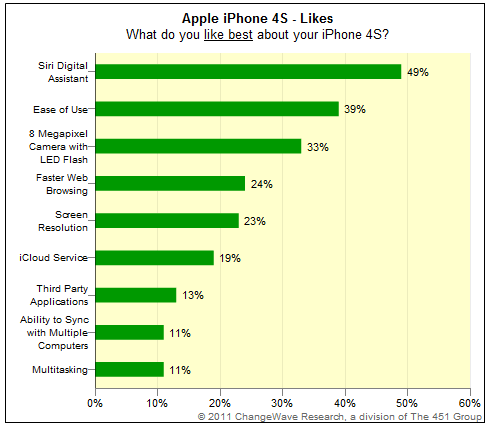 Dislikes:
When we looked at what new owners disliked most about their iPhone 4S, two things dwarfed all others - Battery Life and the Lack of 4G. A total of 38% of owners say the iPhone 4S's Battery Life is Too Short, while 30% say they dislike the Lack of 4G Capability. Only one other dislike reached into the double digits - Screen Size (11%).
Read More