Belkin today unveiled a new lineup of keyboard cases and accessories for Apple's new iPads, including three QODE keyboards and a collection of thin, lightweight folios for both the iPad Air 2 and iPad mini 3.

For the new iPad Air 2, Belkin will expand its award-winning line of QODE keyboards to include iPad Air 2-specific versions of the recently announced QODE Ultimate Pro Keyboard and award-winning QODE Ultimate Keyboard. Belkin's line of QODE keyboards offers a sophisticated range of features and options to make productivity easier. The QODE Ultimate Pro and QODE Slim Style Keyboards feature Bluetooth Smart technology for improved battery life and a redesigned keyboard layout that includes the same number of keys as a laptop keyboard for faster, more accurate typing.

QODE Ultimate Pro Keyboard for iPad Air 2 (F5L176) - $149.99
● Aircraft-grade aluminum for premium feel
● Improved keyboard layout for more accurate typing
● Backlit keys with three brightness levels
● Adjustable landscape and portrait modes with two viewing angles
● Detachable case works with the keyboard or alone; case is Smart Cover compatible when detached
● Smart-sensing auto on/off technology
● Bluetooth Smart technology pairs with up to two devices simultaneously
● Up to one year of continuous battery life at average usage rates
● Available in two colors: Space Gray and Silver



QODE Ultimate Keyboard for iPad Air 2 (F5L178) - $129.99
● Aircraft-grade aluminum for premium feel
● Three viewing angles with dual neodymium magnets for extra stability
● Smart-sensing auto on/off technology
● Keyboard folds into case for comfortable handheld tablet use
● Up to six months of active battery life at average usage rates
● Available in two colors: Space Gray and Silver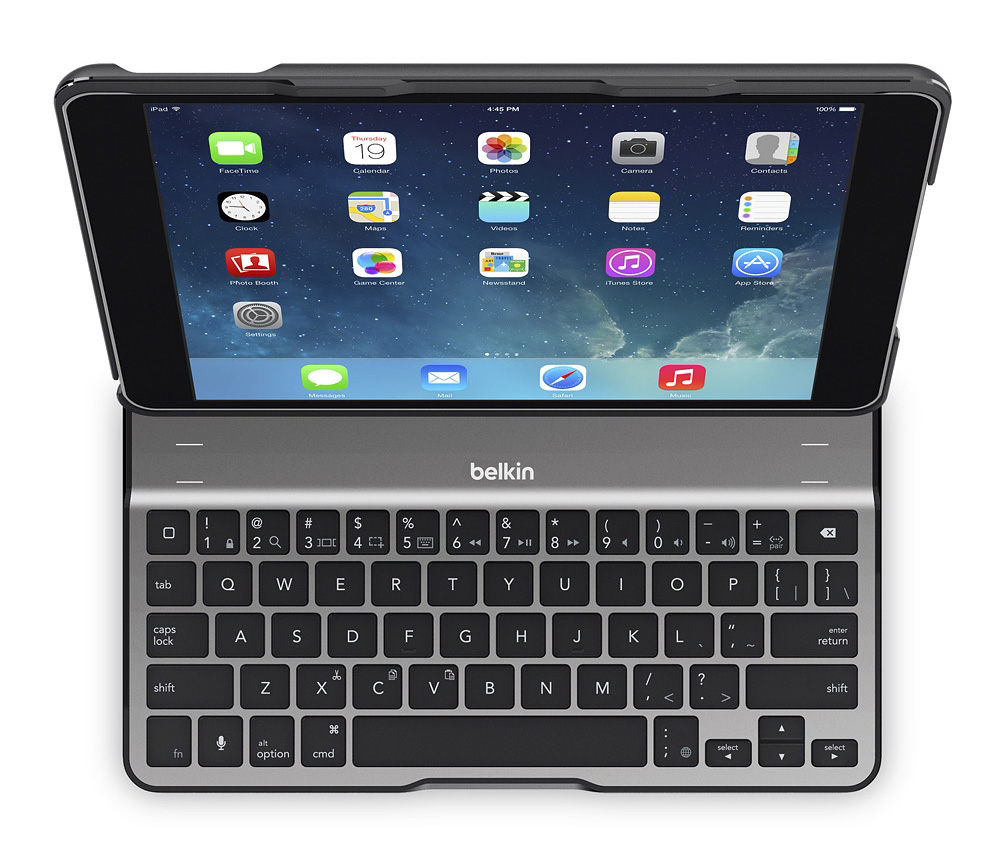 QODE Slim Style Keyboard for iPad Air and iPad Air 2 (F5L174) - $99.99
● Folio-style cover and Bluetooth keyboard in one
● Improved keyboard layout for more accurate typing
● Innovative stand for multiple viewing angles; magnets securely hold tablet at ideal angle
● Bluetooth Smart connectivity pairs with other devices
● Handheld media mode—keyboard tucks away flat for touch-screen use
● Slim, lightweight, stylish design in Blacktop/Gravel
● Flexible corner tabs hold iPad securely in place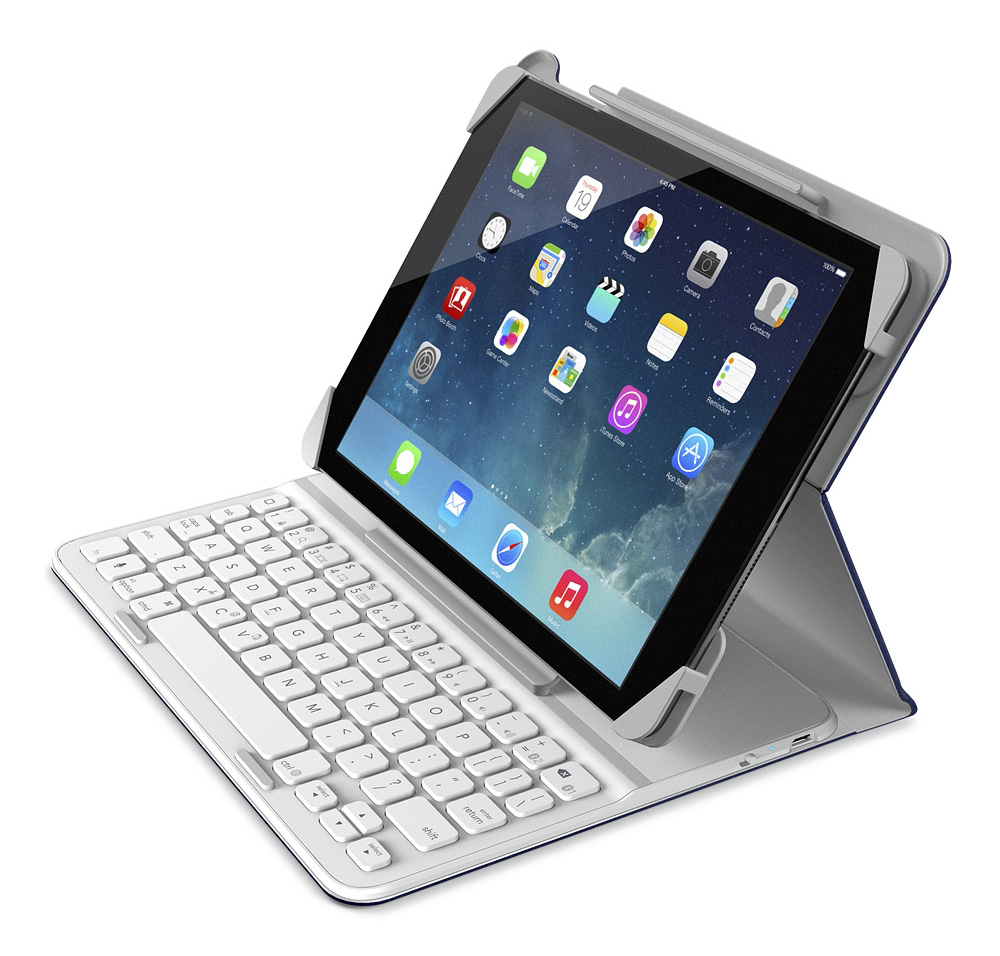 In addition to all-new QODE keyboards, Belkin's new iPad collection also features updated folios for both the iPad Air 2 and iPad mini 3.

Slim Style Cover for iPad mini/iPad mini 2/iPad mini 3 (F7N249) - $39.99

Slim Style Cover for iPad Air/iPad Air 2 (F7N253) - $49.99
● Curved, form-fitting design with velvety smooth finish and contrasting color accent strip
● Auto-wake cover with secure magnet closure
● Cover folds to a comfortable typing angle
● Integrated stop prevents slipping when in use; rubberized bumper provides multiple viewing angles
● Available in three color combinations: Blacktop/Gravel, Stone/Cyan and Azalea/Fiesta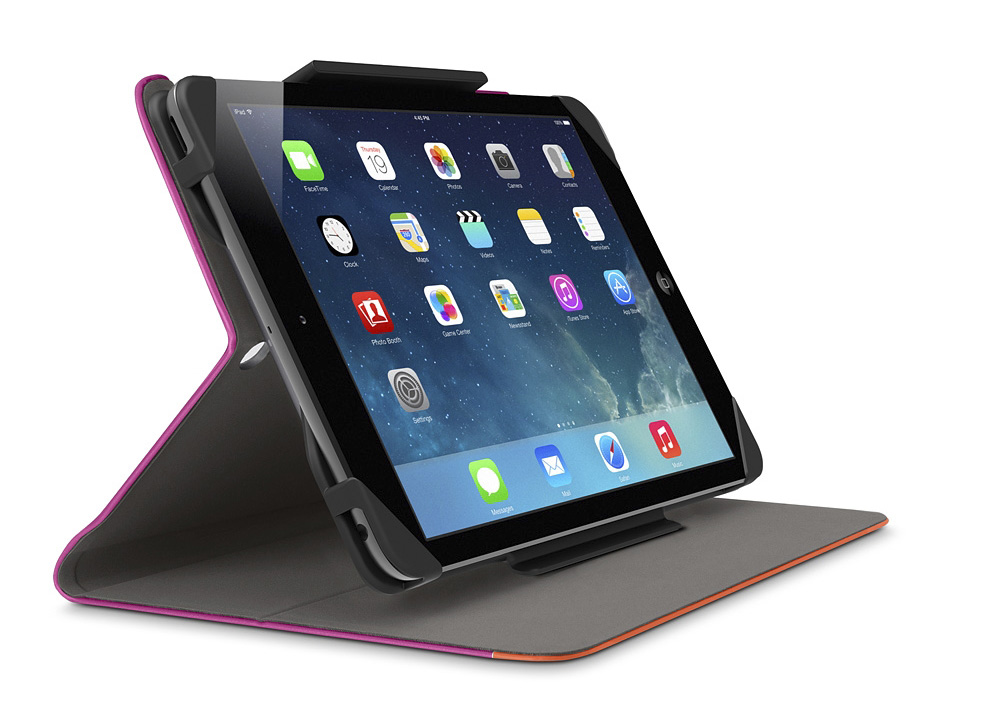 Stripe Cover for iPad mini/iPad mini 2/iPad mini 3 (F7N249) - $34.99

Stripe Cover for iPad Air/iPad Air 2 (F7N253) - $39.99
● Classic folio style with perforated vertical stripe design on cover
● Auto-wake cover with secure magnet closure
● Cover folds to a comfortable typing angle
● Integrated stop prevents slipping when in use; rubberized bumper provides multiple viewing angles
● Available in Blacktop and Plum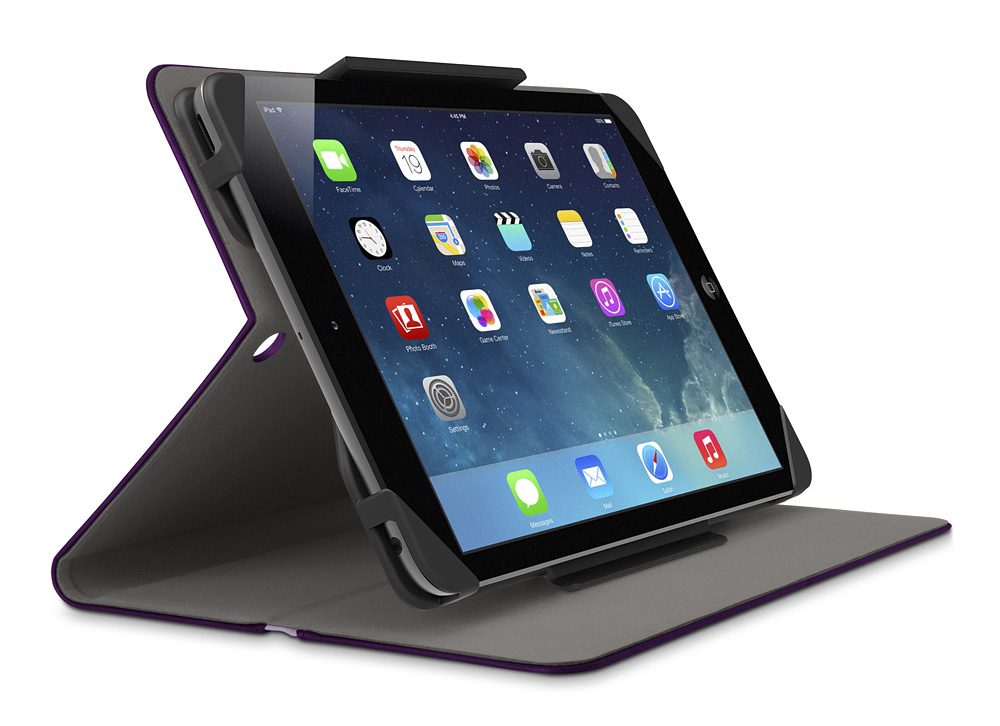 Classic Cover for iPad mini/iPad mini 2/iPad mini 3 (F7N247) - $29.99
● Classic design and sleek protection without bulk
● Auto-wake cover
● Secure magnet cover closure
● Smooth inner lining to protect screen
● Cover folds to a comfortable typing angle
● Full access to camera and ports
● Integrated stop prevents slipping when in use; rubberized pad provides multiple viewing angles
● Available in three colors: Blacktop, Purple Lightning and Paparazzi Pink



Chambray Cover for iPad Air/iPad Air 2 (F7N263) - $39.99
● Classic folio style with chambray fabric design
● Auto-wake cover with secure magnet closure
● Cover folds to a comfortable typing angle
● Integrated stop prevents slipping when in use; rubberized foot provides multiple viewing angles
● Available in Dark Gray and Purple

Availability and Compatibility
Designed with flexible corners, the QODE Slim Style Keyboard, Slim Style Cover, Stripe Cover and Chambray Cover will fit both the iPad Air and iPad Air 2, while the Classic Cover, Slim Style Cover and Stripe Cover will fit both the iPad mini, iPad mini 2 and iPad mini 3. All are available now at Belkin.com and select retailers worldwide. The QODE Ultimate Pro Keyboard for iPad Air 2 (F5L176) and QODE Ultimate Keyboard for iPad Air 2 (F5L178) will be designed specifically for the Apollo and are slated to be available starting in December.